theartsdesk in Aarhus: SPOT Festival 2015 |

reviews, news & interviews
theartsdesk in Aarhus: SPOT Festival 2015
theartsdesk in Aarhus: SPOT Festival 2015
Overpowering intensity, mystery and seduction at Denmark's prime showcase for Scandinavia's music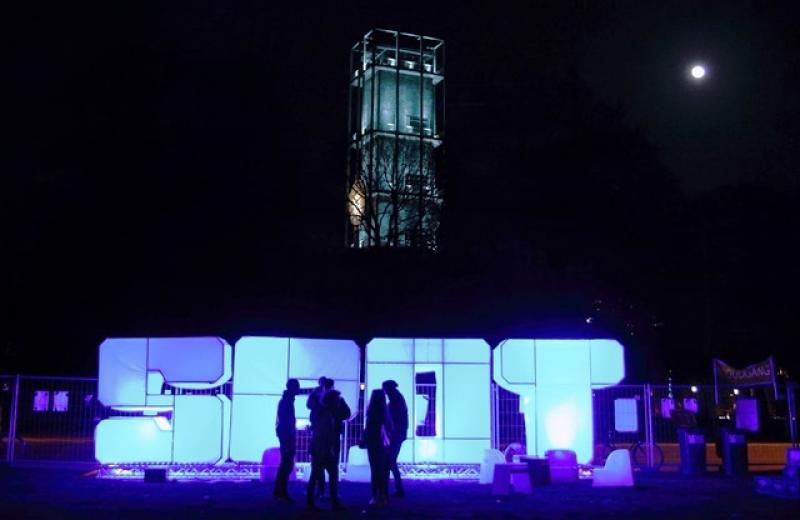 Lighting the way: liaisons under the full moon at SPOT, Europe's tidiest music festival
There's no doubt SPOT is Europe's tidiest music festival. In hosting SPOT, Denmark's second-city Aarhus turns the expectation of what a festival can be around. There's no mud, no one takes a stage late and the sound is always immaculate. Underworked stewards collect what little debris there is. The two main venues are so spotlessly non-rock they force the focus towards the music.
The Aarhus Musikhuset is an airy, early-Eighties complex with a glass-walled façade reminiscent of London's Royal Festival Hall. Inside, cool wood panelling and designer light fittings set the tone. SPOT has seven stages there. The natural light-filled Scandinavian Congress Center (SCC) is entered via a cathedral-like, cavernous glass-roofed atrium which gives the impression it might be a shopping mall with a soul. SPOT's two SCC stages are efficiently dubbed SCC Major and SCC Minor.
There are also two stages in front of the Musikhuset – one in a domed tent – and shows in the renovated former train station Godsbannen, as well as three more traditional club settings. But the focus always returns to the Musikhuset and SCC.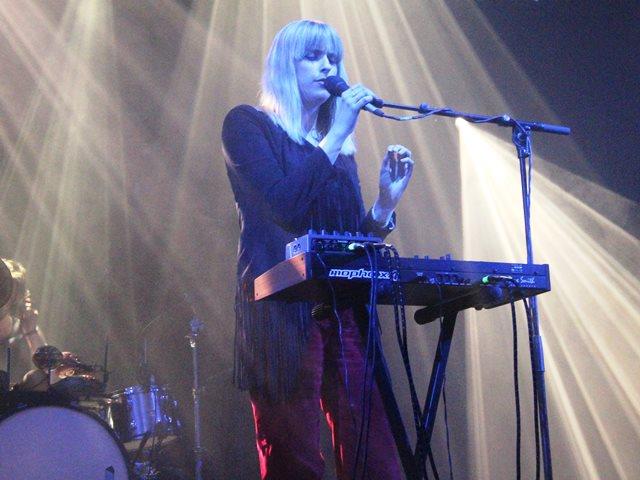 SPOT has to run efficiently. It is a showcase festival. Mainstream Danish acts reel in an audience for new names. Big names from neighbouring countries play, but the emphasis is on Denmark's music. Nonetheless, judging by the calibre of the Faroese, Icelandic, Norwegian and Swedish acts, this is an audience worth getting in front of.
Prime amongst the known quantities for a crammed SSC Major was Norway's Susanne Sundfør (pictured above left, photo © Kieron Tyler). A platinum seller in her home country, she hit big with her classic 2010 album The Brothel, first presented to an international audience with full orchestration at SPOT. Right now, her focus is on this year's Ten Love Songs album. Everything about Sundfør transcends and trounces what might initially seem a recent embracing of electropop. Her singing soars operatically yet is delivered with ease. Her on-stage persona is overpoweringly intense. The songs performed with her band dive off in unexpected directions, twisting like a fox evading a pack of hounds. Each – she opened with The Brothel's suicide reportage "It's All Gone Tomorrow" and then plunged into Ten Love Songs – is instantly memorable. Melody lines are liturgical. The after-effect of seeing her live is akin to being spun in tumble dryer.
Prime amongst the unknown quantities, at least to those not from their home towns of Gothenburg and Stockholm, was Sweden's Josefin Öhrn + The Liberation (pictured right, photo © Jesper Hedemann), playing the Musikhuset's largest hall, the Store Sal. They only have two-and-a-half singles (one was a split release) and an EP behind them, but there was no sense of this eight-piece band as neophytes. Öhrn and her Liberation trade in a pin-sharp music with identifiable roots: Space Ritual Hawkwind, "Yoo Doo Right" Can, The Rain Parade, The United States of America and early Spiritualized are clear touchstones, but their trump card is imbuing the seamless whole with an identifiably poppy fingerprint. If Lykke Li turned psychedelic, it may have ended up something like this. Öhrn herself was cool, barely spoke and projected the mystery of Broadcast's sadly missed Trish Keenan.
Deciding where to focus after Sundfør and Öhrn was tough. The problem was made trickier as the festival's stylistic net is spread so wide. Following the revelation of Sweden's Öhrn, tackling unfamiliar Danish names seemed fitting and turned up local R&B boy Lord Siva who, although a bit TV-talent-show, played to a gung-ho and mainly female audience. He can sing anyone's socks off and in any other country could achieve a similar lift-off to the one he's experiencing in Denmark.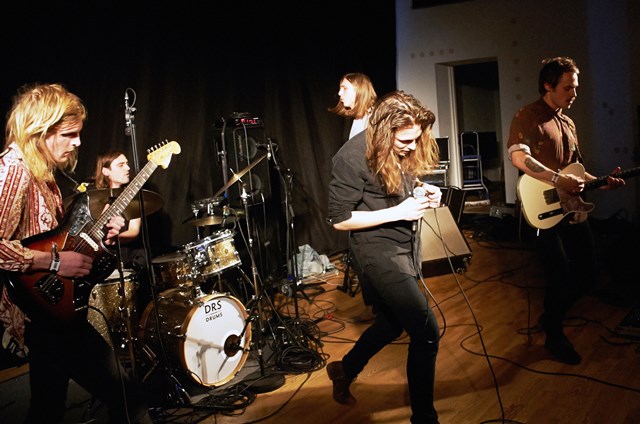 Fellow Danes who also caught attention included the almost-soprano, nervy Wangel's wobbly electro take on R&B. Unfortunately, he lacked both songs and a stage presence as coherent and distinctive as his intonation. The band Yung were hotly tipped, but their rounded punk (an Arctic Monkeys refit of Pink Flag Wire and Mission of Burma's most direct material) was too clean-limbed, too studied and too samey to produce a real thrill. Hairy quintet De Underjordiske (pictured left, photo © Helena Schultz Ingerslev) were an exciting contrast, sang in Danish and trod a distinctive line somewhere between the jangly model Primal Scream and early U2.
Another Dane with a delightful new twist on the past was Vinnie Who (pictured below right, photo © Jesper Hedemann). At the Store Sal, the man born Niels Hansen tuned his back on his former disco-slanted past and embraced the misty sound of his current, third album Harmony. With a high tone in the Danish pop tradition which has rung down through Mew and Oh No Ono, Who-Hansen let it glide over a music melding a yacht-rock smoothness to the glistening sheen of "#9 Dream" John Lennon. Although a little samey over the course of his show, it's still a seductive sound.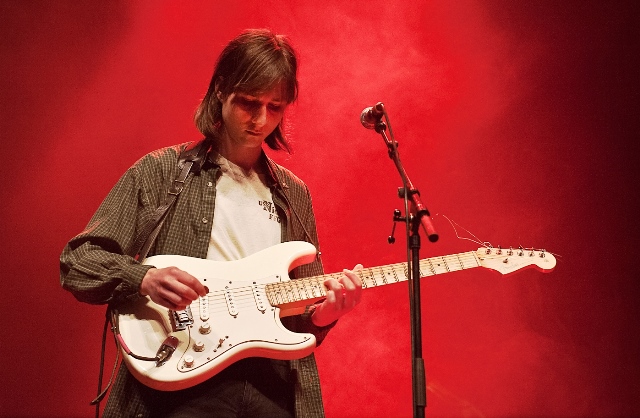 Also intent on seducing were Icelandic atmosphericists Samaris, playing SCC Minor in the run up to the release of their forthcoming album Silkidrangar Sessions. Live, their textured symbiosis of ambient, dub and trance works well in darkened spaces but the bright, exposed SCC Minor stage was not ideal. Nonetheless, they made their case and left an impression which lingered later under the night's full moon. The Store Sal show by Faroese singer-songwriter Eivør also left an indelible impression. Coming on the back of her recent Bridges album, it was all the demonstration needed that her melodic sensibility is now at its strongest. If she can keep this focus and shelve her penchant for distracting collaborations, Eivør could become the Faroes' biggest international breakout. Also with international potential was Norway's terrifically engaging AURORA (Aurora Aksnes to her parents) (pictured below left, photo © Christian Rosenlund), whose irresistable, moody dance pop was taken to another level by her joyful personality and a glass-like voice which shook the windows of the Voxhall.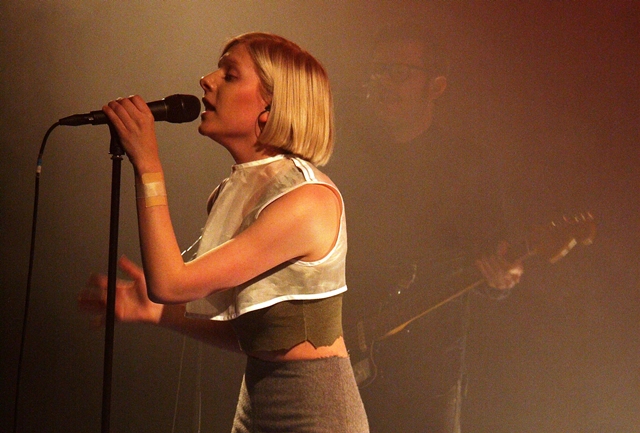 Not only was 2015's the best SPOT bill in at least three years, it also says a lot about Denmark that they are willing to invite what is, effectively, the competition into their own back garden. Danes pride themselves on being part of one of the most egalitarian societies on the planet, but it takes a high degree of ease with who you are to bring to town what might potentially overshadow your own sons and daughters.
Along with this poignant reflection on what it is to be a country which opens its arms wide, SPOT 2015 also confirmed that it is about more than the music of Scandinavia. Wherever it is from, good music respects no borders and transcends national identities. It is a message ringing strongly in this week's new world, one where continental Europe is to be struggled with rather than praised for its efforts, however imperfect, to connect us all.
Susanne Sundfør's songs twist like a fox evading a pack of hounds
Share this article
Subscribe to theartsdesk.com
Thank you for continuing to read our work on theartsdesk.com. For unlimited access to every article in its entirety, including our archive of more than 10,000 pieces, we're asking for £3.95 per month or £30 per year. We feel it's a very good deal, and hope you do too.
To take an annual subscription now simply click here.
And if you're looking for that extra gift for a friend or family member, why not treat them to a theartsdesk.com gift subscription?