World War Two: 1945 and the Wheelchair President, BBC Four |

reviews, news & interviews
World War Two: 1945 and the Wheelchair President, BBC Four
World War Two: 1945 and the Wheelchair President, BBC Four
The four-term President who battled disability to steer the American war effort
Professor David Reynolds with Roosevelt's statue at the FDR museum in New York State
More than an hour and a half, and not a moment too long: this moving and enlightening visual essay was a near-perfect example of broad brush modern history, enlivened by telling detail. It was a curiously intense history, written and narrated by a leading historian of the world wars of the 20th century, Professor David Reynolds, and predicated on the telling assumption that politics may be personal, and the personal may be political.
The underlying motif was the personality, in terms of physical health and psychological complexity, of that skilled and idealistic politician, Franklin Delano Roosevelt (1882-1945). FDR was elected President of the United States for an unprecedented four terms (1932, 1936, 1940, 1944), and was the architect of the New Deal in the Depression, America's involvement in World War Two, and – posthumously – the founding of the United Nations. His premature death, hastened by a history of extraordinarily botched medical care, terminated his democratic reign as the most powerful man in the world.
Roosevelt was perhaps the most reviled President in American history, but he was also adoredThe patrician Roosevelt, the only child of a fearsome widowed mother, was born with every advantage on offer for the rich, brilliantly well connected and educated. But David Reynolds vividly portrayed the two underlying tragedies in his life. His marriage to his fifth cousin once removed, the redoubtable and energetic Eleanor Roosevelt (niece of the other Roosevelt President, Teddy) was strained almost to breaking point by his affair with his secretary Lucy Mercer in 1920.
And FDR, struck down by polio in 1921, was effectively a paraplegic for the rest of his life, with his condition known only to a small circle. He never really walked again, only standing with the help of painful steel leg braces and corset, and needed help for every aspect of daily life including getting in and out of bed and going to the toilet. His courage was staggering, as was the complicity of his inside circle and journalists who kept his disability secret from the public. Rather than being seen in a wheelchair, he had wheels put on ordinary wooden chairs. Moreover his heart became seriously weakened, his blood pressure was sky high, and he was a heavy smoker and a drinker.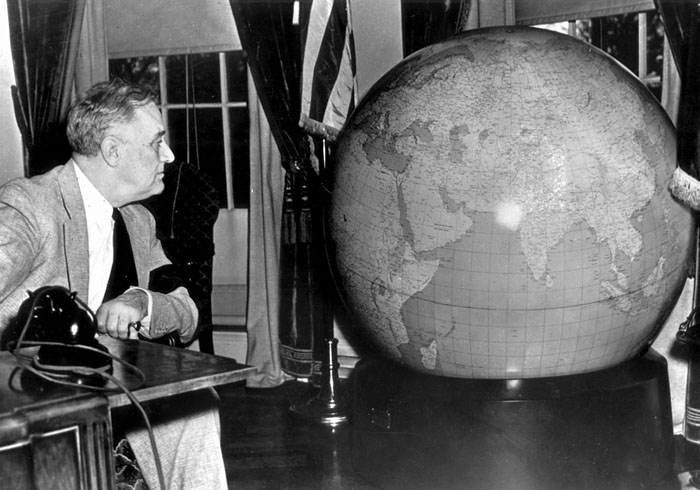 The narrative smoothly mixed vintage and documentary film and photography with radio broadcasts. There was the exuberance of political conventions, grim film clips from the Pacific and European theatres of war, and the quiet explication of the Manhattan Project and the atomic bomb. These were punctuated with the narrator's autumnal excursions to FDR's estate, Springwood, in Hyde Park, 70 miles outside New York City, and we visited the Little White House in Warm Springs, Georgia, where he died on 12 April 1945.
Roosevelt was perhaps the most reviled President in American history, loathed by isolationists and the Republican right wing, who curiously we were not shown. But he was also adored, and what we did see was the extraordinary and spontaneous outpouring of national grief as thousands of ordinary people, many openly weeping, lined the railway tracks to salute the train bearing the President back to Washington, and then on to his burial in the simple cemetery in Hyde Park.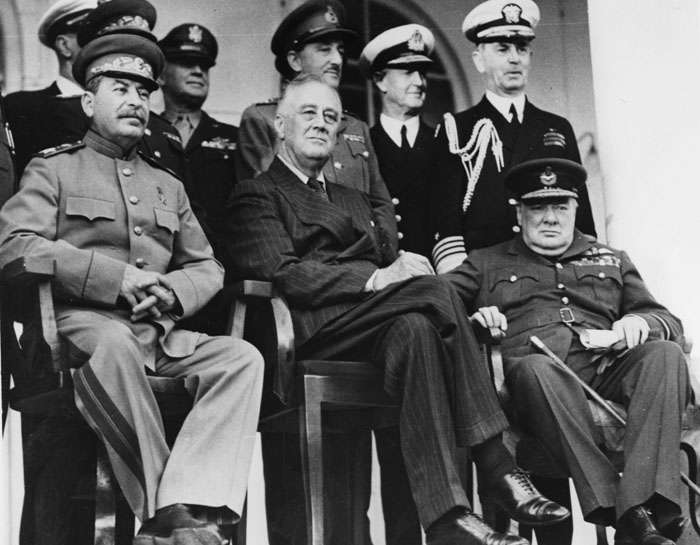 Throughout his political life, his ideal had been the example of Woodrow Wilson (whose debilitating stroke had also been kept secret) and the League of Nations. We revisited the historic meetings between Stalin, Churchill and Roosevelt (pictured above at Tehran in 1943) and were shown with great clarity how Roosevelt's ideals, for good and ill, meant that he compromised at the Yalta conference. As a consequence Eastern Europe (and particularly Poland) was sacrificed to pacify Stalin. That 14,000 mile round trip delivered the final blow to FDR's health. He had to sit – and apologised to the Senate for sitting – for his mesmerising report to Congress after Yalta.
The underlying thesis, persuasively presented, was that Roosevelt's increasing frailty was a major factor in the complex negotiations at the end of the war and the tainted peace that followed. Yet we were properly encouraged to admire his idealism, his suffering, his great rhetorical gifts – "we have nothing to fear but fear itself" – and his superhuman achievements. His view of Stalin – that he could be brought into the Western fold, and indeed the Russians did join the UN – prevailed over Churchill's passionate anti-Communist stance and determination to be firm. And as Reynolds eloquently explained, these events formed one of the great what-ifs of world history, with consequences still with us now.