The Secret Life of Tinder, Channel 4 |

reviews, news & interviews
The Secret Life of Tinder, Channel 4
The Secret Life of Tinder, Channel 4
Documentary about dating apps fails to ask penetrating questions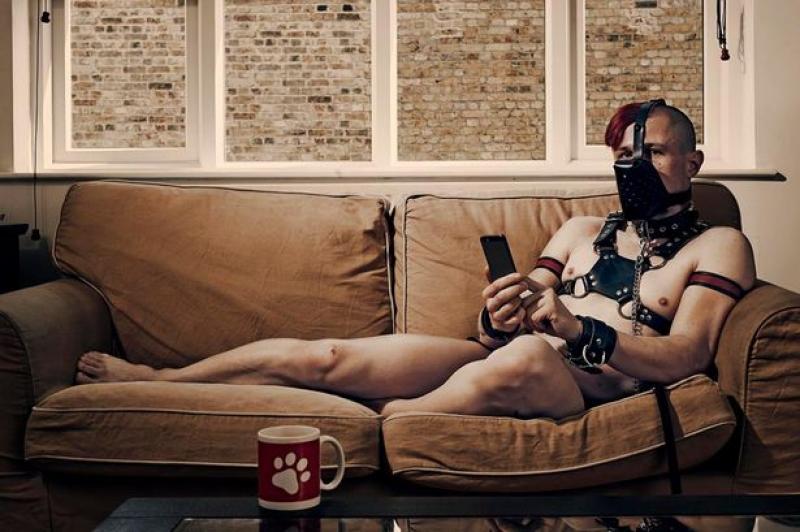 Woof: Pete plays puppy on a dating app
Lucky old us. We are now living "in a techno-sexual era". So claimed this documentary about dating apps which radar-guide you to the nearest available groin. If groins are your thing, that is, and they are by no means everyone's. We heard about a man who wanted to paint a woman green and "spank you like a big fat avocado". Another woman was considerably aroused by the sight of a man putting his motor into reverse.
We met a puppy fetishist who trusses himself up in leather straps and yaps a lot. This is not to be confused with dogging.
The Secret World of Tinder wasn't really about secrecy at all, and it wasn't entirely about Tinder either. Unless the secret is that dating apps are for unhappy singletons who have had the ability to socialise bred out of them by social media. Everyone who participated in this late-night X-rated investigation of the modern online fast-forward dating game was aware that love was the last thing on any man's mind. The women looking for Mr Right knew they wouldn't find him among the eternal parade of photoshopped cock shots and porno come-ons. "Perhaps women like things to be sugar-coated a little bit," said one young woman drily, "so maybe you want to ask about her name before asking if she enjoys violent anal." Such niceties seem to be less rigidly encoded on the gay app Grindr where you can meet such philosophers as Daddy cock (58 and hung) or ShyGuyBigCock (so not that shy then).
Heterosexual men came across more or less unspeakably
It takes a certain type to create a profile on Tinder, inside which is a smaller subset with a need to share that profile on national television. Quite a few women were interviewed while in the bath. John, a 42-year-old Colchester cabbie (and no oil painting) happily admitted to being a sex addict. "I just feel that sometimes it's something I need to try and address," he said. "But I'm failing at the moment." He had pictures of 690 women stored in a vault on his phone. On the plus side he was going on a succession of dates with a woman from Dagenham, although at a guess these will stop the minute she sees this film.
This was really an anthropological film about addiction – to romance for the women, to sex for the men – but without much interest in delving into the cause of the behaviour. "I guess this is just the way people live now," said well-spoken Kelly, 33 and single for five years, before heading off for a date with someone "very patronising and really sleazy".
Heterosexual men came across more or less unspeakably. They were mostly arrogant, misogynistic and delusional, and those was the nicer ones; two women recalled encounters with men who turned controlling and even downright threatening. Men who are into men are under fewer illusions. There was a nice bloke called Chris who has asked one woman out on a date in person and 15,000 online. He knew he was wasting his time. It was no surprise that the only person the film followed who successfully found love was a woman with another woman. "I do not know how I would find a date or a shag in Woking without dating apps," said Joanna (pictured above), a personable single mother of two who by her own admission had failed the marital fidelity test. She wasn't interested in monogamy with women either until she fell in love and beautifully declared, "You make me not want to be a slag unless it's for you."
There is an inquisitive film to be made about the modern mores of men and women who look for love and/or sex online. This was more of a visit to the human zoo. It's not always good just to gawp.