Strike Back: Legacy, Sky1 |

reviews, news & interviews
Strike Back: Legacy, Sky1
Strike Back: Legacy, Sky1
Action man fantasy goes to Thailand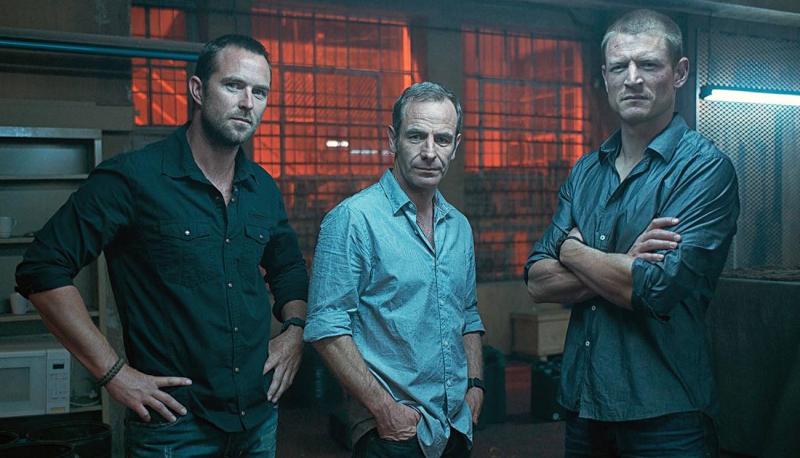 Tougher than the rest! Sullivan Stapleton (left), Robson Green and Philip Winchester
The fifth, and supposedly final, series depicting the adventures of the covert-action tough guys of Section 20 won't surprise anyone, but it won't disappoint its devotees either. Fast, brutal and violent, Strike Back is a slick mix of movie-like production values and infinitesimal demands on the viewer's intellect, a winning commercial formula if ever there was one.
The action opened in the steamy heat of Thailand, where English girl Chloe Foster thought she was about to have a quick leg-over with a handsome local boy, but instead found herself kidnapped by a thuggish gang of bandits. Turned out she was the daughter of British ambassador Robin Foster (Tim McInnerny, taking a break from being the boss of MI5 in Spooks), and he just happened to be in the middle of some tricky negotiations to try to stop the North Koreans from selling nuclear weapons to an A-list of disreputable regimes. It was a simple set-up – the ambassador had to sabotage the proceedings by planting a bomb or his daughter would be murdered. Section 20 had to find Chloe and stop it happening.
He'd hacked off one of Chloe's fingers with a pair of secaturs, having first heated them up with a blowtorch
At first I assumed this demanding task would stretch out over a few episodes, but as the whole thing stormed along at an increasingly breakneck pace it became apparent that our brave Section 20 lads had to get the job done before the 10 o'clock news. Considering an hour-long episode lasts nowhere near an hour once you've taken the ads out, this was a Mission Implausible indeed.
However, they had plenty of help. Sergeant Michael Stonebridge happened to know a one-armed ex-British Army squaddie now running the local Bang Bang Club, and he helpfully pointed them in the direction of Ray McQueen (Max Beesley) who had organised the kidnap. In fact McQueen, a ruthless, sneering sort of person, had gone further. He'd hacked off one of poor Chloe's fingers with a pair of secaturs, having first heated them up with a blowtorch, and sent the digit to her dad to demonstrate that he was serious (more stuff blowing up, below).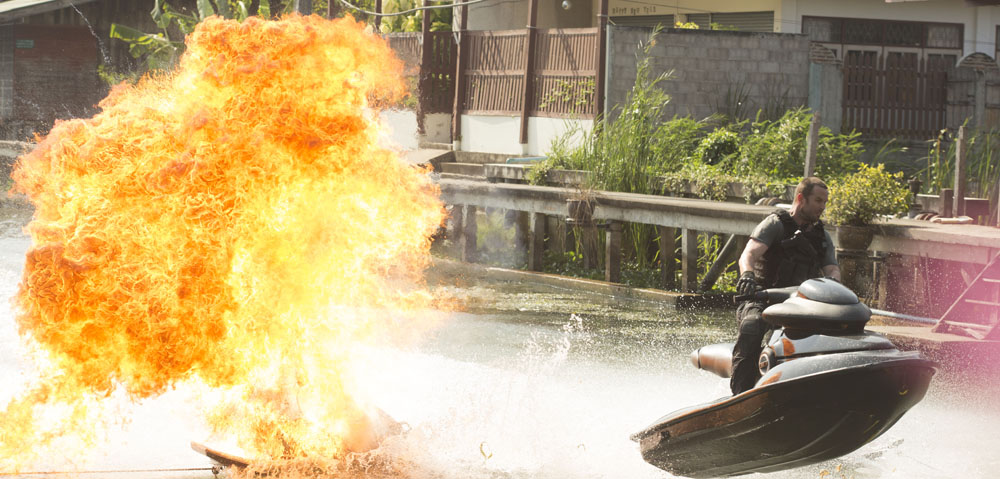 The Section 20 backup team under the command of Lt Col Locke (a robotic Robson Green, but who could blame him) somehow managed to set up instantaneous and ubiquitous electronic surveillance which let them see through walls and ceilings, and were able to guide Stonebridge and Sgt Scott (Sullivan Stapleton) as they charged around Bangkok shooting people, blowing up buildings and crashing various land or water-based vehicles. Scott and Stonebridge are so comically hard-boiled that they could head-butt a moving train or bend steel girders over their bullet-shaved heads and suffer no lasting ill effects, so it wasn't long before they'd casually massacred dozens of McQueen's henchmen and were homing in on the smirking Beesley himself. However, he's just the middle man – we'll meet the real bad guys later. If we're still watching.
Searching for meaning in Strike Back is like asking a garden shed for investment tips, but it's amusing to watch some quite good actors trying to take the script seriously. The poor dears have to eat, after all.