theartsdesk in Bergen 1: Jazz in a sardine factory |

reviews, news & interviews
theartsdesk in Bergen 1: Jazz in a sardine factory
theartsdesk in Bergen 1: Jazz in a sardine factory
Cacophony, minimalism and the confessional at the Nattjazz Festival on Norway's west coast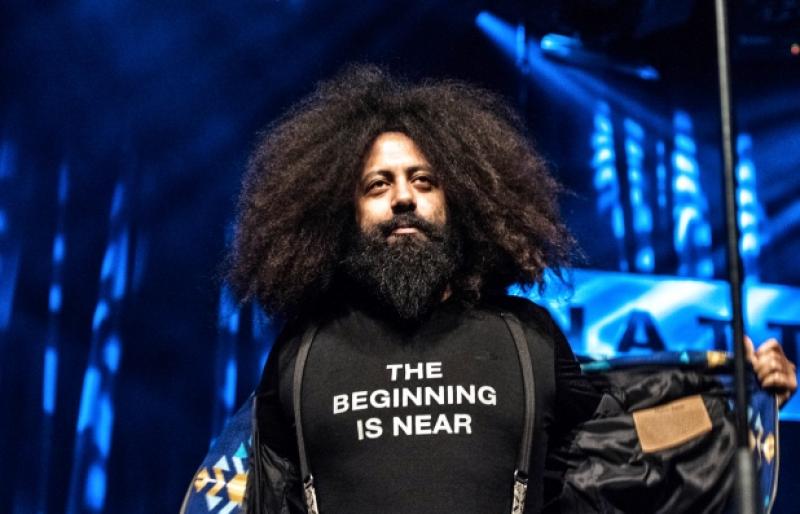 Don't worry Norway, things aren't so bad. Reggie Watts tells it as it is at Nattjazz 2015
Reggie Watts has a few things to say about Norway. In Bergen to play Natjazz, the annual jazz festival, he's concerned about the local predilection for fish soup. Be careful, he warns, it can be dangerously hot. Then there are trolls and the Norwegian crispbread knekkebrød, which is especially impressive as it can keep fillings dry. Sandwiches can be eaten in the rain – and it rains in Bergen. A lot. Watts is fascinated by the countryside cabins Norwegians take off to in the summer.
Most of all though, the word Norway distracts him. It's this close to "no way." Don't worry about your country's name, he tells the audience, things aren't so bad. "You might find oil."
Naturally, all this ribbing goes down a storm. Everyone loves having their quirks pointed out – the things making them special. The connection Watts makes with the audience is especially potent as he had played Nattjazz in 2013 and was the hit of the festival. This year's return visit strengthens the unlikely bond between locals – the Bergensers – and the American human beat-box, live-looping comedian, singer and storyteller. He's this year's festival poster boy.
When Watts isn't making gentle fun of where he is, he sings, hilariously undermines the tropes of modern-day R&B and rap, and tells surreal stories. Sitting at a keyboard, his voice is revealed to have a sweet emotion reminiscent of Al Green's. This quick-witted one-man revue is a winner, but tagging him as jazz is a stretch. Amongst Nattjazz's – translated as "night jazz" – characteristic is a tendency to play with boundaries. The festival also breaks its own physical borders. Concerts are also held in nearby towns, coastal Bergen's hotels and the 19th-century island home of composer-violinist Ole Bull.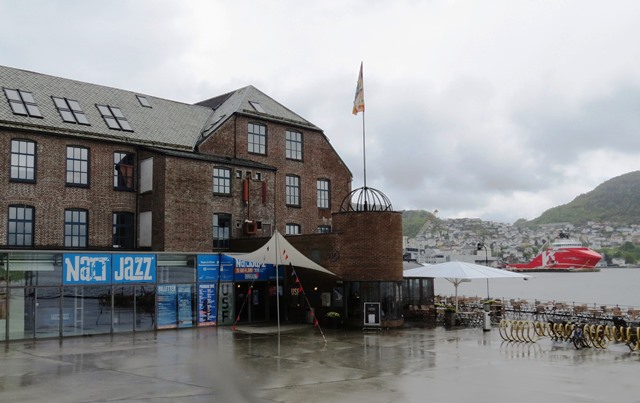 Nattjazz, also more formally known as the Bergen International Jazz Festival, was first held in 1972. Its current base is the USF-Verftet (pictured right), a former fish processing plant run by United Sardine Factories (the USF) on the waterfront of Puddefjordan, one of the two waterways around which the double-horseshoe Bergen is wrapped. Within the complex are bars, a restaurant and three venues.
As well as rain, the town – Bergseners do not call it a city – is awash with cultural happenings and history. A short walk north across a finger of land reaches Vågen, Bergen's better-known inlet: along its north side are the timber buildings of Bryggen, the former Hanseatic trading district and UNESCO World Heritage Site. Nattjazz takes place concurrent with Festspillene i Bergen (the Bergen International Festival). If that weren't enough, Bergen is a beguiling, picturesque place loomed over by the seven mountains cradling its landward aspect.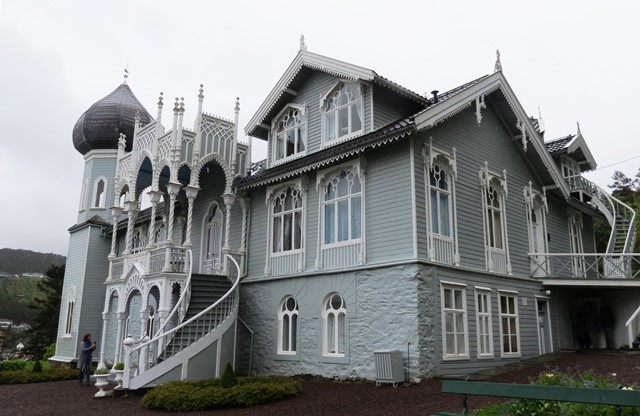 The spirit of Bergen-born Ole Bull is as inescapable as the threat of a downpour and the mountain backdrop. Like Edvard Grieg, Bull was and remains ever-present in his home town. Where Grieg gets a town-centre statue and a concert hall named after him, Bull has the statue but also a street, bars, restaurants and hotels branded in his honour. It's fitting. Bull was not shy. In the 1850s, he started a settlement in America called New Norway.
Material evidence for the larger-than-life, world-conquering Bull comes in the form of his house on the island of Lysøen, a 50-minute ferry ride from Bergen. He decided his house should reflect all the places he had been. It's a nutty amalgam (pictured above left). Features include a Russian-style onion dome, Moorish portico and an Alpine chalet layout. The inside sports Bohemian glass chandeliers, Star of David carvings and a massive hybrid American-Norwegian flag he had been presented. This setting hosted a performance by the minimalist pianist Christian Wallumrød. At Lysøen, he drew from his recent and first solo album Pianokammer, playing pieces so fluid and so spectral they were almost not there – one arpeggio flowed into the next like melting water from a glacier dispersing into the ground. Spellbinding.
East of Bergen and inland, the Kabuso arts centre in the beautiful town of Øystese, along the north bank of the Hardanger fjord, was the setting for the trio Orter Eparg. Their interpretations of elegant compositions by their bassist Dan Peter Sundland (pictured right) conjured an unlikely vision of Vince Guaraldi cosying up to Thelonious Monk. Fusing the melodic and the dissonant simultaneously is tough to pull off, but Orter Eparg did exactly that.
Heading more directly towards the heart of cacophony were the outstanding and powerful trio Gard Nilssen`s Acoustic Unity, playing a hotel restaurant in downtown Bergen. Nilssen, familiar in pop as Susanne Sundfør's drummer and in improv as half of sPacemoNkey, had teamed up with sax playing Motorpsycho collaborator André Roligheten and bassist Petter Eldh. As the handle Acoustic Unity implies, there is a fusion aspect to the trio. But this is not a music rooted in the Sixties or Seventies. The continual and rolling crescendos were akin to hardcore punk. Of the off-festival shows, this was the highlight.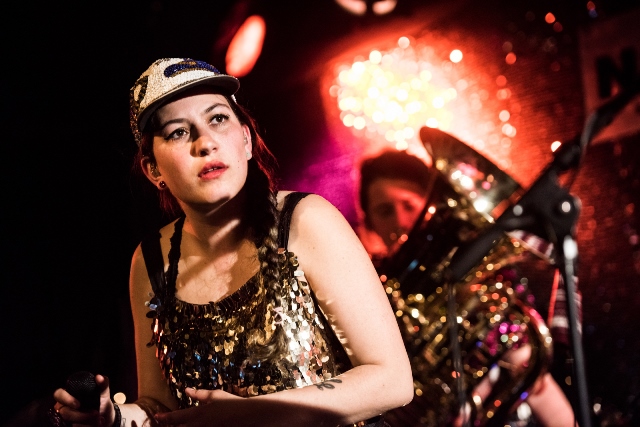 Back at the sardine factory and Nattjazz proper in the night club-like room Sardinen, the standouts were the band Broen (pictured left, photo © Øyvind Toft/Nattjazz), whose sharp-edges touched on trip-hop and Neneh Cherry at her jazziest, and the wonky trio Agbaland which featured Sigbjørn Apeland at deconstructed, almost falling apart keyboards and Terje Isungset, who eschewed his ice instruments in favour of more standard percussion. With Per Jørgensen on trumpet and scattershot vocal interjections the trio created a tonal analogue of ships rubbing a harbour wall.
While the Argentinian vocal tango star Melingo was as big a draw as Reggie Watts, the USF's main hall was also crammed for Norwegian best-seller Emilie Nicolas whose moody electropop is given an added edge by cut-glass vocals. As with Watts, it's difficult to make a case for her as jazz. Although not immediate, Nicolas's songs score on atmosphere rather than melody. In the last year, she's become a mainstream chart regular in Norway and it's not hard to see her appealing more widely.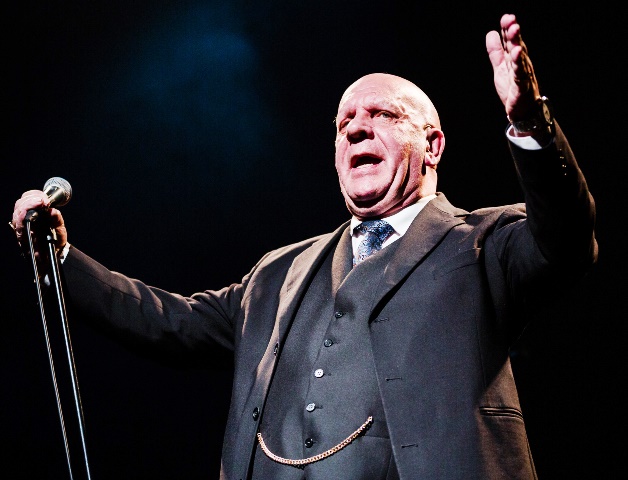 Nattjazz opened with a profoundly local flavour though: one where it was impossible to see how it could draw a non-Norwegian audience. Billed as Obra, the performance was a collaboration between the Bergen Big Band and the theatrical group Batagraf. After beginning with some disjointed swing, proceedings were soon interrupted by an arm-waving gent stuffed into a suit who turned out to be Councillor Boyum (pictured right, photo © Oddbjørn Steffensen/Nattjazz), the big boy of the eponymous fictional small-town local authority somewhere on the other side of the mountain who protects his monopoly in seafood. Soon, his wife and mistress became part of the story along with a clipboard-wielding jobsworth badgering the musicians with questions about what they were doing.
Boyum's corruption extended to siphoning money from foreign investors for his dodgy deals. Has wife's brother has comittted suicide. She is forced to socialise with Boyum's mistress, his personal assistant. This surreal spectacle was like peaking though a window and uncomfortably encountering a section of Norwegian society conducting some self-examination that would have been best kept private.
For Reggie Watts, Norway was entertainingly and pithily encapsulated by traits to which everyone could happily relate. His self-depreciating audience adored the chance to laugh at themselves. With the spikier Obra, a lid was lifted on a small aspect of Norway which no doubt can be found almost anywhere, but is usually hidden. The audience were absorbed, but lifting such a lid was confessional. This year, Nattjazz wasn't only about the names on the bill.
Of the off-festival shows, Gard Nilssen`s Acoustic Unity was the highlight with continual rolling crescendos akin to hardcore punk
Share this article