Measure for Measure, Shakespeare's Globe |

reviews, news & interviews
Measure for Measure, Shakespeare's Globe
Measure for Measure, Shakespeare's Globe
Dromgoole lets the light into Shakespeare's darkest comedy in this new production
Send a saint to catch a saint: Isabella (Gale) tempts Angelo (Egyiawan)
If Simon McBurney's Measure for Measure for the National Theatre and Declan Donnellan's recent Cheek By Jowl production mined deep for darkness, Dominic Dromgoole's for the Globe is content to skim the play's sunny surface – the comedy manqué that Shakespeare didn't quite write. It's a decision that makes sense of a difficult work on the Globe's own terms, playing to a summer crowd, but one that also generates its own confusions and inconsistencies.
The heat on press night only added to the Breugel-like spirit of Dromgoole's opening – a smoky, sweaty, bawdy portrait of Vienna lost in lechery and vice. Two miniature houses set among the groundlings tremble and jerk with the exertions within, soon to be noisily swept away by Dean Nolan's Elbow, while shriekings and gropings outside are set to Claire van Kampen's saucily jazz-infused score.
From here it's a short sidle into the broad comedy of Mistress Overdone and her hangers-on – sending the crowd giddy with physical clowning, innuendo and the Globe's signature contemporary asides. It's expertly managed. But between Brendan O'Hea's mincing preposterousness (Lucio), Overdone's gurning (Petra Massey) and Pompey's laconic obscenity (Trevor Fox, pictured below with Massey), they ramp up the mood to such a pitch that it can't quite settle again in time to find the stillness and hush needed for the wordy wrangling of Isabella and Angelo's encounters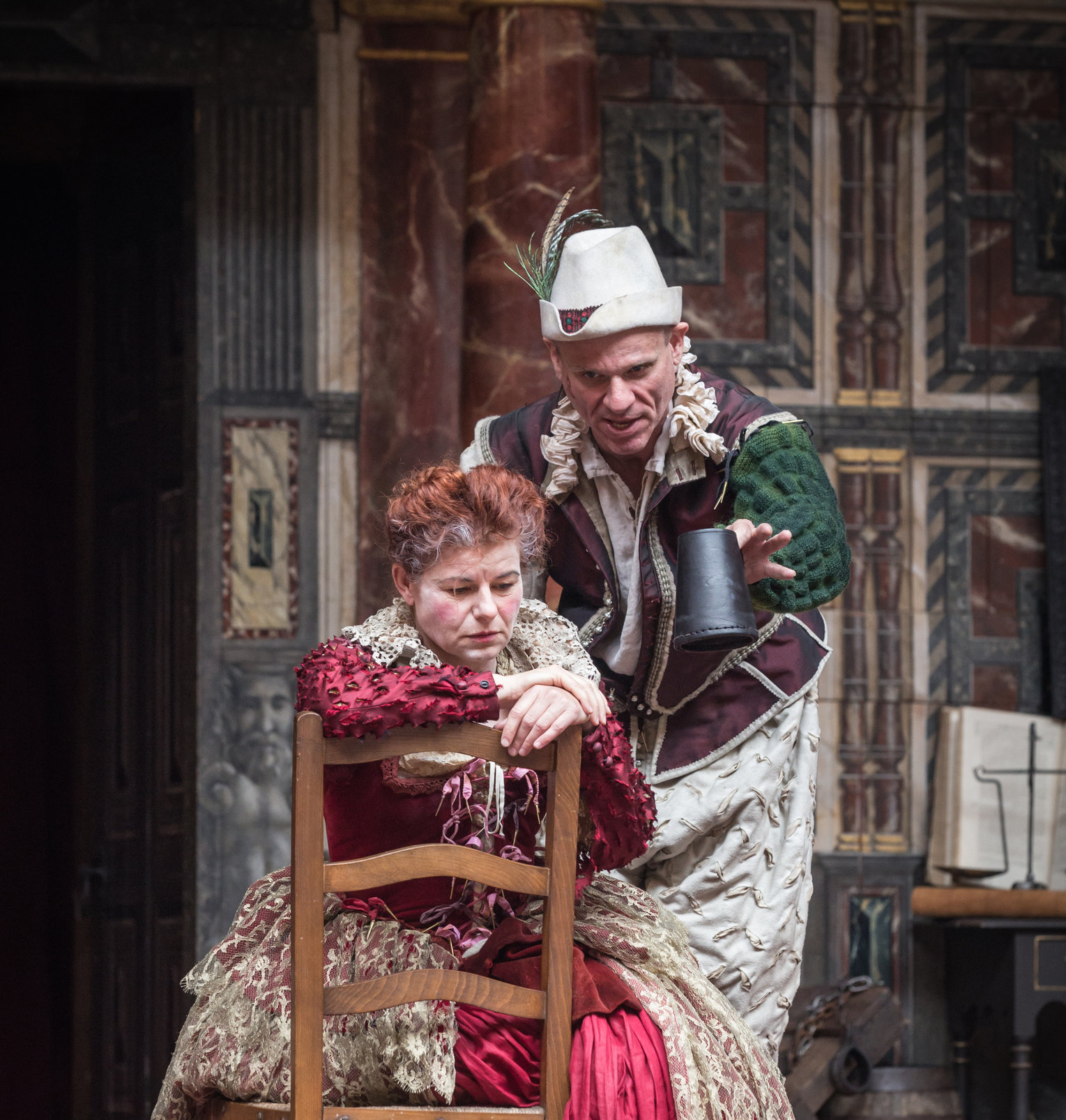 By contrast, the central trio of Isabella (Mariah Gale), Angelo (Kurt Egyiawan) and the Duke (Dominic Rowan) offer a power-struggle so inward as to be barely perceptible. We have rage, certainly, from Egyiawan, and a certain clinical violence, but no sense of the lust behind it. Urgency, and a growing sense of physical awareness, was entirely absent from Gale's impenetrable Isabella, played with maddening control. There was nothing in the delivery to soften the cruel absolutes of her avowed moral code ("More than our brother is our chastity") and as little warmth in dealings with Joel MacCormack's bloodless Claudio as with Rowan's Duke.
It's unclear what prompts this ruler into his bizarre games of roleplay, and still less what causes him to dissemble so long in setting things to rights. This Duke is no romantic hero, no moral arbiter or power-broker, instead – giddy, Cleese-like – he romps his way through a near-tragedy of his own making with skittish eagerness, offering up his hand to a startled Isabella at the end almost by way of a punchline. So unyielding is Gale's Isabella up to this point that her acceptance, forgiveness and acquiescence in this closing moment seems curiously ungrounded, unsatisfying.
Dromgoole here seems far more interested in sin than in virtue. It's a bias that fatally unbalances the play – built as it is on thematic weights and counterweights, the equal and opposite "measures" of the title – leaving his audience entertained but not invested in this most troubling of moral puzzles. Power, politics, even sex – these are all left to another production to unpack. In the conflict of justice and iniquity, iniquity wins here in straight sets. It's a battle harder-won elsewhere, and one worth fighting just a little harder for.
Giddy, Cleese-like – this Duke offers up his hand to a startled Isabella at the end almost by way of a punchline
rating
Explore topics
Share this article