HMS Pinafore, National Gilbert & Sullivan Opera Company |

reviews, news & interviews
HMS Pinafore, National Gilbert & Sullivan Opera Company
HMS Pinafore, National Gilbert & Sullivan Opera Company
Fresh and funny G&S, with operatic weight
Who is the fairest: Bruce Graham as Dick Deadeye and Richard Gauntlett as Sir Joseph Porter
At the beginning of Act Two of John Savournin's production of HMS Pinafore, the quarterdeck is in darkness. Kevin Greenlaw's Captain Corcoran steps out of his cabin, downs a brandy stiffener, and launches into his melancholy lament to the moon. Woodwinds echo the ends of sighing phrases as the strings pluck their accompaniment: something about this sounds familiar.
And as cymbals clash melodramatically and David Steadman, conducting, underlines the ominous chromatic rise and fall of the bass line in Little Buttercup's fateful duet with the Captain, the target of Sullivan's musical satire comes into plain focus.
It's pure coincidence that the National Gilbert and Sullivan Opera Company's Pinafore arrived at the Buxton Opera House so soon after the Buxton Festival's productions of Lucia di Lammermoor and Verdi's Giovanna d'Arco, but there's no denying that it gave an additional naughty thrill to this perfectly shipshape production. Part of the general delight at the recent ENO Pirates of Penzance seems to have come from the now-unfamiliar experience of hearing big operatic voices in G&S and this Pinafore benefitted, at least in part, from the same effect. With singers who've been actual Violettas and Figaros, Sullivan's musical parodies bite just as sharply as Gilbert's words.
As Sir Joseph, Richard Gauntlett's comic timing is in the Richard Suart classIn-house professional productions have long been at the core of Ian Smith's annual International Gilbert and Sullivan Festival, currently and controversially based in Harrogate after 20 years at Buxton. But the Festival has only begun touring its productions since last year, and it may be significant that they've started back in Buxton – where the locals still feel a definite sense of ownership. ("That'll be the G&S crowd," quipped the cashier at Scrivener's bookshop as a boozy cheer exploded from the pub across the road). This Pinafore, along with The Gondoliers and The Mikado, will be on the road until November.
And outwardly at least, this is straight-down-the-line G&S: naturalistic sets, bright period costumes – it was a nice touch to distinguish Sir Joseph Porter KCB's sisters, cousins and aunts so clearly, with cousin Hebe (Nichola Jolley) flashing a racy glimpse of bloomer below her ankle-length skirts – smart, exuberant choreography and at least one Savoyard in the grand tradition. As Sir Joseph, Richard Gauntlett's comic timing is in the Richard Suart class. His mugging and capering during "Never Mind the Why and Wherefore" practically brought the show to a halt, while his slightly-too-enthusiastic interest in the Pinafore's crew hinted at the salacious undercurrents that we're always being told aren't present in G&S.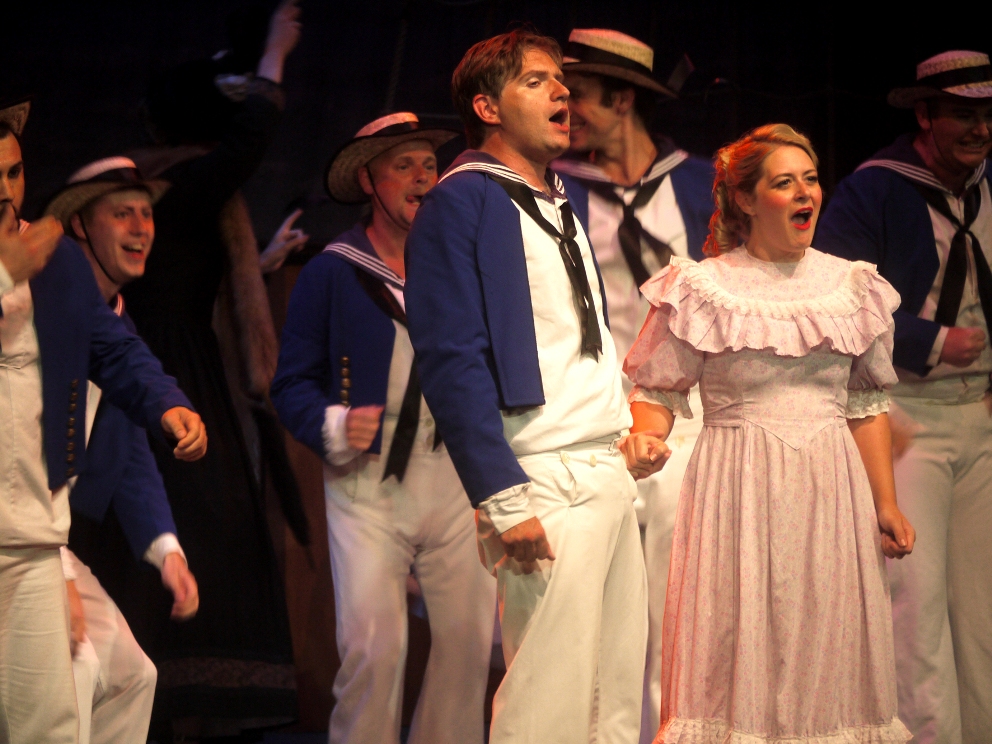 The other character roles were just as fully inhabited – and more than adequately sung. Bruce Graham wasn't the most vicious Dick Deadeye we've seen, but his deep, oily bass clarinet of a voice was one of the most expressive. Sylvia Clarke's Buttercup was the classic G&S mezzo, with enough gravitas to act as a plausible anchor for the drama even as – to music worthy of an early Verdi witching scene – she explains its daftest twists. Oliver White, as Ralph Rackstraw (pictured above with fellow seamen and Elinor Jane Moran's Josephine) seemed to be having an off-night, vocally – in every other respect, it's hard to imagine Gilbert's "remarkably fine fellow" better cast.
But two voices stood out. Greenlaw's credits include Don Giovanni and Count Almaviva, and there was a tiny but sufficient hint of darkness about his Captain Corcoran – a man on the edge, whose air of relief at his final demotion made as much dramatic sense as probably can be made of one of Gilbert's loopiest plot twists. And as Josephine, Elinor Jane Moran played it absolutely, magnificently straight. With her bright-as-a-bell soprano, she scampered effortlessly and brilliantly over Sullivan's coloratura and flung out her horrified vision of "dinner served up in a pudding basin" with the vocal steel of a Lucia or Lady Macbeth.
There are caveats: this remains a low budget-touring production. The opening scenes could be tighter (why leave the curtain up on an empty stage throughout the overture, then black out at the start of Act One?). The lighting was hit-and-miss and the strings of the National Festival Orchestra sounded undernourished (lovely oboe playing, though). Hopefully these are the sort of things which will shake down on tour. But on top of the individual and ensemble performances all the jokes land, a good 90% of the words are audible, it's bright, lively, and – musically – finds more in Sullivan's score than many of us will ever have heard in a live production. Climb aboard if you can: this saucy ship's a beauty
As Josephine, Elinor Jane Moran played it absolutely, magnificently straight
rating
Share this article