Prom 70: Lugansky, St Petersburg Philharmonic Orchestra, Temirkanov |

reviews, news & interviews
Prom 70: Lugansky, St Petersburg Philharmonic Orchestra, Temirkanov
Prom 70: Lugansky, St Petersburg Philharmonic Orchestra, Temirkanov
Standard Russian programme, extraordinary performances
Tuesday, 08 September 2015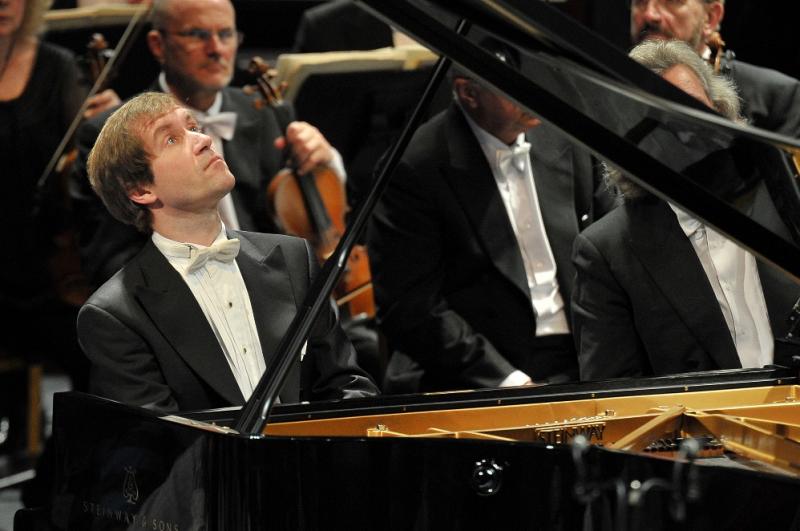 Nikolai Lugansky: peerless in Rachmaninov
Russian classics evening at the Proms? It could be what Alexandra Coghlan, writing about Prom 69, described as "another night at the musical office". But given the masters in charge of two masterpieces fusing storytelling with symphonic sweep and one deservedly popular standard, there was no chance of that.
Nikolai Lugansky is the only pianist I'd go out of my way to hear live in Rachmaninov's Second Concerto, and while Yuri Temirkanov's programmes with the St Petersburg Philharmonic have been pickled in aspic for years, their music-making together certainly hasn't. The results were better in the visitors' response to a packed Albert Hall even than I'd dared hope for.
Yes, this is still an orchestra with a voice, a remarkably svelte one these days as perfectly-intoned and sophisticated brass chords and dark strings outlined at the start of Tchaikovsky's Francesca da Rimini. The hellish whirlwinds that envelop Dante's unhappy wife and her husband's brother might have been a bit more febrile in Temirkanov's youth, but his unique flexibility, his total control of the most extreme rubato, made what is perhaps the greatest of all Tchaikovsky's love scenes into something taxing and even deep, led by the first of the evening's remarkable parade of infinitely free and nuanced orchestral solos from clarinettist Andrei Lukhin. In the spectral central section, strings and other woodwind players – the first row placed unusually on the lower level along with the horns – sounded not of this world, an effect that would be repeated in Rimsky-Korsakov's Scheherazade after the interval.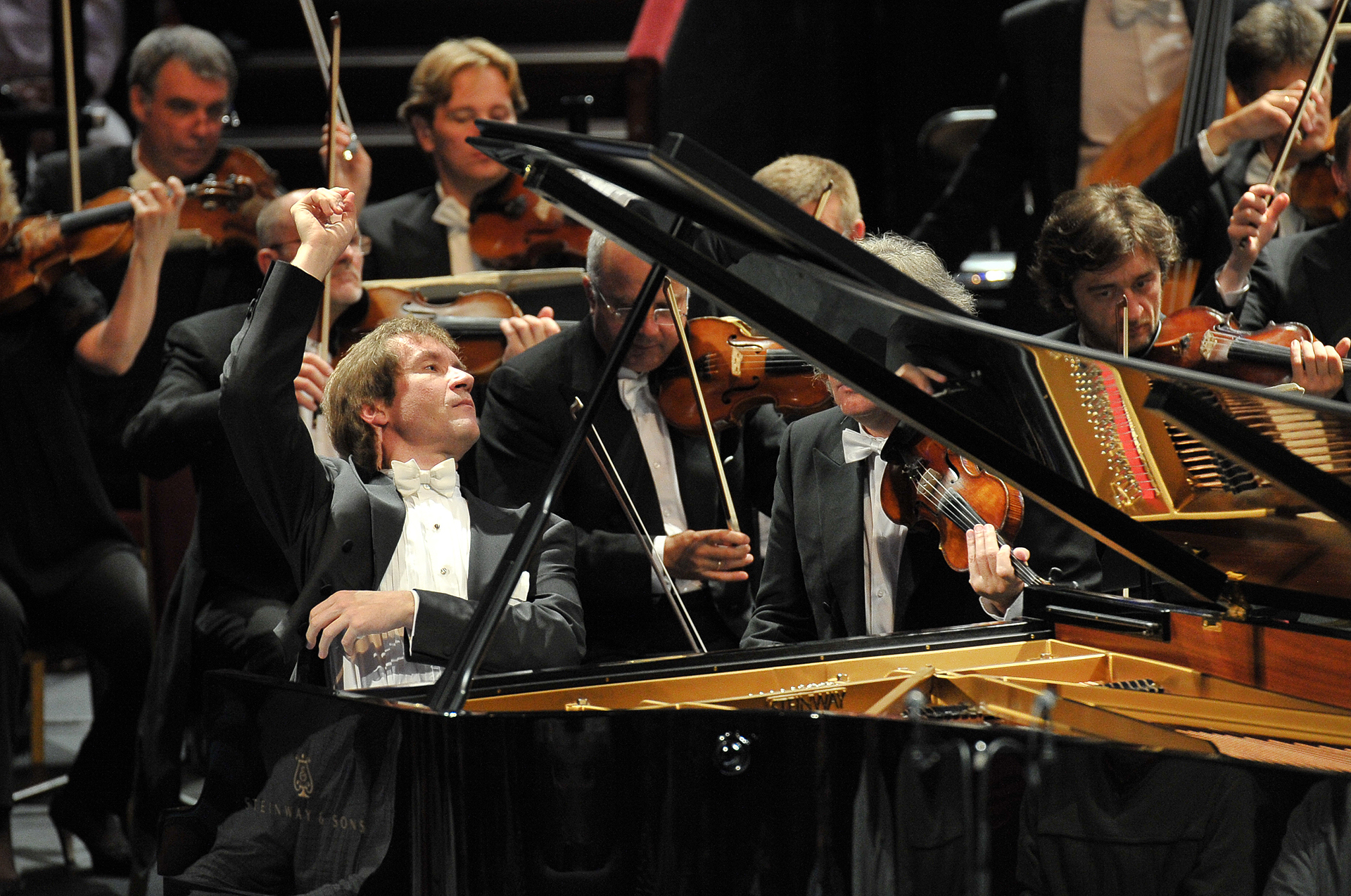 First there was that old Rachmaninov warhorse to negotiate. Neither Lugansky (pictured left and above), for me infinitely the finest of the composer's current champions, nor Temirkanov were going to fall prey to routine or excess sentimentality. Lugansky's opening bell chords were deep and resonant, his command of the strings when the sweeping chant-melody returns in martial mode at the end of the first movement magisterial, his ability to dwindle lines to near inaudibility at the phrase-ends spellbinding.
His proud and upward-inclining position at the keyboard gives weight to the beautiful sound he makes – as with Leonskaja the other week, younger Russian pianists storing up posture problems should take note – and the rolling movement seems to add freedom. Nor were the orchestra behind in this, making a genuinely sumptuous triumph out of the last big tune's final flourishing. Lugansky's encore was one of three solo-instrument slices of post-concerto perfection I've heard this season, his infinitely shaded and crowd-stilling account of the mysterious G minor Etude-Tableau equal to Nikolaj Znaider's Bach and Leonskaja's Chopin.
Was Scheherazade going to succumb to kitsch, though? Not a bit of it. This, too, was about weaving a spell, keeping the execution-bent husband's fatal decree at bay with easily the most captivating and subtle violin solo I've ever heard from leader Lev Klychkov, accompanied by no less artistic arpeggios from harpist Anna Makarova. Temirkanov (pictured below) sent Sinbad's ship swiftly flowing on an agitated sea, pulling out some stops for the lovely woodwind solos in the becalmed moments and making of the first movement a prelude to the heightened drama of the second, where the freedom of the wind principals reached an apogee of sensuousness and, in the flute's wistful breather towards the end, aching nostalgia.
More dramatic tempo-contrasts came in the two lovely melodies of "The Young Prince and Princess"; which is which no-one seems to know, but the sashaying march-miniature went at a delectable lick once one had adjusted to the shock, and the big theme had its climactic head from what is still one of the world's great string sections. Rimsky's brilliant symphonic synthesis in the finale sped along, too, first trumpeter Igor Sharapov tonguing furiously in the oriental tarantella before dominating the last-minute switch back to Sinbad on the billowing sea (not sure what the timpani tattoo after the tam-tam crash as the ship shatters was all about, but it had its effect). Klychkov and Makarova returned to set the final seal of enchantment, a surprisingly profound conclusion to a work which should never be just a showpiece.
Temirkanov's encores haven't changed much over the years, but I think we were all happy to hear his suppleness at its most magnetic in the Pas de deux from Tchaikovsky's The Nutcracker – with just a bit more space as the composer's scale descends from major into minor – and the delicate Ravelian teases in Shchedrin's discreetly naughty arrangement of Albéniz's Tango in D. One usual crowdpleaser Temirkanov has wielded in a past Prom, "Nimrod" from Elgar's Enigma Variations, wasn't to be heard, for once: that will have to wait until tonight, when the Russians play the entire score. Lucky those of you who can make it – and if you want a place in the Arena, arrive very early; last night there were at least several hundred queuers at 7.25 pm who weren't going to get in. Which means a potential live audience of around 6,000. Who said classical music was on its last legs?

Read theartsdesk's reviews of other concerts from the BBC Proms 2015
This is still an orchestra with a voice, a remarkably svelte one these days
rating
Explore topics
Share this article