A Girl at My Door |

reviews, news & interviews
A Girl at My Door
A Girl at My Door
Complex yet gripping feminist examination of South Korean social attitudes
Wednesday, 16 September 2015
Police chief Young-nam (Doona Bae, right) takes the measure of 14-year-old Dohee (Kim Sae Ron) in 'A Girl at My Door'
When a lead character is warned that "it's easier to be scrutinised in a small town", it's instantly clear they are not going to take the advice, keep their head down and make sure they don't attract attention. In South Korean director July Jung's first full-length feature, police chief Young-nam inevitably makes her presence felt soon after her arrival from Seoul in the southern coastal region of Yeosu.
Although A Girl at My Door explores small-town hierarchies and tensions, and the rifts and violence barely below the surface, it has to be taken as a commentary on South Korea overall as well as of gender. Young-nam's new town has an economy based around harvesting and processing seafood and the labour force is either, as described, "south-east Asian or Chinese" rather than Korean. It transpires that there are also illegal immigrant workers from India. Drink is a problem. Young-nam is soon at loggerheads with the kingpin who rules the roost. He has a stepdaughter.
Young-nam (Doona Bae, pictured right) has arrived on the coast after being despatched there from Seoul. The posting is designed to keep her out of the way for a year or so – long enough for big-city memories to fade. The nature of her transgression is not made clear, but she is a lesbian and awareness of the fact was probably enough to ensure that she should be shooed out of sight.
On her arrival she instantly encounters Dohee (Kim Sae Ron, pictured below left) a 14-year-old girl who is bullied by fellow pupils at school, and abused and beaten by her hard-drinking stepfather and grandmother. Dohee becomes more than a victim of crime to Young-nam. She sees the child's outsider status as akin to her own, so takes her into her own house for protection. It's a foolhardy choice which sets Young-nam up for another fall. The newly arrived police chief's ill-advised decision is a symptom of her own self-destructiveness – she is also a heavy, and secret, drinker.
A Girl at My Door is complex and, as well as taking on South Korean attitudes towards women and sexuality, dissects female relationships. This feminist film also asks questions about the nature of duty. When Young-nam is questioned – by a man – why she took Dohee into her home, she answers: "All I did was to take care of a girl with a history of abuse. I thought it was my duty to protect her." Of course, as a lesbian, Young-nam's actions have to be suspect. Also central are the narratives people fabricate about others, how these are manipulated and how people manipulate each other. Dohee is indeed a victim, but she also stage-manages her own actions and situations to get the results she wants.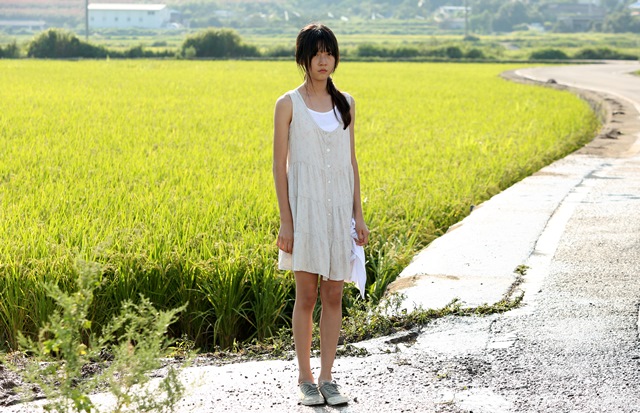 This, though, is a lot to coordinate. Some simplification would have helped. A Girl at My Door could make its points with less effort over its too-long two hours. Repeated scenes of, say, Young-nam's lone drinking could have been pruned. The bond between Young-nam and Dohee does not need either the over-illustration or Single White Female-slant it is given.
As Young-nam, Doona Bae is terrific. The police chief is in pain and self-medicating with alcohol, yet is outwardly and seemingly in control. But she still makes life difficult for herself. When her ex-girlfriend comes from Seoul to see her, she draws the line by having a fellow police officer drive her back to the hotel where she is staying. Young-nam is as tough as she is reckless and vulnerable.
As Dohee, Kim Sae Ron is extraordinary. It is hard to be sure whether the teenager she plays is acting honestly or being frank, or assuming roles and spinning lines to get what she wants. The abuse by her family leads to self-abuse which is allied with her manipulation of Young-nam and where she finds herself. Sewing these threads into each other, Kim Sae Ron makies the teenage girl enigmatic and unknowable.
But A Girl at My Door is close to being strangled by its manifold strands. They do not all interlock. Nonetheless, this thought-provoking film grips. With its two outstanding leads, it couldn't fail to.
Overleaf: watch the trailer for A Girl at My Door
Watch the trailer for A Girl at My Door
As Dohee, Kim Sae Ron makes the teenage girl enigmatic and unknowable
rating
Explore topics
Share this article