London Film Festival 2015: Dressed to Thrill |

reviews, news & interviews
London Film Festival 2015: Dressed to Thrill
London Film Festival 2015: Dressed to Thrill
Are the best films the ones you can't squeeze into categories?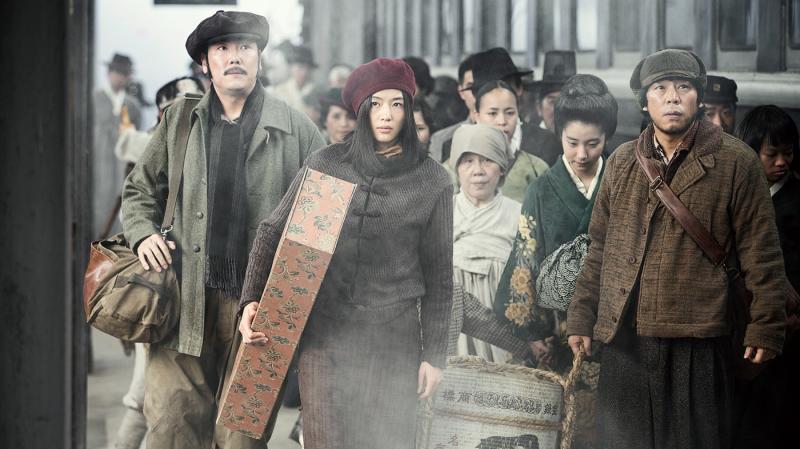 'Assassination': rip-roaring period piece from Korean director Choi Dong-hoon
As a novice in the ways of the London Film Festival, I'm not only amazed by the scope and scale of the thing (350-odd films in just under a fortnight), but aghast at the thought of all the backroom work that goes into it. And on top of all that they have to be nice to all the journalists.
As for dividing up the LFF films into categories – Love, Debate, Dare, Laugh, Thrill, Cult, Journey etc. – well, they had to do something, but unless you're dealing exclusively in genre movies (the Hangover flicks, or things with Jason Statham in them) you'll never find enough films prepared to slide obediently into the aforesaid parameters. Any movie worth its salt will have a bit of ambiguity or subtext about it, just like people have different facets to their personalities.
'The Survivalist' is a tale of hardship on a post-apocalyptic vegetable patch
Be that as it may, my chosen theme was Thrill. I couldn't say I'd describe all the films thus tagged as "thrilling", though ones that conspicuously were included the tense and pared-down Norwegian disaster movie The Wave (complete with a genuinely hair-raising tsunami that comes barging down a fjord, pictured below), the Korean period piece Assassination, and Daniel Junge's documentary Being Evel (more on the last two further down). Dani de la Torre's Retribution could only be described as a thriller – investment banker Carlos (Luis Tosar) finds himself and his children held to ransom by a car bomb placed by a vengeful client bankrupted by Carlos's dodgy derivatives – though it turns out to be more like an extended episode of CSI than a fully-formed feature. On the other hand Stephen Fingleton's The Survivalist, a tale of hardship on a post-apocalyptic vegetable patch, is merely bleak and forbidding, albeit powerfully acted by its trio of protagonists.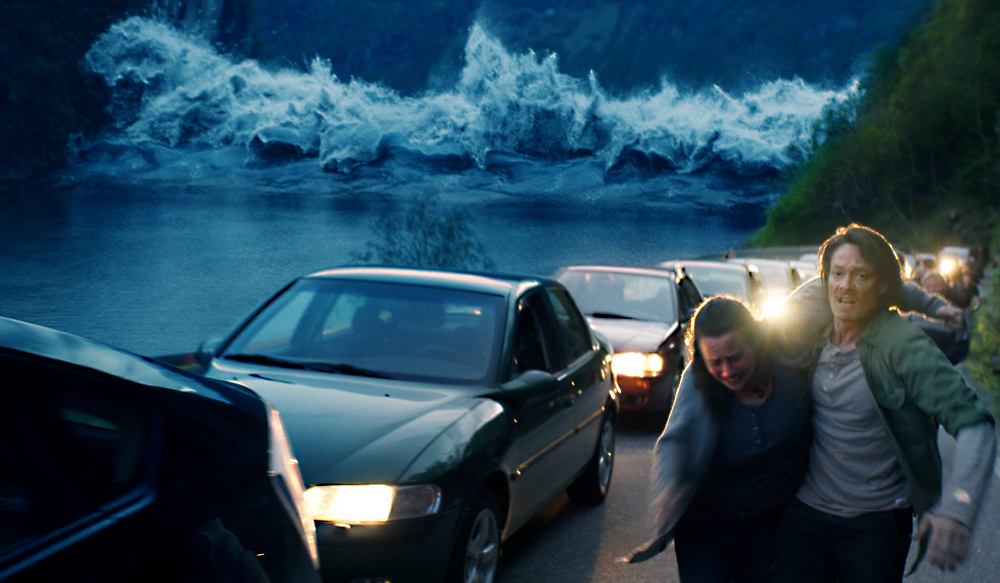 But how to describe the much more probing and persuasive Wednesday 04:45? It contains thriller-like elements, but it's also a psychological study and a portrait of a culture in the throes of economic collapse. Director Alexis Alexiou unpicks the story of Athens jazz club owner Stelios (a world-weary Stelios Mainas), who is slowly subsiding under a rising tide of debt. When the Romanian gangster who has been lending him money for the past decade suddenly demands payback in full, Stelios embarks on a frantic hunt to raise cash to stave off having his club repossessed, but this is the post-financial crash Athens of 2010, and he knows it's hopeless.
Signposted by captions counting off the hours, the story gathers steam towards a lurid bout of bloodletting, but it's the accretion of small details that gives the piece its power. To a soundtrack of smoke-dried jazz and thunderous techno, Alexiou depicts a lowlife Athens ridden with sleaze and crime, where the debris of the Balkans comes to rest. Another club owner, Omar, an Albanian immigrant, delivers a ferocious tirade about how he's slaved for years to build a business, learn Greek and pay his taxes, only to be spurned by the banks when he needs a loan. Mainas is masterly in his depiction of an exhausted man in a disintegrating society, resigned to seeing his family and his livelihood crumble before his eyes.
Old Europe worms its way into the contemporary USA in Atom Egoyan's Remember, where Christopher Plummer (pictured below) is in total command as 88-year-old Zev Guttman, a recently-widowed Auschwitz survivor who finds himself embarking on a mission of vengeance. His problem is that he's suffering from dementia, and is only able to keep with the programme by referring to the copiously detailed letter given to him by his old friend and fellow wartime survivor Max (Martin Landau), who's a physical wreck but still mentally sharp. Zev's task is to track down a former Auschwitz guard living in the States under the name of Rudy Kurlander, though he has to ascertain which of four Kurlanders is the wanted man.
This isn't peak Egoyan, who's hampered by an intermittently misfiring screenplay by first-timer Benjamin August, but the combination of Plummer and a cluster of choice scenes make it well worth a visit. Dean Norris – Uncle Hank from Breaking Bad – exerts malevolent force as the son of a dead Nazi, whose inner monstrousness is gradually revealed against a background of ominous, booming explosions from a nearby quarry. The theme of the fragility of memory, both personal and collective, imparts a poignant undertow to the story.
Leaping nimbly across a couple of continents, we light upon Majid Al Ansari's fascinating debut feature Rattle the Cage. You could call it a chamber piece – it's set in a jail cell in a nondescript police station in some unspecified Arab country, where Talal (Saleh Bakri) has been banged up apparently following a bout of drunken disorderliness (he can't remember). Once his lost wallet is retrieved and his identity is established, it looks as if the worst of his troubles are over, until the arrival of another policeman, Al Daban (Ali Suliman), rocks the whole scenario off its axis. Daban is a ruthless killer with a personal agenda that sets the stopwatch ticking on the action, but Suliman plays him with a mesmerising lighter-than-air quality that lets him flit from laser-eyed psychosis to playful wit or cooing charm within the blink of an eye. Impressive, too, is the way the claustrophobia of the jail is never allowed to impair the pace or tension of the story. Yup, it's thrilling too. If he's not careful this guy Ansari is going to be a star.
There's a more elaborate police story from Indian director Meghna Gulzar in Guilty, a powerful drama based on a real-life double murder case from 2008 that remains controversial today. Following a superficial and incompetent investigation, where clues were missed and evidence contaminated, police decide that a 14-year-old girl was murdered by her parents, both doctors, in an honour killing.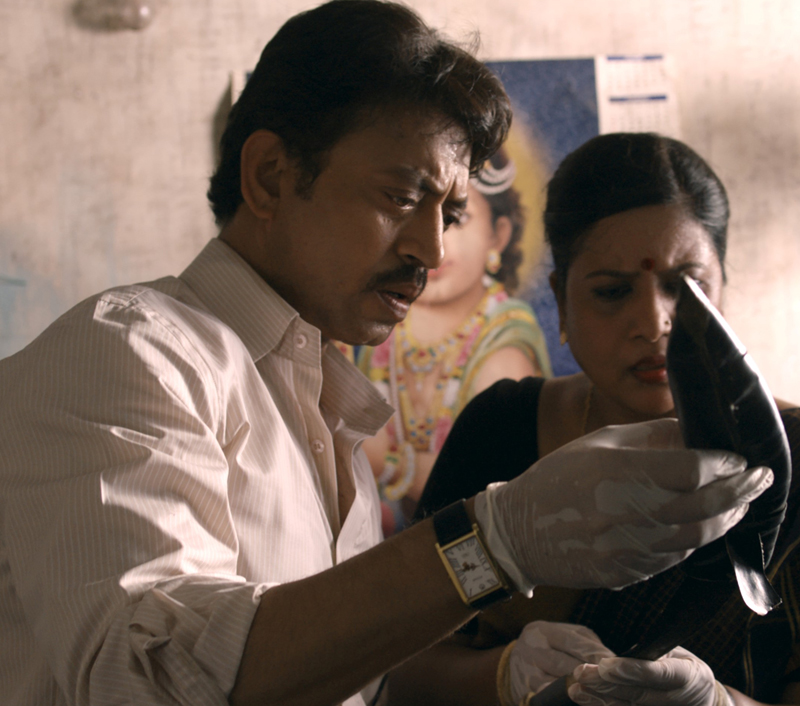 Then a serious detective, Ashwin Kumar (Irrfan Khan, pictured right with murder weapon), is brought in, and quickly uncovers a chain of evidence leading to – almost certainly – the real killers. With a solution within reach, events suddenly start to spin out of control. The tone of the piece, previously light and almost optimistic, suddenly darkens as the case is sucked into a vortex of political point-scoring, nepotism and corruption. It's chilling to watch as the "investigation" is reduced to a game of careerist one-upmanship, as even Kumar cynically detaches himself and settles for a quiet life. Police corruption has become a routine staple of innumerable films and TV series, but Guilty is set apart by the way its unhysterical, clear-eyed gaze illuminates a universe where guilt or innocence are mere by-products of a system in which justice isn't even a secondary consideration.
Less disturbing and vastly more histrionic is Assassination, a bullet-riddled historical epic from Korean director Choi Dong-hoon. Choi's chosen subject is the Japanese occupation of Korea during the 1930s, into which he has insinuated a fictional plot to kill the Japanese military commander in Korea and the treacherous Korean collaborator Kang In-guk. The exiled Korean government in Shanghai hires a trio of assassins for the task, which would be difficult enough even without the fact that the cunning Japanese secret service has hired a mercenary called Hawaii Pistol to intercept the killers.
A confusing plot is made more baffling by the fact that several cast members look remarkably similar, while actress Gianna Jun plays not only the assassin Ahn Okyun but also her long-lost twin sister. It's best to get strapped in and revel in the exuberant roller coaster of intrigue, car chases and shootouts (especially the thrilling extended assassination sequence at a petrol station, which consciously echoes the 1914 killing of Archduke Ferdinand in Sarajevo), while the recreations of 1930s Seoul and Shanghai are mind-blowing in their scale and attention to detail. Choi brazenly wears his inspirations on his sleeve, from Tarantino and Bonnie and Clyde to rip-roaring Hollywood gangster flicks from the Thirties.
And so to Being Evel, Daniel Junge's trashtastic biog of the suicidally reckless motorcyclist from his drab beginnings in Butte, Montana to such feats as jumping his bike over crates of snakes or rows of Ford Mustangs. However, it was Knievel's spectacular failures and countless broken bones that made him such outrageous box office. His 1967 crash while trying to jump the fountains at Caesar's Palace in Las Vegas propelled him from mere notoriety to superstardom, while his effort to fly across the Snake River Canyon in a steam-powered rocket became legendary, despite being a complete failure. It seems possible that Knievel (a petty criminal in his youth) was insane – actor George Hamilton describes how, when he was about to play Knievel in a biopic, the whisky-swigging stuntist put a gun to George's head and forced him to read the script aloud – but shrewdly, he turned himself into the Great American Maniac. Evel was also ahead of his time, earning buckets of loot from Evel Knievel merchandise and even employing a mini-me to do farcical versions of his own stunts.
Speed-crazed movie icon Steve McQueen (pictured above) was a cooler, more calculating character than Knievel, and aimed to establish his own business empire so he could make films free from the idiotic interference of Hollywood. Nice idea, but as Gabriel Clarke and John McKenna's absorbing documentary Steve McQueen: The Man and Le Mans reveals, his attempt to put theory into practice with his motor racing flick Le Mans failed to surmount several fundamental problems. At no point was there a workable script, for instance, while, having hired renowned director John Sturges, McQueen wouldn't allow him to direct. McQueen claimed the film was going to break what he called the "film barrier", but eventually it was a costly flop, despite its thrilling racing sequences (there's a goldmine of unseen footage included here). Still, Clarke and McKenna frame the Le Mans story with enough detail about McQueen's life and film career to make this a must-see for non-motorsport fans, not least through extracts from the star's previously unheard audio recordings. "I come from the gutter and I'm not a compromiser," is McQueen's pithy self-description. And he was undoubtedly a thrill-seeker.
Read Part 1 of theartsdesk's London Film Festival 2015 coverage: Who Dares Wins?
Stelios Mainas is masterly as an exhausted man in a disintegrating society
Explore topics
Share this article