Jazz Central - London or Odessa? |

reviews, news & interviews
Jazz Central - London... or Odessa?
Jazz Central - London... or Odessa?
With the biggest ever EFG London Jazz Festival here, where is Jazz Central?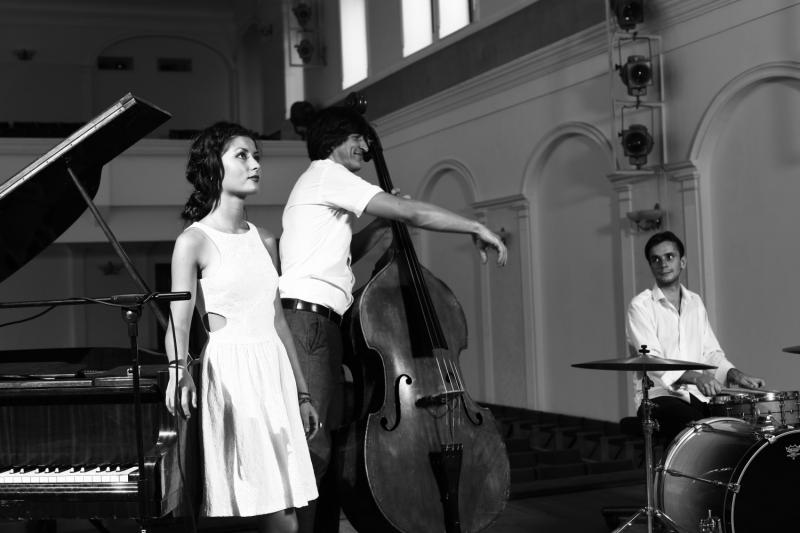 Julinoza: New Jazz from Odessa
For an art form that has been quite often written off over the last half century, Jazz seems in extraordinarily rude health. Today sees the opening of the biggest ever EFG London Jazz Festival featuring scores of venues and hundreds of groups throughout the capital.
Back in the Sixties, the likes of Philip Larkin in All What Jazz? were saying the form died off when it left New Orleans. "Jazz is dead now, as dead as madrigal singing. We can only treasure the records. And I do," he said mournfully in an interview in 1982.
A run of articles in the last year or two with with titles like "Is Jazz Dead?" essentially moved the goalposts so that for a new generation of jazz grumps the real annus mirabilis of jazz was 1959, when key recordings by Miles Davis, Dave Brubeck, Ornette Coleman and Charlie Mingus were released and it's been downhill since. Admittedly, these articles often read as if the person writing them hasn't actually listened to much contemporary jazz. Jazz even survived the ridicule of the Fast Show where an announcer with the all the pizzazz of a polytechnic lecturer in geography oh-so-smoothly introduced numbers with titles like "In A Turquoise Mood".
Of course, not everything is rosy. We all have our blind spots. I am not overly partial to hotel-type cocktail jazz (unless it's really sleazy, then its kitschily interesting). At the Kriol Jazz Festival in Cape Verde this year, there was - and is in general - too much academic jazz. Graduates from places like Berklee who played with immense technical accomplishment but without anything much to say. And there are too many jazzers who see the genre as a kind of ego-driven sport to show off how many notes they can play and how fast.
The director of the festival Yuri Kuznetsov remembers all too well the days when jazz was forbidden
But the Kriol Jazz Festival also showcased a more positive strand in jazz, that with more global influences, which is introducing new sounds and aesthetics. In But Beautiful, his book on jazz, Geoff Dyer concludes by boosting the huge potential of more world and folk traditions within jazz, citing Middle Eastern jazz artists like Rabih Abou Khalil as an example. (I would mention Ibrahim Maalouf, the Paris-based Lebanese artist and Beirut art-jazzer Bachar Mar-Khalifé who I have been playing on the theartsdesk radio - both appearing in the EFG London Jazz Festival).
There are lots of other new dynamic variants in jazz recently – from the hip-hop influenced music of artists like Robert Glasper (Ice-T is appearing in the London festival) to great swathes of more avant-garde music. This is the kind of music that hipsters who fear straight jazz flock to venues like Café Oto in Dalston. Classical influences abound in some of the best artists like Brad Mehldau. And of course, some of the veterans with connections to the 1959 generation like Wayne Shorter or Herbie Hancock are still on a good day tremendous artists. Not to mention there has been a revival of popular jazz torch singing with the likes of Diana Krall, Norah Jones and Melody Gardot reaching large mainstream audiences (Gardot is also appearing in London at the festival).
A lot of how jazz is consumed is the context and how the audience perceives the music. The right festival can revive and inspire and change your horizons. For me, the best jazz festival all year was last month in Odessa, Ukraine. Things are fairly stable there, despite the odd bombing to keep you on your toes. I was woken by one going off outside my hotel, but compared to last year it's relatively quiet for now. For musicians and others in Odessa, it's true to say that jazz represents freedom and liberation and has done for decades.
In the Fifties it became common in the Soviet Union to make samizdat records out of X-ray plates
The director of the Festival Yuri Kuznetsov is a brilliant pianist, about 60, who remembers all too well the days when jazz was a forbidden, and therefore luscious, fruit. There was a famous dispute between Pravda (for jazz) and Izvestia (against) in the 1930s as to whether jazz was merely an expression of "decadent, bourgeois individualism" or should be supported as emblematic of the struggle of black people against imperialism.
Experimental jazz lost the argument, and went underground. Writer Alex Kan says that in the Fifties it became relatively common in the Soviet Union common to make samizdat records out of X-ray plates. As bassoonist Alexander Alexandrov told me, "What the authorities really hated was free jazz and improvised music – for the reason we loved it, because it was a powerful symbol of individual freedom." What did seem to happen was that top Soviet jazz groups often moved to the fringes of the empire (like the Ganelin Trio moving to Vilnius, where there is another highly-rated jazz festival) and such places including Poland and Odessa became centres of the genre, even if underground.
Eventually Kuznetsov was rounded up by the KGB and interrogated. "You know, bright light directed in my eyes and all that". They wanted to know who his dissident friends were. He decided it was safer to go underground and went on the run for months "I'd have a code for my friends – one ring, then two, then three before I would answer the phone." Eventually a message came through that the KGB wanted to cut a deal, which the way he described it was an epic moment, like Jesus being tempted by Satan in the desert. "They said they would make me a big star worldwide and could tour the States and other places I had dreamed of going." The catch was he had to be a spy on his friends for them. He turned them down.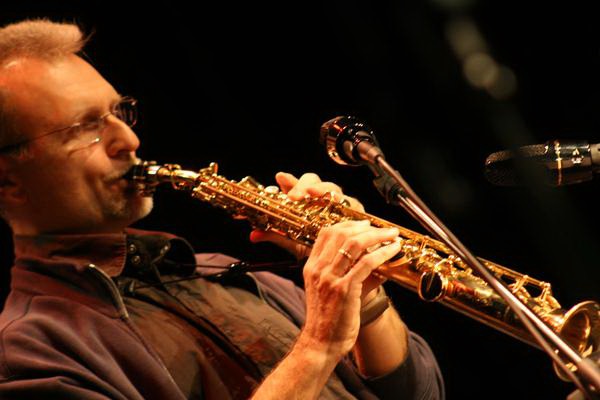 Yuri Kuznetsov was of the top students at the Odessa Conservatory. He was also a trouble-maker – there was a portrait of Brezhnev at the school with letters that could be rearranged so that Brezhnev's name became the Russian for Liar. He was astonished when he discovered jazz on scratchy vinyls coming in through boats from East Germany to the port in Odessa. That it was so difficult to get added to its value, of course. The only place you could hear live jazz was in the occasional café where a tolerant owner would allow musicians after an evening of classical or cabaret music to get together an after hours jam. No official concerts were allowed.
At the Odessa Jazz Fest Kuznetsov could be seen jamming with assorted musicians in the early hours at the Festival Club at the restaurant I Love Petrovich. He could also be seen improvising at a public concert to a slightly bemused crowd with an amazing Norwegian guitarist called Frode Barth. I saw Barth giving a sympathetic workshop at a music school, although live he plays like a rampant wildebeest. This is the kind of jazz noise which is very bracing, cleverly mixed with Kuznetsov's sly and groovy piano. Frode said one track was inspired by the traffic in Kiev - "You will never listen to the traffic there in the same way." True enough, the next week I was passing through Kiev and the traffic for the first time did sound oddly like a musical movement.
There were other elements that make up a modern jazz festival – including Sharon Clark, a torch soul singer from Washington DC, highly accomplished semi-classical music from the Nordic Saxophone Quartet, which was a bit polite for me. Outstanding local artists were a cool, funky band The Melts and a local singer with huge potential writing fascinating, eclectic songs like "Tender Sick" (see video, below) somewhere between Kurt Weill and the blues. A pleasure was a local big band of the type you rarely see called the Poltova Big Band. Odessa has had a bohemian reputation for centuries with cabarets and klezmer groups who improvised – in fact, you could say a kind of jazz was here in the 19th century. Even outside my hotel, the Londonskaya, a magnificent but enjoyably rundown place built in the 1820s that reminded me of the film Grand Budapest Hotel, there were some of the most talented buskers I've ever heard on the boulevard outside.
As ever, it was the more globally influenced bands that brought something new to the table – notably the Acoustic Travellers Duo featuring the adventurous Wolfgang Sambs on guitars and loops, mining classical, flamenco and African traditions. The revelation to me was Dimos Dimitriadis's (see photo, above) band from Greece, who use elements of orthodox church music whose band are astonishingly, organically tight. They reminded me of Wayne Shorter at his most spiritual and are potential world beaters.
Odessa might not have the numbers, range and big names of the EFG London Jazz Festival, but this boutique festival had a really fresh spirit. With the Russian army parked on the border, it also felt a statement of liberation and freedom in a way jazz at its best does.