Red Velvet, Garrick Theatre |

reviews, news & interviews
Red Velvet, Garrick Theatre
Red Velvet, Garrick Theatre
Adrian Lester is a blazing triumph as pioneering 19th-century actor Ira Aldridge
Wednesday, 03 February 2016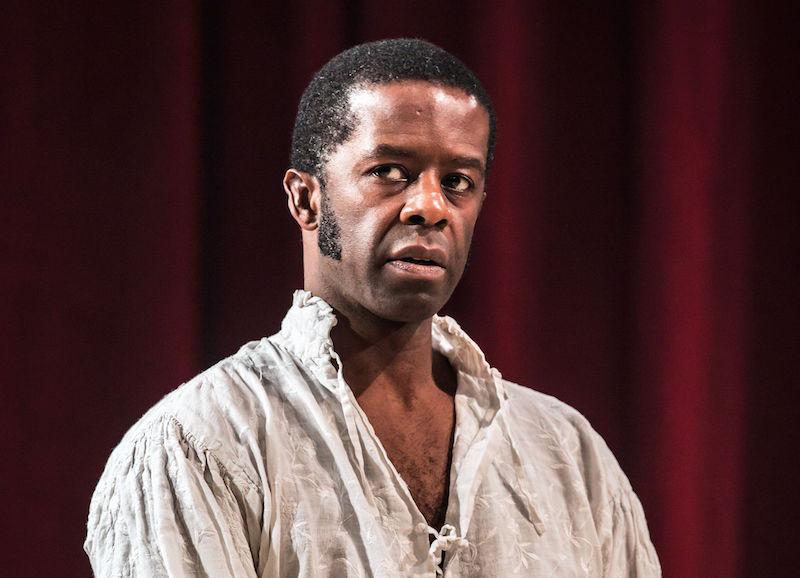 Beware the green-eyed monster: Adrian Lester's Ira Aldridge tackles Othello
Lolita Chakrabarti's impassioned debut has only gained topicality since its 2012 Tricycle incarnation. Trevor Nunn's all-white Wars of the Roses and #OscarsSoWhite, among others, have fanned its flames, while quips about a paranoid Russian regime and the limits of English openness to change seem all too pertinent. Cameron might well borrow the woolly idea of "new based on the old" during the European referendum debate.
Brooking no compromise is rule-breaking African-American actor Ira Aldridge (Adrian Lester), who, in 1833, succeeded the celebrated Edmund Kean as Othello at the Theatre Royal Covent Garden. It's a brave casting gamble by the theatre's manager, revolutionary Frenchman and fellow outsider Pierre Laporte (Emun Elliott, pictured below with Lester), at a time when people were rioting in the streets over Parliament's debate of the Slavery Abolition Act.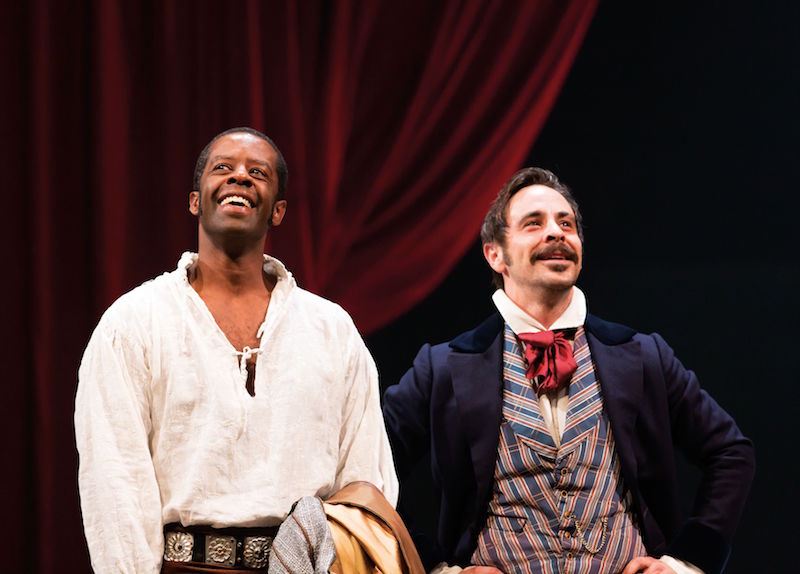 The company's response to this new addition is a superb microcosm of racial politics. There's the accepting, well-intentioned abolitionist (Alexander Cobb), who nevertheless treats the Jamaican maid (Ayesha Antoine) with unthinking contempt; the veteran (Simon Chandler) who grows to like Aldridge, but fears upsetting the status quo; leading lady Ellen Tree (Charlotte Lucas, pictured below), who sees benefits for herself in Aldridge's new performance style and shattering of the traditional hierarchy; and Kean's son Charles (Mark Edel-Hunt), who assumes his "pedigree" means he automatically inherits the earth – or at least the company. His impotent fury at Aldridge's intervention, symbolic of a changing world, is recognisable as the force that fuels Trump rallies.
Aldridge isn't just progressive because of the colour of his skin. He brings, too, a challenge to the gestural acting style, preferring something more lifelike and honestly felt. Director Indhu Rubasingham exploits all the comic possibilities of the former in several brilliantly choreographed sequences, as Tree's Desdemona freezes with arms flung across her face, addressing her husband via either the wings or the gods, while Charles signals his rebellion with an increasingly petulant posed lunge. It's a fascinating glimpse of a forgotten theatrical language, but when Aldridge imbues Othello with naturalistic, bone-rattling fervour, it's electrifying: man discovering fire. (Lester, of course, has since played the Moor to great acclaim.)
This display of phenomenal talent makes the injustice of his fate truly wrenching, though its power is rather sapped by the spoilerific, essentially redundant framing device. Why underline that, several decades on, an exiled Aldridge will have swapped fearlessness for bitter disillusionment when it's so movingly demonstrated by Lester? He's extraordinary in a second-act showdown with Laporte, who breaks the news that, following a critical savaging which lays bare society's ugly prejudice, his second London performance will be his last. Aldridge is no saint, and Lester teases out his tragic flaws: the single-mindedness, ego and obstinate pride that doom him. Yet there's also understandable frustration with the argument that he should go slow and wait patiently for change, when the establishment seems united against him.
Chakrabarti's play is sometimes stymied by its own clash of styles, with schematic characterisation, anachronisms and bald polemics battling the period drama. But, the odd clunking line aside, the artifice is generally forgivable in this metatheatrical context, which asks us whether a play should be cosily escapist or a political act – a more searching question here than at the Tricycle. All credit to Kenneth Branagh for putting it to West End audiences by including Rubasingham's vigorous revival in his season.
Elliott, Antoine and Lucas excel among the supporting cast, and Tom Piper's design poignantly suggests fading grandeur, but this is Lester's triumph: a worthy showcase for an actor of regal bearing, mighty delivery and blazing star power. If we believe actors like Lester should be afforded more opportunities, we must demand that progress – and this time, us critics will strive to be on the right side of history.
When Aldridge imbues Othello with naturalistic, bone-rattling fervour, it's electrifying: man discovering fire
rating
Explore topics
Share this article