The Survivalist |

reviews, news & interviews
The Survivalist
The Survivalist
The end of the world as we know it
Wednesday, 10 February 2016
Battle of wits: Martin McCann sees trouble ahead
This is the first feature by writer-director Stephen Fingleton, and has earned him a BAFTA nomination for Outstanding Debut. Set in Fingleton's native Northern Ireland, it's a pared-down tale of post-apocalyptic struggle, compensating for its lack of budget with rigorous economy and a watchful intelligence.
Martin McCann plays the titular survivalist, a gaunt and unsmiling homesteader who guards his shack in the forest, around which he cultivates his own vegetables. Dialogue has been kept to a bare minimum, so McCann has to create his character largely through facial expressions (suspicious and determined) and physical movements (purposeful, wary, and always poised to attack or defend). He has a shotgun, a knife and a mohican hairstyle, a combination which speaks volumes.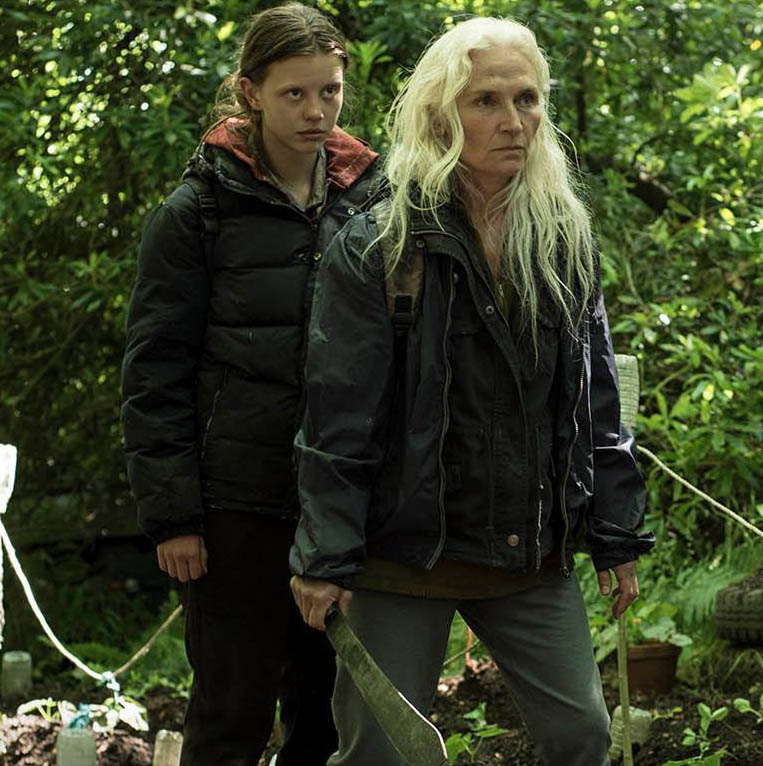 In the wake of The Walking Dead and World War Z, "post-apocalypse" has virtually become shorthand for a zombie invasion, but Fingleton merely lets that notion hang in the air while his film gradually develops a life of its own. The only clue he gives us about how the world got this way (ie deserted and intrinsically menacing) is a graphic tossed in with the opening credits showing lines on a graph labelled "population" and "oil production". The lines rise steeply before falling vertiginously. A sudden, hallucinatory flashback of a violent encounter in the woods lets us know that the survivalist had a brother who was killed. The fact that his allotment is fertilised with corpses suggests that he's not a man to be trifled with.
Fingleton has created a world of virtual silence around his protagonist, where the slightest creak or rustle reverberates with electrifying potency. The dense woodland could be a defence against intruders, but it's impossible to know if he's under surveillance by hidden watchers. Thus, the arrival of two women at the shack (pictured above), asking if he can spare some food, is a cataclysmic event in the survivalist's precarious private universe.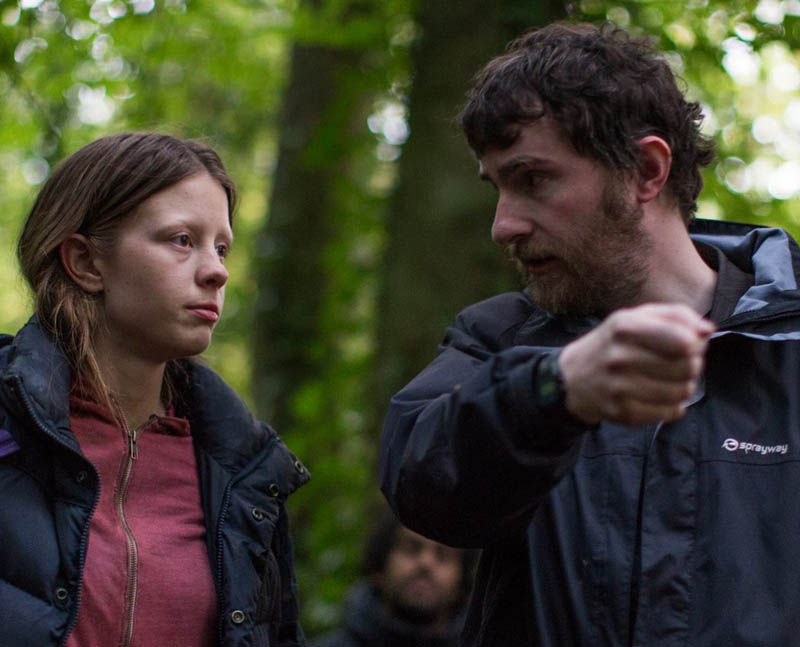 He reacts with hostility and a raised shotgun, but the older woman, Kathryn (Olwen Fouéré), manages to win him over by offering him some seeds, and, implicitly, sexual favours from Milja (Mia Goth), who's apparently her daughter. The way all parties worldlessly understand the terms of the deal is another index of how far they've fallen from the norms of civilisation as they used to know it.
It becomes a story of shifting allegiances. We come to understand that through their shared experiences the women have developed a symbiotic protective bond. Throw a sex-starved male into the mix, and chances are you're going to have problems. The witchy Kathryn walks a line between maternal, manipulative and murderous, while we learn that there's plenty going on behind Milja's impassive exterior.
Fingleton (pictured above with Mia Goth) resists any temptation to lapse into flat-out horror, but deploys his action scenes judiciously. The survivalist's duel with a marauder who tries to kidnap Milja is tense and desperate, while an attack by a gang of feral thugs armed with axes, hammers and a crossbow is briskly brutal. The Survivalist makes for austere viewing purged of any glimpse of levity, but Fingleton has eked out his limited resources with skill. His progress ought to be worth watching.