DVD/Blu-ray: Miracle Mile - cult apocalyptic romance |

reviews, news & interviews
DVD/Blu-ray: Miracle Mile - cult apocalyptic romance
DVD/Blu-ray: Miracle Mile - cult apocalyptic romance
This is the way the world ends, not with a bang but with spandex
Anthony Edwards and Mare Cunningham meet cute
To quote the genius sax player Dexter Gordon, "In nuclear war, all men are cremated equal" – or in this case, all adorable couples will burn as one. Anthony Edwards plays Harry, a not-so-genius trombone player who one sunny afternoon in Los Angeles meets Julie (Mare Cunningham), a waitress enjoying her afternoon off.
They flirt amid the remains of extinct animals once dug out of the prehistoric La Brea Tar Pits in downtown LA. Harry makes a date for later, when Julie finishes her shift at an all-night diner, but he oversleeps and she gives up waiting for him.
So far, so Eighties romcom. But then the movie takes off on a wholly different tack. Harry turns up at Julie's diner in the small hours, and stumbles across the news that nuclear missiles have been launched from a secret desert silo. Taking place in real time, the next 70 minutes are an apocalyptic helter-skelter ride as the couple try to find each other and somehow escape the doomed city.
Thirty years on, De Jarnatt admits there is 'still stuff I would reshoot'
Miracle Mile is a legendary cult sci-fi movie, long unavailable except in a shockingly shoddy VHS transfer. Its home-entertainment release is long overdue as it's an intriguing exercise in narrative construction with the clock ticking down. In 1988 Steve De Jarnatt was a hot young writer-director, whose short film, Tarzana, a monochrome homage to film noir, had won him plenty of Hollywood attention. For years Miracle Mile had been cited as one of the best unmade scripts until maverick producer John Hemdale put up the money to get it made.
De Jarnatt parlayed his moment into a seven-week night shoot on location, which included shutting down Wilshire Boulevard for a frenzied pile-up of crashed and burning cars. This Cold War nightmare is jam-packed with surreal encounters in the diner and on the disintegrating streets. The tension and genuine pathos is somewhat undermined by some shockingly awful outfits – purple spandex, anyone?
Anthony Edwards (pictured below), then riding high on his Top Gun fame, and Brat Pack graduate Mare Winningham are very endearing as the central couple. But it's the extraordinary cast of oddballs (O-Lan Jones, Edward Bunker among them) that the lovers collide with along the way that really make the film fascinating. The Tangerine Dream score is very effective at driving on the action and building atmosphere. Although it veers into tackiness, there is a genuinely chilling edge to this final hour on earth, especially in 2017 with the current American president so keen on red-button threats.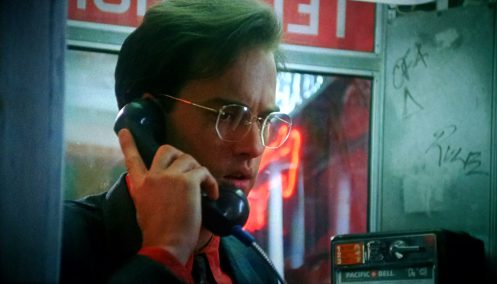 The new edition comes with informative commentaries, interviews with the score's composer Paul Haslinger, and the diffident and charming Steve De Jarnatt. He details the difficulty he had making the film – he spent over a year editing it and doing pick-up shots. Thirty years on, De Jarnatt admits there is "still stuff I would reshoot". He went onto a lengthy career in television drama, and now writes short stories.
There's a new interview with its stars Mare Winningham and Anthony Edwards who are affectionate about the film. Edwards admits that when he saw Miracle Mile again recently at the End of Days festival he found it "wonderfully and incredibly dated". It's one of those movie that inspires obsessive fans who mine tiny details for secret meanings; if the extras aren't enough, it's well worth reading film writer Walter Chaw's painstaking monograph – but watch the movie first.
It's the extraordinary cast of oddballs that the lovers collide with along the way that really make the film fascinating
rating
Share this article