" como el musguito ", Pina Bausch, Sadler's Wells |

reviews, news & interviews
"...como el musguito...", Pina Bausch, Sadler's Wells
"...como el musguito...", Pina Bausch, Sadler's Wells
Tanztheater Wuppertal in choreographer's gentle last work
Chorus line: the female cast ensemble in Pina Bausch's last work, '...como el musguito en la piedra, ay si, si, si...'
Sitting near the front at a Pina Bausch piece always provokes anxiety.
As my neighbour in the fourth row remarked, "at best, we'll get offered a cup of tea; at worst, anything might happen." Fortunately for those of a nervous disposition,
...como el musguito en la piedra, ay si, si si...
(Like Moss on a Stone), the last piece Bausch made before she died in 2009, is much tamer than the 1980s pieces which Tanztheater Wuppertal have brought to Sadler's in the last few years: those in the front rows suffered no agony worse than being given fruit and having their spectacles polished, while those sitting further back were so little provoked that one of my neighbours dozed off.
...Como el musguito... is long, to be fair, but so is 1980; the difference is that ...como el musguito... lacks the intensity of the earlier piece, whose barrage of visual and verbal inventiveness demands constant rapt attention. Like its immediate predecessor Sweet Mambo, ...como el musguito..., as the framing ellipses of its full title suggest, has a dreamy, distant quality, manifested in relatively little speaking and relatively long segments of dance. Whereas the dancers in Bausch's earlier pieces made themselves inscrutable through communicating nonsense, here they are simply inscrutable, communicating very little at all.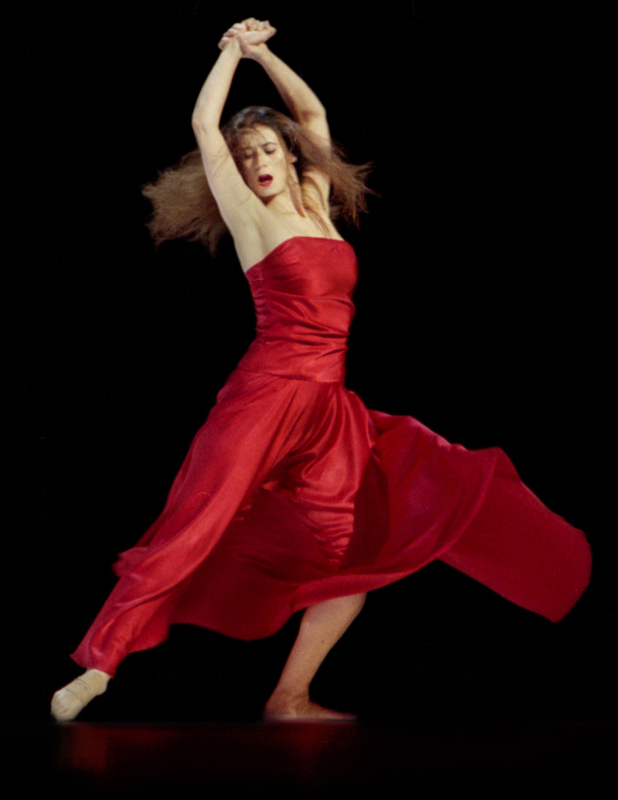 As usual with Bausch, much of what can be understood appears as a commentary on the absurdity of relations between men and women, here delivered with more gentleness and less bite than in some other works. The women are all in fabulous dresses, bright silky numbers with such wonderful tailoring (bias cut skirts, intriguingly curved seams, exquisite necklines) that I wondered whether costume designer Marion Cito does runway fashion, and if not, why not?

These gaudy, billowing creatures, whose long hair ripples and flows like the dresses they wear, deal with the challenges of interacting with men in different ways: one cheerfully removes the shirts of two handsome young men and then lounges with starlet kittenishness across their legs as they do sit-ups; another composedly applies make-up despite the water a man is pouring over her face (pictured below left); yet another struggles fruitlessly in a waist harness towards a rope on which men skitter, monkey-like, upside-down across the stage.
Who is the more ridiculous, we are forced to ask? The man whose dancing teacher told him "anything is possible; you'll get what you want" or the woman who graciously accepts the ministrations of a waiter with cutlery and serving dishes, then slides under the table to eat ravenously out of the pot with her fingers? The little man who showers kisses on the hand of a disdainful Amazon, or the woman who eagerly performs fragments of love scenes in famous ballets while telling a man how good at it she is? The gorgeous young chap (Rob Lowe face, David Tennant hair) who stalks on bare-legged in a suit jacket and pink patent high heels, or the women who wear these heels all the time?

Bausch's extraordinary work rarely produces easy answers, but spending hours in Tanztheater Wuppertal's company does produce a diffuse tenderness, a quiet but deep feeling of warmth towards the world and one's fellow humans. The lyric from which the title of this piece is taken, "love entangles itself like ivy on a wall, and it spreads like moss on a stone, ah yes, yes, yes" describes Bausch-induced tenderness pretty well, but the actual feeling produced by ...como el musguito... is more muted than usual, stymied perhaps by the inward-turning unreadability of the long dance solos. Bausch was a genius, and even on a bad day had more ideas than most dance-makers had in a year, but this, though tragically her last, is not her greatest work.
Bausch's extraordinary work rarely produces easy answers
rating
Share this article