The Destroyed Room, Traverse Theatre, Edinburgh |

reviews, news & interviews
The Destroyed Room, Traverse Theatre, Edinburgh
The Destroyed Room, Traverse Theatre, Edinburgh
Ferocious dissection of the chattering classes from Glasgow-based theatre company Vanishing Point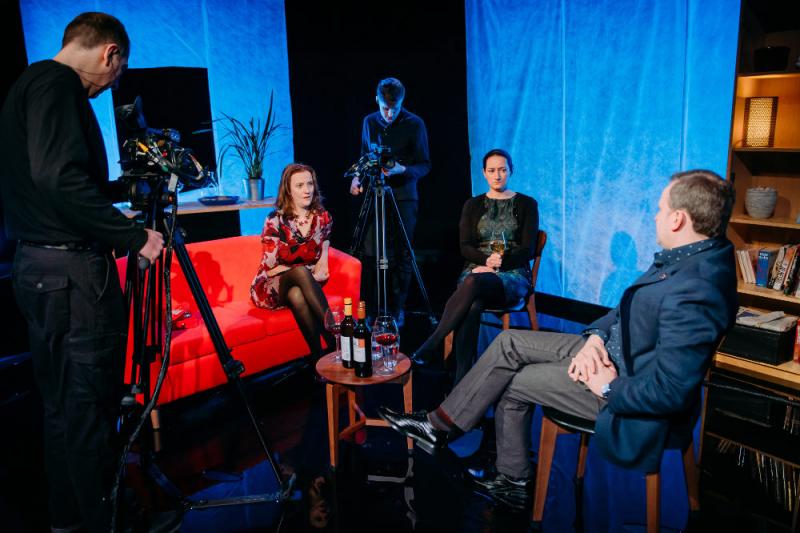 Futile discussions: Pauline Goldsmith, Elicia Daly and Barnaby Power in Vanishing Point's 'The Destroyed Room'
Seldom can the suggestion of a post-show discussion have seemed so… well, unappealing is probably the polite way of putting it. Because discussion is precisely what Glasgow-based theatre company Vanishing Point's devastating new show The Destroyed Room is all about – an hour of middle-class, liberal hand-wringing, of batting issues back and forth, weighing, challenging and rejecting opinions.
And of showing up our delight at observing and our eagerness to express views, but also our inability to act on them. And, of course, of never arriving at a solution. Because, director Matthew Lenton is perhaps saying, there simply isn't one. So the suggestion of a post-show discussion, to indulge in more of the same after Lenton's ferocious, uncompromising dissection of the chattering classes felt like – well, maybe too much of a good thing.
The Destroyed Room takes its title from Canadian photographer Jeff Wall's 1978 image of an inexplicably ransacked bedroom, itself inspired by Delacroix's The Death of Sardanapalus, 1827, in which an Assyrian king looks on impassively after ordering his possessions to be destroyed and his concubines murdered following a military defeat. The show's set-up is beautifully elegant, and brilliant in its blurring of form and content. Kicked off by actor Pauline Goldsmith's initial question about childhood fears, the three-strong cast's conversation shifts imperceptibly from improvisation to script, soon focusing over a few glasses of wine on our seemingly unavoidable contact with images of suffering – strangely hypnotic videos of natural disasters, or horrific but compelling images of beheadings and live burnings, or refugees on life rafts, drowned babies. And on our responses to them. Is there a limit to how much we can care? Or a geographical divide as to who we care more about? Do you really have to be a parent to truly understand?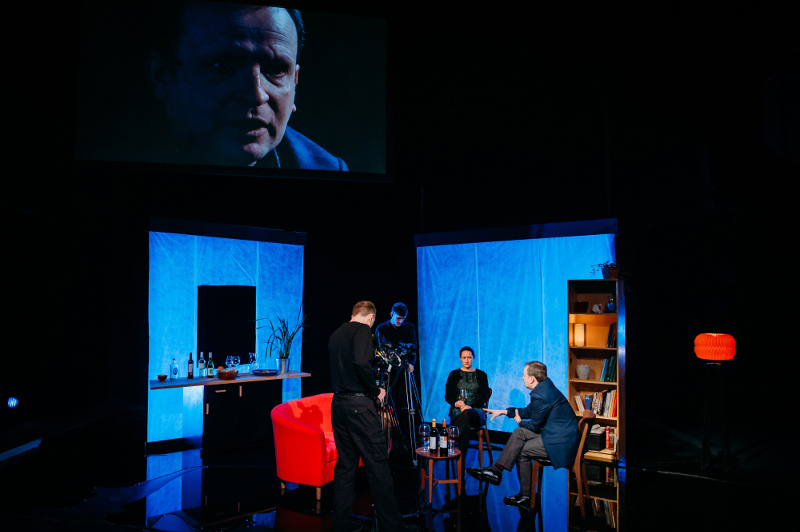 It's all captured on camera, the actors' faces projected in close-up across a big screen hanging above the set (pictured right). As the conversation grows more animated – and more intentionally artificial, it seems – the show heads inexorably towards a startling, cataclysmic conclusion.
It's a bold, sometimes brutal work, often bleakly funny in its alienating ironies and its references to French flags of solidarity on Facebook and fluffy cat gifs, yet thoroughly discomfiting in the way it holds a mirror up to the audience's own (relatively) affluent, cushioned sensibilities – an effect heightened by the all-too-familiar IKEA bookcase and comfy sofa in Kai Fischer's expertly designed living room-cum-TV studio of a set.
Actors Goldsmith, Barnaby Power and Elicia Daly sketch in their contrasting characters with almost imperceptible ease – there's a natural flow to their interruptions and trailing-off pronouncements, but even more believable is their seeming inability to experience any empathy with the harrowing images they encounter without aligning them with their own experiences. It's squirm-inducing to say the least, yet very human too.
With its abrupt change of tone and content, Lenton's final sequence jars – probably intentionally – with what's gone before. And its suggestion that questions of voyeurism, guilt or empathy are futile in the face of the impending global cataclysm almost certainly awaiting us brings on an atmosphere of apocalyptic despair, as well as inevitably undermining much of what's gone before.
But following their softer-edged Tomorrow, a poignant response to aging and dementia that scored a big hit at last year's Edinburgh Fringe, The Destroyed Room looks back to Vanishing Point's earlier Wonderland, a shocking exploration of the sex industry, but shows an altogether harder, more experimental side to the company's work, and one that makes the audience thoroughly complicit in its vicious accusations.