Bluebeard's Castle & The 8th Door, Scottish Opera |

reviews, news & interviews
Bluebeard's Castle & The 8th Door, Scottish Opera
Bluebeard's Castle & The 8th Door, Scottish Opera
A provocative premiere shines revealing new light on Bartók's dark opera masterpiece
Karen Cargill in phenomenal form as Judith in 'Bluebeard's Castle'
What to pair with Bluebeard's Castle? It's always a dilemma for opera companies. Something lightweight, even comic, provides contrast but also risks trivialising Bartók's dark, symbolist drama. Something equally brooding risks submerging the audience into an evening of endless gloom.
For its collaboration with Glasgow-based experimental theatre company Vanishing Point, however,
Scottish Opera
has come up with a bold, ambitious solution: to pair
Bluebeard's Castle
with a brand new piece, written expressly to complement it.
The work in question is The 8th Door, created jointly by Scottish Opera's composer in residence Lliam Paterson and Vanishing Point's artistic director Matthew Lenton. And the combined result is an engrossing, often challenging evening that casts Bartók's opera in a new and unusual light, and provides a provocative new context for its elusive symbolism.
It's hard to describe what The 8th Door actually is – maybe simply a 40-minute cantata by Paterson played and sung in the pit, while a staging by Lenton takes place up top. Certainly there are moments when those two worlds feel unconnected, simply happening to unfold at the same time. Yet at others they're carefully choreographed together, the smallest actions finding parallels in Paterson's music. It's a beguiling effect.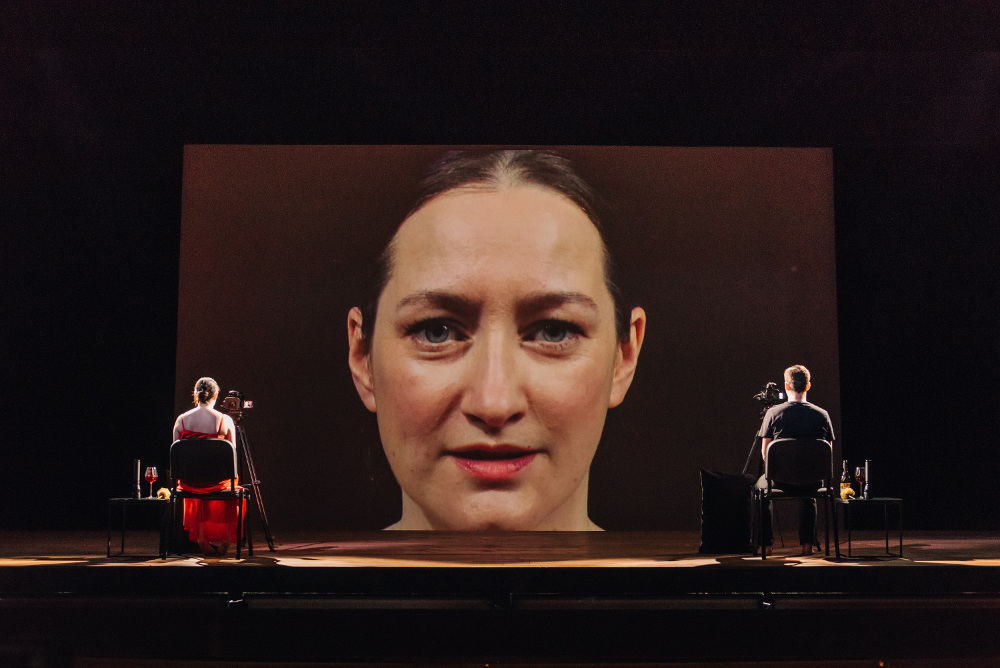 Paterson's score, for five amplified voices and a large orchestra heavy on percussion, perhaps inevitably sounds a lot like Berio at times, especially his Sinfonia, and there are clear nods to Andriessen, Adams and others, too. But it's a glittering, engrossing creation, sometimes frustrating in its swelling textures that simply dissipate, but thoroughly effective in its gradual transition from settings of love poems in English to a harsher-sounding Hungarian, leading us inexorably towards the dark psychodrama of Bartók's opera after the interval. There might be a sense that Paterson – still only in his mid-20s – is still finding his individual voice, but there's no doubting the strength and overall originality of his concept.
Lenton's stage counterpart (pictured above) couldn't be simpler: two actors, sitting in front of video cameras, their faces projected live onto a giant screen at the back of the stage, tell an entirely wordless tale of flirtation, desire, tenderness, lust and disillusion. It's carried off superbly by performers Elicia Daly and Robert Jack, who convey the couple's fragile tenderness with aching honesty, and just when you think there's little to link pit and stage, a blink or a turn of the head will summon a cascading climax or glitter of percussion. Most importantly, it set up Bluebeard beautifully: here, we're perhaps seeing the real-world characters behind Bartók's archetypes, or maybe the opera is an earlier relationship under examination. It's simple, but it works a treat.
And first-time opera director Lenton has come up with a wonderfully simple concept for his thoughtful staging of Bluebeard's Castle, too. We're in a normal modern flat – with just one rather than the libretto's seven doors – but Judith's exhortations that her new lover fling open his portals to let in the light trigger chaotic transformations to the interior's tidy order: flowers and tendrils sprout from the furniture; a flurry of gold dust hints at his wealth; and in a staging masterstroke, designer Kai Fischer's immaculate set fragments to reveal the expanse of Bluebeard's lands beyond.
Not everything works: the sudden plunge into grand guignol with the appearance of Bluebeard's former wives, and its sudden lurch into literalism, strikes a perplexing note after the subtlety and suggestion of the rest of the staging. But it's a powerful, beautifully considered concept all the same.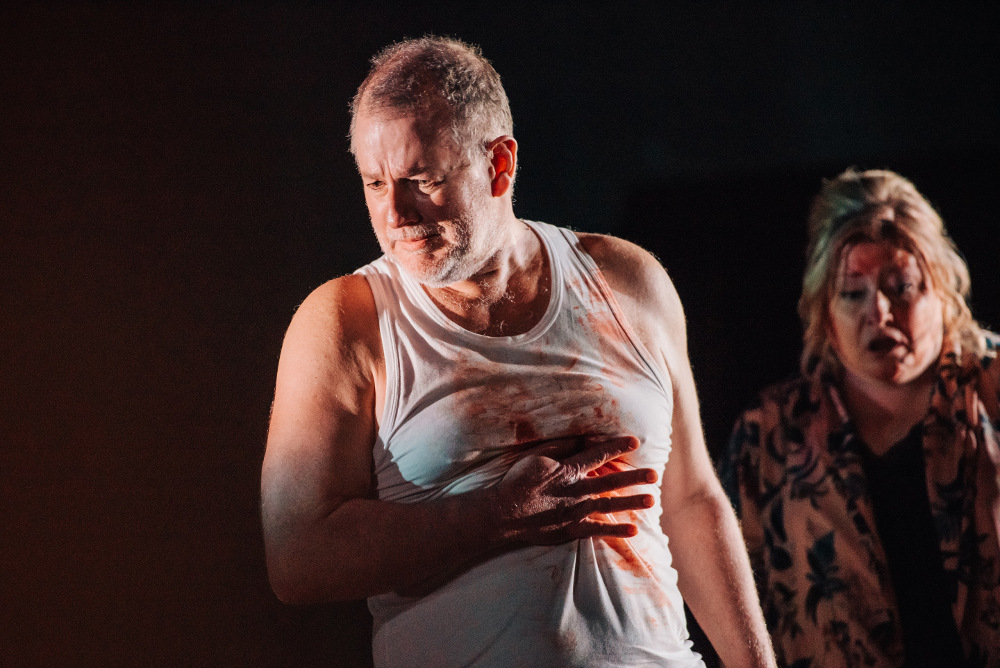 And it's carried along by breathtaking performances from Bluebeard veteran Robert Hayward (pictured above) and Karen Cargill as Judith on phenomenally strong form, her voice clear, crisp and golden, her characterisation flickering restlessly between power, vulnerability, even coquettishness. Her Judith feels truly alive, a long way from an empty symbol. Hayward is equally vibrant as Bluebeard, endlessly patient with his new lover's demands, pitched between imposing power and weary vulnerability.
They get solid support from Sian Edwards and Scottish Opera's orchestra in the pit, who are supple and sensuous throughout the evening, and full of bristling detail in Paterson's demanding score. Their performance could sometimes do with a little more raw power, even if supplementary brass make a sudden appearance in boxes either side of the stage for Bartók's biggest climax.
Pairing Bluebeard with a newly devised piece was a bold, risky endeavour from Scottish Opera. The result, though, is a magnificent achievement – not without its faults, certainly, but just the kind of challenging, boundary-pushing work that Scottish Opera is increasingly moving into, and should be congratulated on.
In a staging masterstroke, the set fragments to reveal Bluebeard's lands beyond
rating
Share this article