DVD: Sleaford Mods: Invisible Britain |

reviews, news & interviews
DVD: Sleaford Mods: Invisible Britain
DVD: Sleaford Mods: Invisible Britain
Persuasively punchy documentary about a country in distress and a band who are angry about it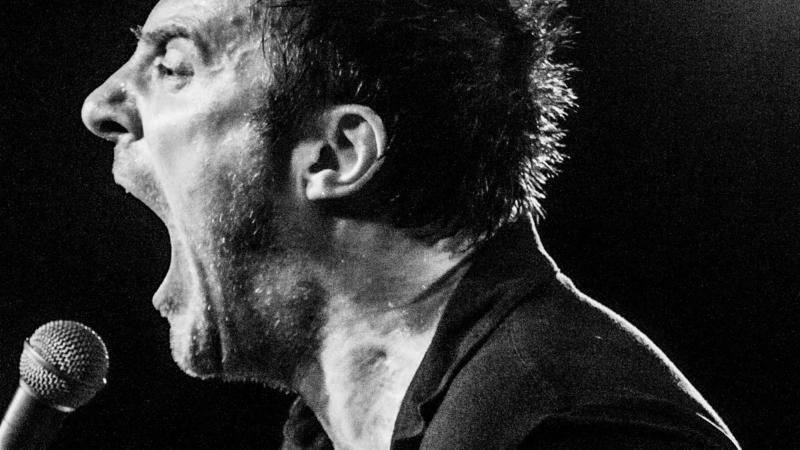 Let it all out
Back in the Seventies, Sniffin' Glue kicked off a punk and post-punk trend for fanzines. By the following decade this had become a deluge, surrounding the burgeoning, self-consciously "alternative" indie music scene but also offering thousands of otherwise unheard voices a chance to rage at Thatcher's Government in smudgily typed, crudely stapled, photocopied A5 pamphlets. The whole thing had an invigorating energy about it, connected to the times.
The drive and feel of
Sleaford Mods: Invisible Britain
has something of that lo-fi, politically raging, high excitement.
Those wanting a carefully calibrated, BBC4-style chronological overview of Nottingham's barracking, sweary electro-poet duo Sleaford Mods will be disappointed. Instead, Paul Sng and Nathan Hannawin's documentary intersperses concert footage and interviews with the band's Jason Williamson and Andrew Fearn, with snapshots of fellow-travelling grassroots activism and general revulsion at Tory policies. The whole thing is hung on the duo's tour of underfunded backwaters, towns such as Scunthorpe and Barnsley. Taking place just prior to the 2015 General Election, it cannily anticipates the way Cameron and Osborne's second term has ruthlessly, relentlessly hacked further into the nation's welfare.
Thus we see barnstorming performances of Sleaford Mods on visceral numbers such as "Tweet Tweet Tweet", "Jobseeker" and "Tied Up in Nottz", rant-songs that caustically satirise a disengaged society that farts about with smartphones and consumer dross while Britain is systematically sold off. Their sound is abrasive, the tone is punk – as plenty of shaven-headed, middle-aged talking heads crop up along the way to remind us – but the band's laptop'n'ranter set-up is also stark and original, reinforced by Williamson's Tourette's-like twitchiness on stage.
However, between the songs the spotlight is shone, never too long, on a host of contemporary issues and those engaged with them: the case of a mentally ill person deprived of disability allowance who starved to death; a socially conscious poet collective; JENGbA, an organization drawing attention to the disastrous injustices resulting from the Joint Enterprise laws; and so on. It works, too, driving the viewer into a righteous frenzy, but counterpointed with the thoroughly genial central pairing telling us about their lives and career. They are dryly amusing raconteurs, especially Williamson. It's a film that was clearly made on a tight budget, and sometimes that shows in the quality of the sound and visuals but, as it progresses, this doesn't matter. Sleaford Mods: Invisible Britain has something passionate to say and the force of it simply sweeps the viewer along.
It cannily anticipates the way Cameron and Osborne's second term has ruthlessly, relentlessly hacked further into the nation's welfare
rating
Share this article