theartsdesk in Hamburg: Reeperbahn Festival 2019 review |

reviews, news & interviews
theartsdesk in Hamburg: Reeperbahn Festival 2019 review
theartsdesk in Hamburg: Reeperbahn Festival 2019 review
Hustle, bustle, Matt Dillon and forehead-slappingly forceful Mancunians in sin city
Sunday, 22 September 2019
Hatari's Matthías Haraldsson at Reeperbahn 2019: angrier and more stentorian than a Dalek
Hatari's 10th placing in this year's Eurovision Song Contest hasn't done them any harm. Neither did ruffling the feathers of the European Broadcasting Union and host nation Israel with their stance on Palestine.
Based on their performance in
Hamburg
at 2019's Reeperbahn
Festival
, Iceland's favourite BDSM-leaning popsters haven't smoothed-off their rough edges.
The more gruff of their two singers, Matthías Haraldsson, sounds like a Dalek were one of the wheeled monstrosities angrier than usual, and even more stentorian. Team this with co-frontman Klemens Hannigan's somewhat sweeter tones and bum-in-fishnets spiciness, percussionist Einar Hrafn Stefánsson's Cenobite-gimp crossover style – he's the son of Iceland's ambassador to the UK – and a music playback merging techno, acid house and the industrial grind of Nitzer Ebb, and it's clear Hatari (trans: "hater") mean to be noticed.
Coincidentally, Hatari is also the name of a few Hamburg restaurants one of which does a mean schnitzel. Closer to hand, the aesthetics of the band chime with an important aspect of the flavour of the area in which they are playing. The venue whose stage they are on is Gruenspan, an agreeable, small music hall-type theatre along the Große Freiheit, a thoroughfare feeding into the Reeperbahn itself. This is Hamburg's sin city: a neon-flooded neighbourhood chock-a-block with touts, shills, strip clubs, terrifying looking bars offering two-Euro Moscow mules, poppers and shops stocking fetish wear, and other purportedly sexy attire. Where better to see Hatari.
Reeperbahn, the festival, began in 2006 and year-on-year has grown. It's a top-tier continental European music business-conference event come showcase festival. So much so its pulling power drew Matt Dillon (pictured above, © Robin Schmiedebach) to Hamburg for an on-stage interview on "The Art of Music and Film" in so-small a theatre that demand outstripped the supply of seats. The unreality of (almost) rubbing shoulders with him at the festival's opening event is only matched by gulp-inducingly encountering the puffer-jacketed prostitutes on the Reeperbahn whose opening gambit is affixing their hand from behind to a likely looking male's elbow or shoulder and then, once connected, following the potential client along the pavement for slightly too long for comfort before giving up. Outside the Burger King opposite the police station, it happens four, five, six different times until that particular zone is left.
In such dizzying conditions, the festival brings 90 venues on board for 600 shows. Some bands play three times over the four days. The ska outfit Bazookas put in three appearances a day. As well as the Hollywood star, big names include Feist and Sleaford Mods (pictured left, © Christian Hedel) whose set was clouded by the spittle and sweat generated by word-man Jason Williamson.
Hamburg has branded itself "Hamburg – City of Music", a designation which doesn't feel so far-fetched while at the festival but reveals wider meanings when stepping away from the hustle and bustle. Poking out into the river Elbe atop a massive former warehouse like a party crown, is the Elbphilharmonie concert hall. Nearby, also alongside the city's docks, are theatres dedicated to seemingly endless runs of The Lion King and Pretty Woman. More intimately, the charming KomponistenQuartier (composer's quarter) museum takes the musical story back to the 18th century with discrete sections on local or locally based composers Georg Telemann, Carl Philipp Emanuel Bach, Johann Hasse, Fanny and Felix Mendelssohn, Johannes Brahms and Gustav Mahler. Ligeti hasn't made it in there yet.
More recent, and as-such, evidence for another facet of Hamburg's musical past is found along the Große Freiheit next door to Gruenspan with the Indra Club, where The Beatles played from 17 August to 3 October 1960 in their first Hamburg engagement. They were last booked for a run in Hamburg further down the street at the long-gone Star Club between 18 and 31 December 1962 (tapes from this season became the Live at the Star Club album). The 60th anniversary of the Liverpudlian's initial arrival in town is to be marked next year by a new festival, Come Together – The Hamburg Beatles Experience.
But Reeperbahn Festival is about the now and the future. Germany was, of course, present. Playing the Kaiserkellar, another former Beatles' haunt, the trio Sparkling were hardcore-edged but poppy with a smidge of Mission of Burma. Convincing and energetic, they made their case. Quirkier but still with a US indie feel (Yo La Tengo, Sebadoh), Screenshots were also terrific. After their show, for fun they acknowledged the business side of the festival by inviting people to come up and give them their business cards. Also great were sunny Stuttgart quartet Rikas (pictured above, © Marvin Contessi) whose melding of Seventies' Isley Brothers harmonies and Tahiti 80/Kings of Convenience leanings posit them as one for fans of Haircut 100.
The Berlin-based Sofia Portanet (pictured left, © Konstantin Beck) were the artiest and most striking German up-and-comers with an utterly fresh, poppy take on the Neue Deutsche Welle. Odd dips into Nina Hagen-esque singing and a bracingly clipped and snappy approach to bass and drums mark them as winners.
Nonetheless, Germany didn't hold all the cards. The Hungarian band Palton Karatev initially needed tuning into as their lyrical cadences were underpinned by a similarly see-saw music which, oddly, had an affinity with New Zealand mainstays The Chills and The Clean. Denmark's Bloodchild were another ace with an intense – held down by hard, inventive drumming – melange with elements of Daydream Nation Sonic Youth and the psychedelic side of Wire. Again, the raw ingredients were clear but the approach was as crisp as a just-picked apple. Fellow Danes Penny Police enfolded with gospel-edged songs infused with a stormy drama which was wasn't undermined by playing in an alcove in the deeply unsympathetic environment of the St Pauli Museum.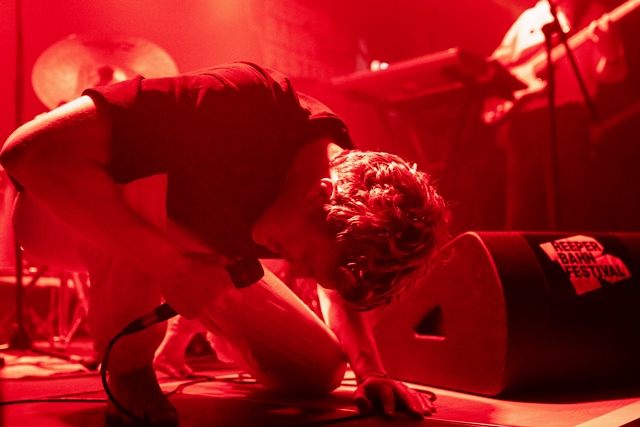 Contrast this Manchester's WH Lung (pictured right, © Konstantin Beck) at Nochtwache, a venue along a road parallel to the Reeperbahn. Smartly fitted-out to present the best acoustic, it is ideally suited to instantly highlighting the best characteristics of what's on stage. Not that this was difficult with WH Lung as their forehead-slappingly forceful motorik-infused Mancunia was a thrill ride. Hyper-kinetic frontman Joseph E seems to be in a trance as he perpetually throws Tai Chi shapes while his band relentlessly move from song to song. Live, WH Lung are more impactful than their album.
Equally strong on stage is Dagobert, a band fronted by the Swiss singer of the same name. He's based in Berlin and the band members are German. The experience is touted as schlager, the mainstream pop-music meat-and-potatoes of Northern Europe. However, what's on offer is an arch, arty take on the form with sing-along choruses, intimations of Bowie, Jarvis Cocker and Scott Walker, and a compelling way with memorable, soaring melodies. The front-line of the Dagobert audience was youngish and fashionable but a scan across the crowd revealed his appeal is wider than it initially seems. He is very special.
Standing out in this way at Reeperbahn Festival is difficult but not impossible. Charisma, energy, a clear understanding of what you are doing, a personality which breaches the edge of the stage, power, a unique approach – any or all help in an event where distractions are inherent and the scale potentially overwhelming. The hullaballoo on the street, the volume of shows, an incessant drip-feed of information designed to point towards something in particular can dilute focus. Follow your nose. Is there any other way to dive for musical pearls?