theartsdesk in Aalborg: Northern Winter Beat 2020 review |

reviews, news & interviews
theartsdesk in Aalborg: Northern Winter Beat 2020 review
theartsdesk in Aalborg: Northern Winter Beat 2020 review
Australian retro-futurists, a Dutch lute player and Finnish noise-niks rub shoulders in northern Denmark
Tuesday, 04 February 2020
Australia's U-Bahn at Northern Winter Beat. They are not Devo
U-Bahn's second-ever live show outside their home country Australia took place in Aalborg, in Jutland, in the north of Denmark. They were in this congenial, routinely rain-sodden city last weekend for Northern Winter Beat, the annual festival of established, offbeat and up-and-coming musical adventurers.
The Melbourne oddballs' (pictured above) debut album attracted attention for its seeming determination to borrow much of the early Devo's shtick. Live, however, they are something else. The herk-jerk, tick-tock patterns are present and correct but what's apparent a minute into "Beta Boyz", their first song, is that these art-rockers are defined by forward propulsion. They rock. Their set ends with an extended, wild version of album closer "Time Warps Make the Sweetest Sound", transmuting what was recorded into a science-fiction surf-rock epic.
There's make up, simpatico though not matching clothes and haircuts, but the energy and interconnectedness of the playing – hot drumming and snappy bass playing stand out – ensure that any reservations about where they're coming from instantly evaporate. Wonderful, and if U-Bahn were all that Northern Winter Beat had brought to Aalborg the festival would still have been a success. (pictured right, Ryley Walker at Northern Winter Beat, photo by Rafael Zajac)
Northern Winter Beat kicked off in 2013 and since then has set-off relatively venerable individualists – last year Blixa Bargeld and Thurston Moore came to town – against non-mainstream acts who may or may not be well known. This year, that balance is exemplified by booking former Swans man Michael Gira – solo, he is stentorian and hard to digest – and Denmark's own Efterklang alongside, say, American guitar stylist Ryley Walker – in top form with good humour, his past problems behind him – and Belarusian Eighties types Molchat Doma.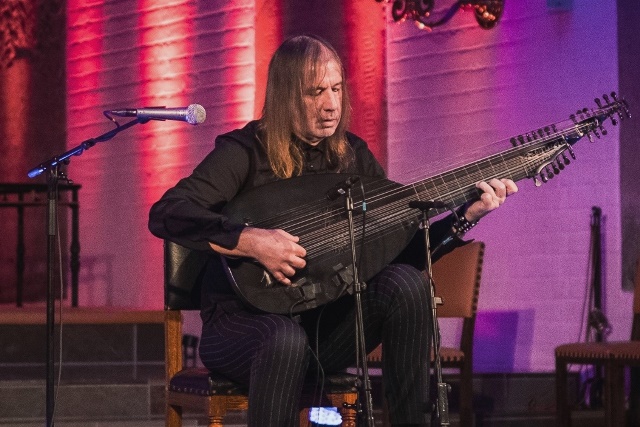 This year, ticket buyers from outside Denmark come from Amsterdam, Hamburg, Madrid, St. Petersburg and Stockholm. And Tower Hamlets. It's fitting that what's playing could be from anywhere on the Earth: Syria's Omar Souleyeman and Thailand's Khana Bierbood have played Northern Winter Beat. (pictured left, Josef van Wissem at Northern Winter Beat, photo by Rafael Zajac)
Aalborg's northern limit is defined by the Limfjord, which cuts through the whole of the tip of Denmark. This navigable passage ensured passing trade was attracted. Wealth followed. Grand 16th- and 17th-century merchant's houses pepper the shopping streets. The Vikings had already settled the area due to its strategic importance. There were friars, nuns, monasteries and a castle. Side-streets with rows of half-timber cottages suggest a fairyland – an impression rudely curtailed on exiting such narrow time portals to find a branch of Denmark's all-too ubiquitous Joe & the Juice.
At Northern Winter Beat, the local heritage and festival's connection with the city's historic themes combine for the opening show, held at the Budolfi Kirke, Aalborg's Lutheran cathedral. Budolfi is St. Botolph, adopted as a patron saint by sailors. A model ship hangs from the cathedral's ceiling. Most of the building's existing structure dates from the 14th century. Before the alter, the Dutch lute player Josef van Wissem – best-known for his music for the Jim Jarmusch film Only Lovers Left Alive – cuts a splendid dash. In pin-stripe trousers, dark eye make-up, button-sided boots and a studded-leather wristband, he looks as if he ought to be in an arcane metal band circa 1970. Instead, he plays mesmerising circular compositions on his 24-string instrument which through their power enfold. He began singing; chanting really. "Do you ever feel like you want to. Do you ever feel like you want to. Do you. Do you." He sounds like John Cale. Mind-blowing and spiritual. (pictured right, Efterklang at Northern Winter Beat, photo by Rafael Zajac)
A form of spiritualty is also apparent in Efterklang's performance at the large hall of the Studenterhuset, across a cobbled courtyard from the cathedral. Although this was an early date on the tour following the release of their Altid Sammen album, their first in Danish, old favourites like "Modern Drift" and "Monument" were performed. But this was no normal new-album-on-the-road show. Members of the audience were invited onto the stage as an ad hoc chorale. It ended with the band in the audience. Such disarming intimacy springs-off from frontman Casper Clausen's personality and the warmth he generates which in turn creates a bond, dissolving barriers between the stage and the audience. Communion is achieved.
Along these lines, the Estonian violin player Maarja Nuut reconciles the past and the present seamlessly. By reframing traditional material with modern technology, she confirms that a beating heart can course through the digital era. (pictured left, Maarja Nuut at Northern Winter Beat, photo by Rafael Zajac)
Vitality of a different sort comes after a short walk along a winding, narrow alley skirting the medieval monastery to 1000Fryd (pronounced "tusan frid": a thousand freedoms), a tiny venue where the human presence has rendered the air so thick it takes four goes at wiping the lenses of glasses before they cease steaming up. Liverpool's Ohmns are a highlight there with their roller-coasting, rollicking garage-punk. "I've just had three beers" declares their drummer as they tumble onto the stage. On the same boards, Molchat Doma are less engaging as when encountered last year in Tallinn. They've become aware of who they are and the stage movements are more delineated and a little too exaggerated. Now kitted out in black Fred Perry shirts and with higher-end equipment – no on-stage mobile phone rhythm box this time – they've obviously worked out that their Cure/Joy Division hybrid is ready for the wider world. Indeed, they have just signed with the US label Sacred Bones. Great, but not as edgy as before.
A band which will never seduce the wider world are Aalborg's own Kogenkunst. They are fascinating and baffling. Usually a duo, they are bolstered to full-band status with – like Efterklang – a choir backline. Their venue is the undulating Utzon Center, designed by Danish architect Jørn Utzon, he of Sydney's Opera House. At first, Kogenkunst seem very 1969 or 1970; akin to jazzers going rock yet still in thrall to beat poetry. Then, they get rockier and bands likes Henry Cow and Samla Mammas Manna come to mind. Odd, and maybe only a little less so for a Danish speaker. (pictured right, Kogenkunst at Northern Winter Beat, photo by Rafael Zajac)
More easy to interpret are Norway's Spurv, who must really like Explosions In The Sky. Although impactful and sporting fabulous drumming, it's too-clear where they are looking. The same applies to New Zealand's Purple Pilgrims viz-a-viz Beach House, and also with France's Psychotic Monks and the Bad Moon Rising-era Sonic Youth.
It's also obvious where Finland's nutty Teksti-TV 666 are coming from: My Bloody Valentine, Sonic Youth (again), The Ramones. But it is done with such good humour, power and skill that their full-bore assault wipes away any reflections on thoughts about their influences. One of their two drummers starts as he means to finish by wearing only his underpants. He crowd surfs, as does their Bill Bailey of a front man. Their soundman even joins in, strapping on a Telecaster to play along while jiggling atop the stool parked behind his mixing desk. A mosh pit is called for and the going-nuts audience obliges. Also wonderful. (pictured left, Teksti-TV 666 at Northern Winter Beat, photo by Rafael Zajac)
Equally impactful but from a lower-key perspective is Aalborg's Hjalte Ross. His debut album Embody marked him as special. Despite nods to Gene Clark and John Martyn, it was the intensity which set him apart from others on a similar path with an acoustic guitar. His talent was recognised by then-retired veteran British arranger and producer John Wood who came on board for the album and its as-yet unreleased follow-up. Wood has worked with Sandy Denny, Nick Drake and Nico so knows all about singer-songwriters who follow their own nose.
He plays in a subterranean setting, within the spooky museum set up to showcase the excavated and preserved remains of Aalborg's medieval friary. Ross sat in front of a stone coffin containing the skeleton of a former resident of its graveyard. His new songs are delivered with greater intensity than before and, although singing in English, muffled words add to the mystery of his compositions. Melodies come and go and are delivered in fragments as if curtains were caught in the wind, but it all comes together to make sense as each song unfolds. He has moved on. (pictured right, Hjalte Ross at Northern Winter Beat, photo by Rafael Zajac)
Ross's album was titled Embody, and Northern Winter Beat is embodied by the attitude that different types of music can exist side-by-side at the same event without cancelling each other out. Indeed, each complements the other.
Where else would a lute player harmonise with Finnish noise-niks, or gleeful Australian retro-futurists be at one with an impassioned local singer-songwriter? Evidently, it happens in Aalborg.