theartsdesk in Oslo: Øya Festival 2019 review |

reviews, news & interviews
theartsdesk in Oslo: Øya Festival 2019 review
theartsdesk in Oslo: Øya Festival 2019 review
A musical communion in Norway's capital
Feeding off the audience: Sigrid at Øya 2019
The timing seemed odd. Sigrid is internationally successful. She's Norway's highest-profile musical ambassador since a-ha. Yet instead of headlining at 2019's Øya Festival, she hits the stage at 6.45.
Has she been demoted in favour of Tame Impala, who are given the final slot at 9.30?
Then, as the crowd begins gathering in the natural amphitheatre before the Amfiet stage in the Tøyen park in Norway's capital, it becomes clear. The timing recognises that some of her younger fans might not usually be up at 10 or later. Sigrid's fan base is multi-generational, with her youngest admirers around eight years old. At the front, a girl in a gold home-made crown emblazoned with "Sigrid" sings along with "High Five". As does her dad. Others nearby who could be the age of her grandparents do so too.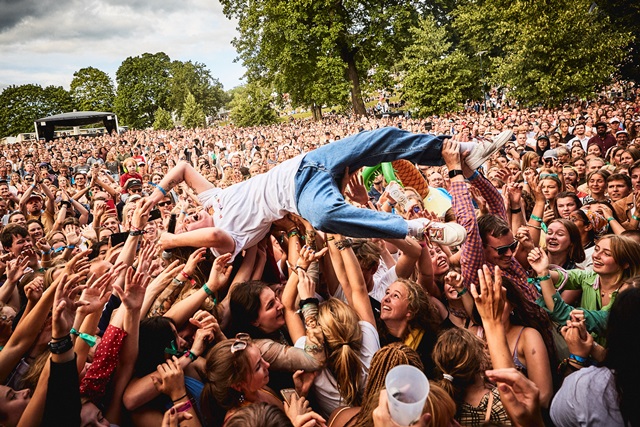 Sigrid Raabe has played other Norwegian festivals over the last couple of months – including July's Kongsberg jazz festival – but this is different as it's Oslo, and 12,000 are here to celebrate and embrace this singular star. Although Sigrid deals in an R 'n' B-flavoured pop with odd dives into power balladry, nothing is showy. There's no make-up, flashy stage clothes or showbiz sass. Her jeans are strictly high street. Yet the charisma shines. (pictured above: Girl in Red's Marie Ulven meets the audience at Øya 2019. Øya Festival/Helge Brekke)
Rather than being about surprises, playing Øya on the Thursday was an affirmation: one generating a heady feedback loop. She fed off the audience. They radiated energy back her. Being at this communion-like gathering was dizzying. It didn't matter that all the material was familiar and that the sameness of the songs meant there was a mid-set lull, the sense of event could have animated a tree stump. For Sigrid, it meant she was as energised as a lightning bolt.
After this high, it felt that nothing else could achieve this solidarity. Yet, the next day, it happened again. Girl in Red is the musical alter-ego of Marie Ulven, a singer-songwriter who's had some impact beyond Norway with the disarming punk-edged pop nugget "I Wanna be Your Girlfriend". Live, with an all-male band, she's as unvarnished as Sigrid though musically different. However, she breaches barriers to an even greater degree. Despite saying she had a temperature and that things felt as if they were slowed down, she jumped, ran, skipped and, unavoidably, had to get into the crowd. Later, she was on the festival site, just like everyone else. (pictured above: The Cure's Robert Smith at Øya 2019. Øya Festival/Pål Bellis)
This is Øya's – translated as "island" – 20th year and the festival has an enviable sense of intimacy. It's held in a hilly park just north of the Edvard Munch museum, about 20 minutes' walk north-east of the city centre. For each sold-out day 19,000 people are on site, 2000 of whom are volunteers. There are four main stages, one of which (Sirkus) is covered. There's also a dance/DJ-focussed area (Klubben) and a small stage for talks, jazz and oddballs like the compellingly stygian black metal duo Golden Core. International festival favourites and hot newbies are billed alongside local perennials, stars and up-and-comers. This means that it's possible to see the extraordinarily assured Sami joik stylist Marja Mortensson, who sensitively recontextualises her wordless vocals in a jazz setting, and then wander off to check out the irksome, inexplicably popular Brit-yobs Idles.
Such a hop-scotch programing formula isn't unique, but Øya has its own twist. Many of the visitors also crop up at two other festivals held over the same weekend: Helsinki's Flow and Gothenburg's Way Out West. The traffic between the three is a unique, wonderful tribute to the Nordic region's sense of co-operation. Branding at Øya comes from the most un-Nordic Pepsi. (pictured above: Robyn at Øya 2019. Øya Festival/Johannes Granseth)
This year, as well as Sigrid and Tame Impala, the big draws are The Cure and Robyn, with Eryka Badu, James Blake and Christine and the Queens filling out the names in lights. The final band on the Saturday are venerable Norwegian psych-prog monsters Motorpsycho. Cultier fare includes Blood Orange, Mitski, Pond, Stereolab and Stefflon Don. A fair proportion of the Norwegians have been around a while: Deathcrush, I Was a King, Kommode, Razika (playing their last-ever show). All of which suggests a degree of recognition is helpful to secure a booking at Øya.
Recognition isn't lacking for The Cure, who have been around longer than anyone else at Øya. While their two-hour-15-minute set was varied and got into gear 35 minutes in with "Burn", it largely stuck with the song sequence they've been playing at this summer's festivals. All reassuringly Cure-like, with the puppet-like Robert Smith the focus despite bassist Simon Gallup's rock-star hopping and low-slung Pete Hook moves. Catnip for the fans then, and for Smith who really looked to be enjoying himself as he cracked his odd, warped smiles. Cattily, the national newspaper VG dubbed them "passé goth" on "autopilot." Its competitor Dagbladet declared their presence meant the festival was a "playground for anyone who wants to experience their favourite old bands over an overpriced beer." (pictured above: Christine and the Queens at Øya 2019. Øya Festival/Johannes Granseth)
Sweden's Robyn has been in the public eye from just before her teens and was born the year The Cure's first album came out. At Øya on Friday during her absorbing performance, she achieved another of the festival's moments of communion when she stopped singing and left the audience to take over "Dancing on my Own". Her set was split into three parts. The first was about the song, and found her in go-go boots and a mid-thigh length dress. Then, after an instrumental interlude and a workout from her male dancer, she emerged in a bolero-type trouser suit for some sexed-up moves with said dancer, Finally, it was back to her and her songs (including "Dancing on my Own"). While the bald description implies naffness, this was a show of rare class, knowingness and confidence. It was impossible to move one's eyes from her.
Earlier that day on the same stage (Amfiet) France's Christine and the Queens ought to have had the same effect. With a strong female front-person, dance moves and a similar affection for Eighties dance-pop (down to the Michael Jackson Thriller massed dance steps in C and the Q's case), the kinship is clear. Chris, as she's called these days, is obviously having a whale of time but the songs lack strength so what's projecting from the stage relies on the staging to make its impact. But with a show so rigidly choreographed – sections of the Sharks and Jets- informed Steven Berkoff play West come to mind – there is little room for anything imprecise, anything wayward. (pictured above: Fervent Mind at Øya 2019. Fervent Mind)
However, by booking Héloïse Letissier (she who is Chris) and Sigrid, Øya is showcasing two hugely and recently successful pop-music exports from countries which have often not gotten a fair shake of the stick. Hopefully, barriers between borders will continue being breached in this way.
Erykah Badu may possibly be a border breaker, but at Øya she was certainly a patience breaker. On this evidence, her music has turned into a by-rote form of jazz-inflected hip-hop. But that is not the problem: audiences know what they are going to get. She went on 35 minutes after her specified stage time of 7.50 and then spent a while waffling ("trees are why we breathe"). The knock-on effect from this was that the UK's Nao, playing on a nearby stage began playing 20 minutes late as the sound from Badu's late-show would have drowned her out. Badu hit the rails when her stage's sound man cut her off. (pictured above: Stereolab at Øya 2019. Øya Festival/Anna Lerheim)
An altogether more satisfying aspect of Øya than the selfish Badu are pre-festival warm-up shows held on the day before the festival's kick-off at venues around the city. At Ingenstads, a bar alongside the river Akerselva, evidence for the rich future of Norwegian music came with the band Fervent Mind, the vehicle of singer-songwriter Live Sollid Schulerud. Live, the band balance assured songwriting with a rockiness suggesting festivals could be a natural home. There's elements of Susanne Sundfør in there, and fans of Anna von Hausswolff won't be shocked by Schulerud's full-on voice. At the same venue, the quirky jazz-folk quartet Masåva were also winners.
That was, so to speak, before the beginning but the end came on Saturday in Tøyen park when Motorpsycho, with guest keyboard player Lars Horntveth (of Jaga Jazzist) and fiddler Ola Kvernberg (the Trondheim Jazz Orchestra) were preceded at the covered Cirkus stage by the reconstituted Stereolab who tossed off a frenzied "French Disko" early in their set and then nimbly set-off their innate artiness against measured freak-outs, such as a red-hot "Metronomic Underground". (pictured above: Motorpsycho at Øya 2019. Øya Festival/Pål Bellis)
Motorpsycho, though, went for the total freak-out. The band were ranged in a semi-circle between a fringed curtain and a screen onto which images of paintings by Håkon Gullvåg were projected. The musicians were shadowy presences. By subsuming themselves into this environment, Motorpsycho nodded to the days of the psychedelic lightshow and forced the audience to focus on the music generated. Their first piece was a 41-minute portmanteau composition which began – albeit from a rocky perspective – with hints of the Swedish progg of Älgarnas Trädgård and Bo Hansson. At 28 minutes a groove emerged. Once it was over, it was time for another dive into the endless void.
Hanging over Øya this year, like the rain on Saturday, is a question mark about the nature of its future. Last year, just after the 2018 festival, is was announced that Superstruct Entertainment had bought Øya. A new Norway-based company called Øyafestivalen AS was formed. The acquisitive Superstruct had already taken over Spain's Sónar festival and Hungary's Sziget festival. The company is backed by the 58 billion-dollar American private equity/venture capital organisation Providence Equity Partners who, it was reported, seek to create "a group of leading music festivals in Europe and other parts of the world with the same level of quality and unique position in their home market" as what they have bought already. (pictured above: Marja Mortensson at Øya 2019. Øya Festival/Johannes Granseth)
Øya is a jewel, showcasing Norway and – despite Erykah Badu's contempt – the Norwegian way of doing things. Choosing to close with Motorpsycho is integral to the proof. So is the appearance of Marja Mortensson. It is too soon to tell if the new money and owners will turn Øya into a cookie-cutter festival rather than a boutique event, but let's hope this does not become the case.