WH Lung, Rich Mix review - ever-intensifying motorik-bedded onslaught |

reviews, news & interviews
WH Lung, Rich Mix review - ever-intensifying motorik-bedded onslaught
WH Lung, Rich Mix review - ever-intensifying motorik-bedded onslaught
Self-assured and on-the-rise Mancunians firmly make their case
Tuesday, 26 November 2019
Demanding the audience's attention: WH Lung's constantly moving frontman Joseph E
A 55-minute set without an encore. Songs bleeding into each other. No announcements, no talking from the stage. A constantly moving frontman seemingly channelling a yen to merge Merce Cunningham moves and tai-chi. A band who, barring the odd grin from one of the guitarists, focus on what they are doing without expression. An absence of "please-like-me" posturing.
Then there's the music. In high gear from the moment the stage is taken, it's a motorik-bedded onslaught systematically augmented with crescendos and mounting power. Beyond the Krautrock influence, other nods are made: New Order when they were grappling with the incorporation of a sequencer, the testifying side of Happy Mondays, rave at its most relentless. But this is rock, albeit with a foot on the dance side of the tracks.
The live WH Lung experience confirms the Manchester band is not messing about. It also demonstrates their confidence. Released earlier this year, their debut album Incidental Music instantly marked them as one to watch but the in-person manifestation is more forceful, more propulsive. The record is no substitute for the real thing.
It's obvious WH Lung have thought hard about how they present themselves. Frontman Joseph E has probably had some sort of training in dance or performance. When he's singing "Simpatico People" and declaring "Am I alone here, Am I on my own?" he turns the palm of his raised hand towards the audience as if saying "Do you see? Do you understand?" Later, bare feet (with blue painted toenails) apart while jogging side-to side, he suddenly bobs and dips as if dodging physical manifestations of the music's rhythm. At moments, the early Richard Ashcroft comes to mind as a comparison but Joseph E is his own conception.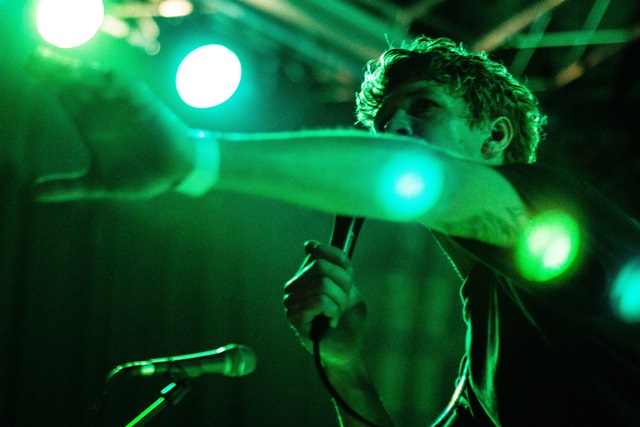 But it's not just about the man demanding the audience's attention. The other core members are Tom S (the occasionally grinning guitarist with the longer hair) and Tom P (bass). The live WH Lung are augmented by another guitarist and a (superb) drummer. This is a band, not an art project. The bass and the drums stand out: patterns played repeatedly and at speed – human sequencers. Guitars are treated and stab through or are employed as a wash integral to the flow of the whole. Again, despite the always increasing potency of delivery this is a considered approach. Hookworms are in similar territory, but WH Lung operate on a higher, more muscular, more visceral level.
The eight-song set drew from Incidental Music but built on it. "Bring it up" was given a make-over with added blooping synth from Tom S and feral screaming from Joseph E. A new track – not the recent single "Symmetry" – seems to have the lyrics "More champagne for everyone here, real pain for everyone else": it featured a New Order "Temptation"-style pulse and Joseph E hitting hand-held percussion.
Playing an antiseptic, school hall-like room in East London's Rich Mix didn't tamp-down the band's strength. Such sterile surroundings could have been draining. The energised crowd at the sold-out show – their third appearance in London – didn't evince any tribal leanings. It was more male than female, wasn't particularly hip and most of the male side were over thirty. The band members themselves look to be in their early twenties. If such amorphousness suggests a non-specific appeal for this particular form of art rock then based on this disarmingly self-assured show, WH Lung will be unphased as their audience grows.
Despite the always increasing potency of delivery, WH Lung have a considered approach
rating
Explore topics
Share this article