theartsdesk in Estonia: Tallinn Music Week 2016 |

reviews, news & interviews
theartsdesk in Estonia: Tallinn Music Week 2016
theartsdesk in Estonia: Tallinn Music Week 2016
A Presidential exhortation to save our Europe and our freedom
Head of state at the controls. Estonia's President Toomas Hendrik Ilves mans the decks while his former security advisor DJ Drummie aka Andres Vosman looks on
"If we want to keep this free and democratic Europe of ours free and democratic, we must enlist ourselves, our skills and our commitment to liberty and justice. The problems we face are too great to simply say let the politicians do it.
I say this as a President." Making this declaration in his country's capital on the opening morning of 2016's Tallinn Music Week, Estonia's President Toomas Hendrik Ilves stressed that the power for change is in all our hands and also confirmed the all-too prevalent view that the international political class is unlikely to address, let alone solve, the world's problems.
Now in its eighth year, Tallinn Music Week is a showcase festival: an event designed to show off a country or region's music, or a style of music. For Ilves, the gathering is innately political: "We all need to use our creativity, be it musical, artistic, entrepreneurial or technological to make a change for the better. If a playwright like Václav Havel can liberate a whole country, certainly an army of creative people can save our Europe and our freedom." He had begun his speech by broaching the killings at the Paris Eagles of Death Metal concert, saying: "Those 89 people were just like you and me, people who listened to something other than what your average radio station would play."
Fast-forward eight hours. The President is revealing his personal radio station's playlist. Behind DJ decks, he is airing tracks from Teenage Wasteland, the charity-benefitting compilation album he recently assembled as a retrospective soundtrack for his years growing up in the US. By his side stands DJ Drummie who, as Andres Vosman, was his security adviser and is also a veteran underground dance DJ. It's surreal. This is a President. A President playing records from the edgier end of the canonical. There are selections from the album: The Troggs' "Wild Thing" and David Bowie's "Panic in Detroit". Some songs are not: Creedence Clearwater Revival's "Fortunate Son", Neil Young's "Cinnamon Girl" and Plastic Bertrand's "Ça Plane Pour Moi". Before and after each, he explains what the track is and what it means to him. The link between Neil Young and grunge is outlined.
The President is 62, and was born in Sweden to Estonian refugees who arrived there during the Soviet Union's post-World War II occupation of their country. He grew up in and was educated in the USA. When Estonia achieved independence in 1991, he lived in Germany and worked for Radio Free Europe. In 1993, he became Estonia's Ambassador to America. After a spell serving as a member of the European Parliament, he was elected President of Estonia in 2006. Music colours his world. During the punk years, he frequented New York's Mudd Club. Nothing in his trajectory fits the norm. At this year's Tallinn Music Week, he was at the front during a pummelling set by Finland's ominous Krautrock-acid house musical steamroller K-X-P (pictured above right, photo © Martin Lehari). This politician leads by example.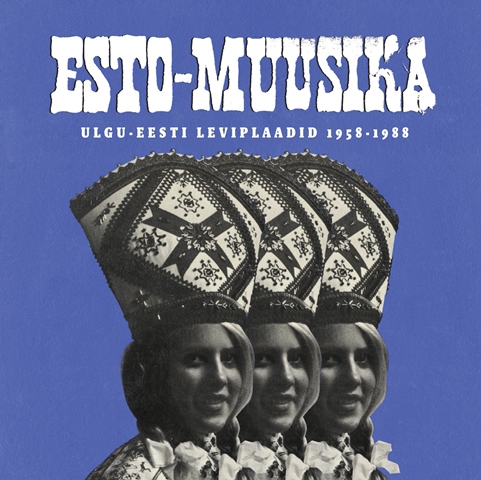 In this city and as part of this event, it all makes sense. For Ilves, as it is with Tallinn Music Week, the day-to-day, the cultural and the political are one. It's just that his slant on the cultural allows room for the personal more than most world leaders.
Ilves's international background and roots in Estonia's diaspora is reflected by another album also promoted at Tallinn Music Week alongside Teenage Wasteland. The extraordinary and wonderful triple-CD set Esto-Muusika Ulgu-Eesti Leviplaadid 1958-1988 (pictured above left) collects recordings made by Estonia's dispersed communities and provides a very different soundtrack for the country's expatriate population than that of the President's. One not featuring The Velvet Underground. Everything is in Estonian, whether recorded in the US or Sweden where Ilves lived, or Argentina, Australia or Canada. The small, transplanted Estonian-speaking populations could buy Joni Mitchell covers, a translated "These Boots are Made for Walking" or folk-styled recordings made for the tiny local markets.
Like other detached populations, Estonians wanted to retain their identity. The issue was relevant at home too. At various points before independence, Estonia been under the control of Denmark, Sweden, Russia and Nazi Germany. Having a Finno-Ugric language has helped embed the distinctiveness: it has ties with Finnish, Hungarian and Sámi. In Russia, President Putin has Finno-Ugric in his ancestry. At Tallinn Music Week, an evening dedicated to Finno-Ugria stressed Estonia does not see itself apart. These poignant thoughts aside, it is impossible not to be swept along by the verve of the traditional Russian Finno-Ugric group Toorama. (Pictured right, Toorama's enthusiastic audience, photo © Kristjan Indus.)
With music, the name immediately coming to mind in association with Estonia's world-wide profile is the composer Arvo Pärt, the country's most well-known cultural export. He had his struggles with the occupiers and spent much of the 1980s and 1990s in Germany. His presence is felt close to Tallinn: a 45-minute drive west of the city reaches a lane cut through a forest which ends up at a large but unassuming garage and house surrounded by trees. This is The Arvo Pärt Centre, the home of his archive. He also works there – the icons inspiring him sit upon a piano in a corner (pictured below left).
As unlikely as it is, the buildings used to belong to the owner of a swimming-pool company. The 2008 recession had its effect on that market and they were sold in 2009. Currently, this is an archive as such but publicly accessible buildings are in the development phase. A complex designed to be in sympathy with the forest will be opened to the public in 2018 and concerts, exhibitions and film screenings will be held there. Symposia, too. Now though, the visit to the centre brings another of the Tallinn Music Week frissons. Stacked on shelf after shelf are his hand-written scores: Pärt's creative life is laid out like the green of the forest floor.
Operating on many levels, the thought-provoking Tallinn Music Week raises questions about identity and place. This year, it held its inaugural Creativity for Change Forum, a day-long series of seminars on how ideas can be harnessed to, ultimately, make life better, easier and more equal. But the more immediate is also to hand. Art installations have been created around the city. There is a craft beer festival, design market, music-centred film season and special restaurant menus. Most of the senses are catered for. Last year, 24,000 tickets were sold; this year, it is 10,000 more. If there is a nexus between one creative field and another, it is here. Just as the numbers are rising, the focus is also expansive.
All this means experiences of Tallinn Music Week differ, with no potential cross-over. Nonetheless, the operative word remains music. During the day, the City Stage strand gives musicians platforms around the city. In the evenings, around 15 venues host shows with more than one stage at many. Everything is here: classical music, folk, hip-hop, jazz and metal. And from almost anywhere, though Estonia itself is represented to the greatest degree. Latvia, Lithuania and Russia show strong hands. The Nordic countries – especially nearby Finland – are out in force. So are the Lebanon and Syria.
As with any event, but even more so here, choices have to be made. Snapshots then, with the host country taking precedence. In the tiny coffee shop August, Sädelev Kass (pictured above right, photo © Diana Pashkovich) are a nutty duo melding reggae and Robert Fripp's guitar to space-rock aesthetics, and are out there on their own. The traditionally rooted accordion player Tuulikki Bartosik winningly showcases the serial music nature of polka.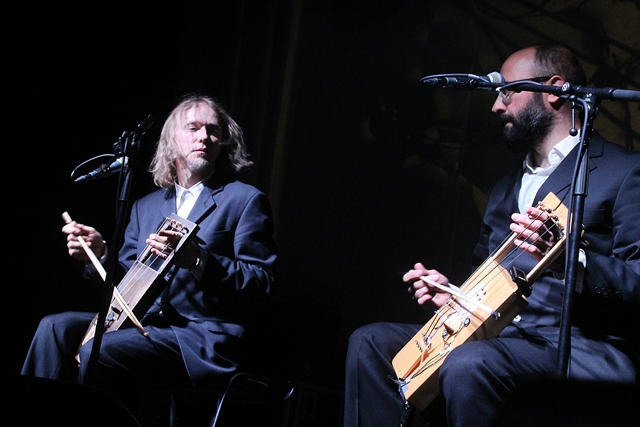 On a mainstream pop ticket but stranded on a stage in a shopping centre, electro-pop trio Würffel make the case they could be Estonia's Aqua, though it's hard not feel for them as distracted shoppers drift in and out of chain clothes shops. In a murky club, indie-rock quartet Frankie Animal are hampered by a singer on crutches but, at least for the first four songs, they win with a series of snappy new wave of New Wave short, sharp shocks. The plain-bonkers bowed-lyre duo Puuluup (pictured left, photo © Marina Puškar) ought to be on festival stages anywhere bringing joy. Both Mari Kalkun and Maarja Nuut are each magical, stemming from the traditional and taking it to new places: they are not for a folk audience only – an artistic migration in keeping with the questing defining Tallinn Music Week.
From beyond the borders, Latvia's Alise Jostes's sparse singer-songwriter introspection is lifted by sympathetic framing from her two accompanists. Affecting and assured, she would sit comfortably with a label like Bella Union. Finland's The Hearing did not have congenial settings – a hotel lobby and the ante-room of a venue elsewhere – but telegraphed a Nico-like intensity tempered with an innate sense for sepulchral melody. Wonky Finnish jazzers Elifantree bolted techno to Nina Simone and ended up as a strange distorted echo of Annette Peacock. Britain's The Revolutionary Army of the Infant Jesus were immersive and spellbinding, while our own The Membranes' pitch-and-roll post punk was teamed with the lightning-flash voices of Estonia's Chamber Choir Sireen.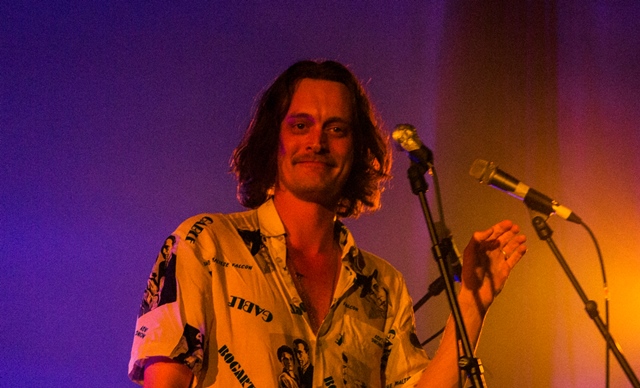 The nominally jazz Lithuanian trio Sheep Got Waxed dealt in what was actually close to early King Crimson prog. Kudos too for Lithuania's world-class Garbanota Bosistas and a compelling yanking of Ariel Pink onto the dance floor. Liima (pictured right, photo © Madis Särglepp), a union of Denmark's Efterklang and Finnish percussionist Tatu Rönkkö, were splendid, energised and propulsive. The view of them as a project has evaporated and they are now a band.
Tallinn Music Week feels infinite, as though it could and wants to encapsulate anything. No longer a boutique festival but nonetheless retaining an enviable intimacy, it has a voracious appetite for bringing things together. In many ways, though commercial and not countercultural, it has become akin to an unselfconscious Sixties happening but with a 21st century scale, organisation and technology. The driving sensibility is a modern take on let's-change-the-world. The growth it has experienced – ideologically and in scale – does mean it is now hard to get a handle on, though.
Does this matter? Not really. It is not a negative. Anything can be taken from Tallinn Music Week. It could be enough to see a few bands and drink a beer. Or maybe, to revisit President Ilves' exhortation, to also become one of "an army of creative people saving our Europe and our freedom". The options are there. And saving our Europe is not going to be done from the outside.
Estonia's President was at the front, leading by example, for Finland's Krautrock-acid house musical steamroller K-X-P
Share this article