Guys and Dolls, Phoenix Theatre |

reviews, news & interviews
Guys and Dolls, Phoenix Theatre
Guys and Dolls, Phoenix Theatre
The all-time Broadway great remains a reassuringly safe bet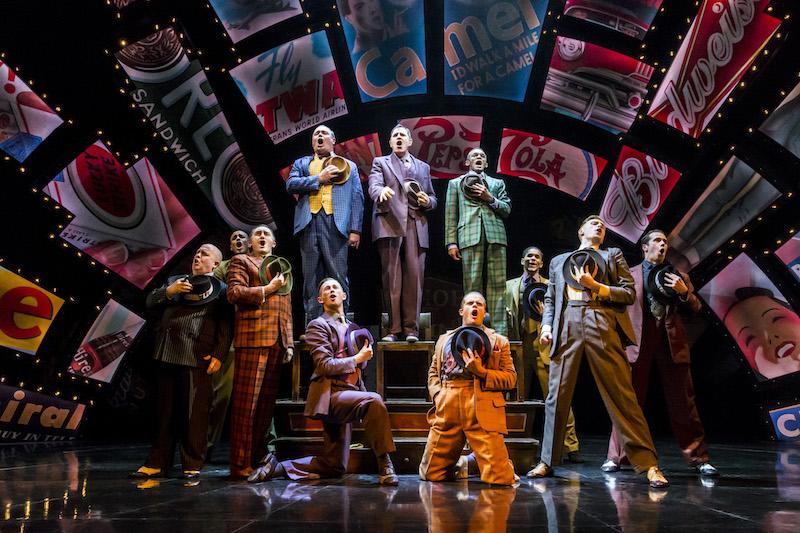 Good old reliable Nathan: the floating crap game host (Richard Kind, centre) and his dedicated gamblers
It's all change once more for Gordon Greenberg's slick, protean revival, which began life at Chichester back in 2014, as three new leads join the show's transfer from the Savoy to the Phoenix. If not a revelatory version of this 1950 masterwork, it's certainly proved its staying power, and should continue ticking along nicely (nicely) both here and in its parallel touring production.
Of course, the "musical fable of Broadway" is an irresistible proposition, thanks to the seamless partnership of score and story. Damon Runyon's affectionate rendering of the Great White Way's seedy side is, in turn, lovingly translated by Abe Burrows and Jo Swerling into an exceptionally witty book. Runyon's idiosyncratic parlance – the swooping syntax and curious chivalric formality of nogoodnik gamblers – also fuels the embarrassment of riches that is Frank Loesser's music. It's easy to forgive the odd plot improbability when another rapturous hit is just around the corner.
Greenberg's near-three-hour production is slack in places, working better as a series of set-pieces than a propulsive whole. Improvements in diction and sound balance would help rescue the odd dropped zinger, and at times both cast and Peter McKintosh's set – a touring-friendly fan of retro advertisements – seem a little lost on the cavernous Phoenix stage. However, this is at heart a character piece, and the trio of new additions honours that with a shrewd balance of sincere humanity and technicolour cartoon.
Jamie Parker – now on Harry Potter duty – has a worthy successor in Oliver Tompsett (pictured above), who brings artless charisma, rich vocals and endearing boyishness to the inveterate gambler. His Sky Masterson is a plucky chancer, swagger and playful urbanity dissipating in the face of illogical, ungovernable love. "My Time of Day" becomes a bashful courtship offering, and "Luck Be a Lady" has real emotional urgency. When he proclaims "I've got my life on this roll", you don't doubt it.
Broadway veteran Richard Kind's commitment-phobic Nathan Detroit (pictured below with Samantha Spiro), host of the infamous floating crap game, is a teddy bear with claws. While charming us with his put-upon world-weariness, peppy quips and riotous physical contortions, Kind doesn't entirely mask Nathan's venal streak. He has a strong partner in small but mighty Samantha Spiro, who effectively demonstrates the distinction between Adelaide's on- and off-stage personas. Her brassy chorus girl combines Marlene Dietrich pretensions with eye-popping wiggles, but when trying to persuade her fiancé, yet again, to make it down the aisle, she delivers the counter-argument "I'm ready" with poignant simplicity.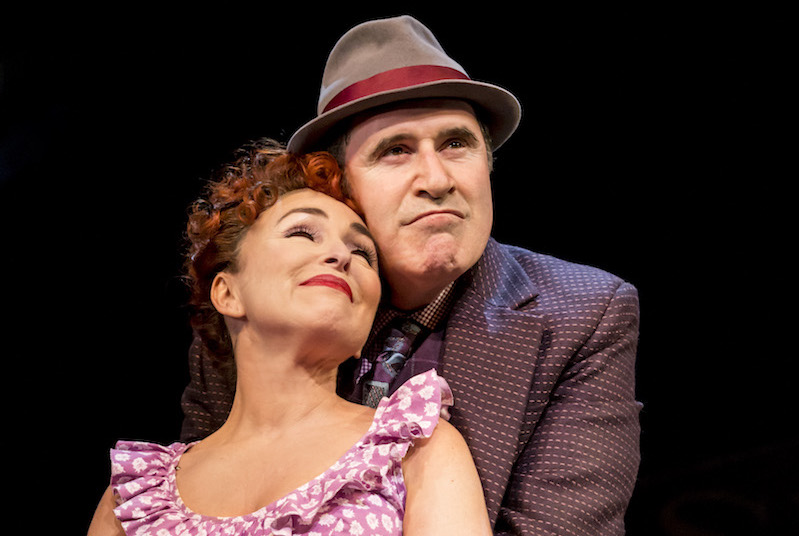 The weak link is returning cast member Siubhan Harrison, whose stolid missionary is hampered by strained vocals and who never fully surrenders to either the ecstasy of love or the drunken abandonment of the Cuban brawl. The latter, in fairness, is a story beat subsumed by Andrew Wright and Carlos Acosta's steamy Latin number; you'd be forgiven for thinking the scene is concerned with Selina Hamilton's sensual rhythm, neverending legs and impeccable control, rather than the crucial unbuttoning of Sarah Brown.
Elsewhere, their pin-sharp choreography has far more narrative purpose, from effective chorus vignettes and eccentric mannerisms to authentically slapdash cabaret at the down-at-heel Hot Box. There's also the odd in-joke, such as a fleeting pastiche of Swan Lake's cygnets. Best of all is the foot-stomping glory of Revivalist showstopper "Sit Down, You're Rockin' the Boat", with Gavin Spokes's superb Nicely-Nicely getting an inspired scatting assist from Lorna Gayle's General Cartwright. Other standouts include Jason Pennycooke's rubber-legged Benny Southstreet, Nic Greenshields's aptly named Big Jule and Billy Boyle's disarming Arvide, though William Oxborrow's Lieutenant Brannigan lacks menace. If not a classic, this is a winning rendition of an all-time great musical – and, like Sarah, we can't help but succumb to its devilish charms.
Swagger and playful urbanity dissipate in the face of illogical, ungovernable love
rating
Share this article