Guys and Dolls
Guys and Dolls
Sinatra and Brando ride again in classic MGM musical
Wednesday, 17 December 2014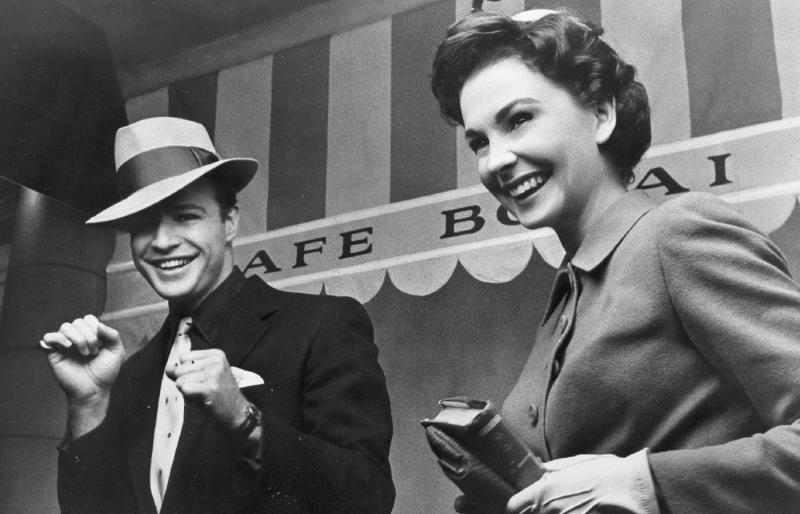 Luck Be a Lady: Marlon Brando spars with Jean Simmons
This newly-restored version of one of MGM's most hallowed musicals is making the seasonal rounds with a run at the BFI and selected cinemas around the country. Directed by Joseph L Mankiewicz in 1955, the piece drips with period charm, while its pairing of Marlon Brando and Frank Sinatra is still capable of generating a box office buzz 60 years later. But (I'll just whisper this) it may seem like a bit of a slog for modern audiences.
It's not just the 150-minute duration that sometimes makes time feel like it's been nailed to the floorboards, or the jarring quaintness of the Damon Runyon-derived dialogue, so much as the fact that Mankiewicz took the idea of making the film of the stage show so literally that often it's hardly like watching a movie at all. The action takes place on painted sets representing Broadway and its environs, the Save-A-Soul (think Salvation Army) Mission or the underground sewer where Nathan Detroit (Sinatra) finally gets to hold his floating crap game. When Sky Masterson (Brando) whisks buttoned-up, holy-roller Mission doll Sarah Brown (Jean Simmons) off to Havana for a moonlit dinner, there's no messing about with airports or aeroplanes. We just cut straight to a new and none-too-convincing Havana set.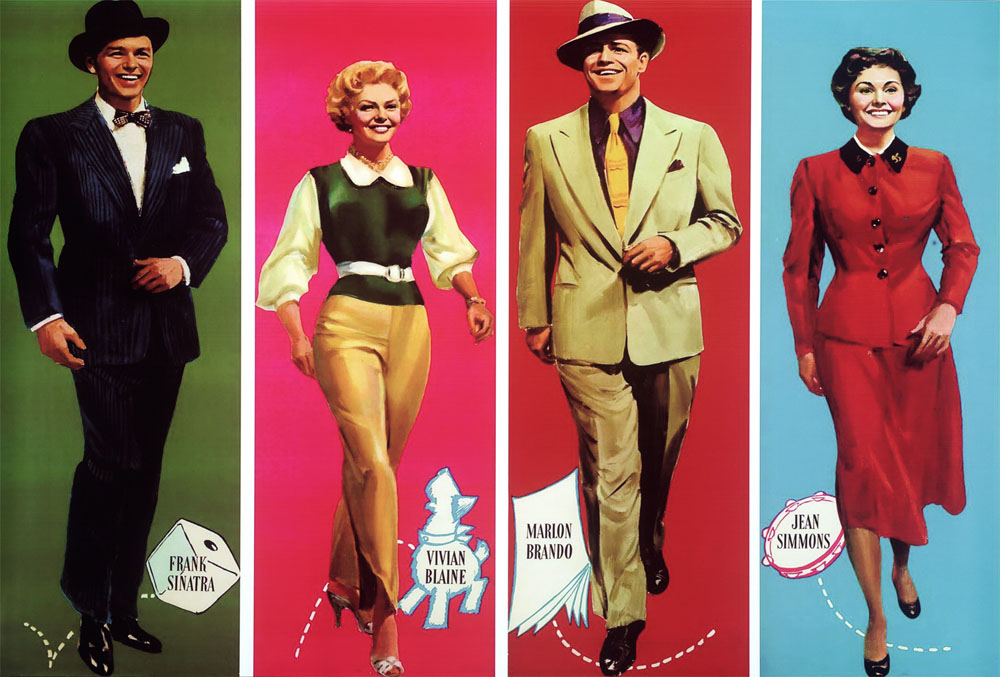 Of course, there are positives to accentuate. Brando, playing the inveterate gambler Masterson with big lapels and Borsalino hat, exudes a heady jungle-cat mix of menace and seduction. One area where technology did spring into action was in pasting together some singing performances by non-singer Brando, who manages to sound just a little bit like Nat King Cole in the climactic "Luck Be a Lady". It's a lark, too, to see Sinatra still in his gawky, big-eared phase before he morphed into the sleek pseudo-gangster of later years.
Yet despite Guys and Dolls' legendary status, Frank Loesser's roll-call of songs feels a little light on all-time classics. I reckon the best number here is "Sit Down, You're Rocking the Boat", sung by Stubby Kaye as gambler Nicely-Nicely Johnson amidst a brilliant vocal arrangement performed by his fellow-lowlifes, while Jean Simmons, fuelled by Cuban rum, pumps it up for "If I Were a Bell".
There's valuable added megawattage from Vivian Blaine's Miss Adelaide, Detroit's very, very long-suffering girlfriend and leader of her own female dance troupe at the Hot Box club. As The Alley Kittens (pictured left), the girls turn "Pet Me, Poppa" into an outrageous tease with their sequinned bodystockings and swishy kitten-tails, and later (as The Debutantes) somehow managed to get their matching set of lacy teddies past the censor.
But you probably know by now whether you love Guys and Dolls or not. If you do, you'd better catch this souped-up reissue while you can.
Guys and Dolls is at BFI Southbank from 19 December. It's also showing on BBC Four at 7pm on 22 December.