Eisenstein in Guanajuato |

reviews, news & interviews
Eisenstein in Guanajuato
Eisenstein in Guanajuato
Peter Greenaway's Mexican filmic fiesta for his director hero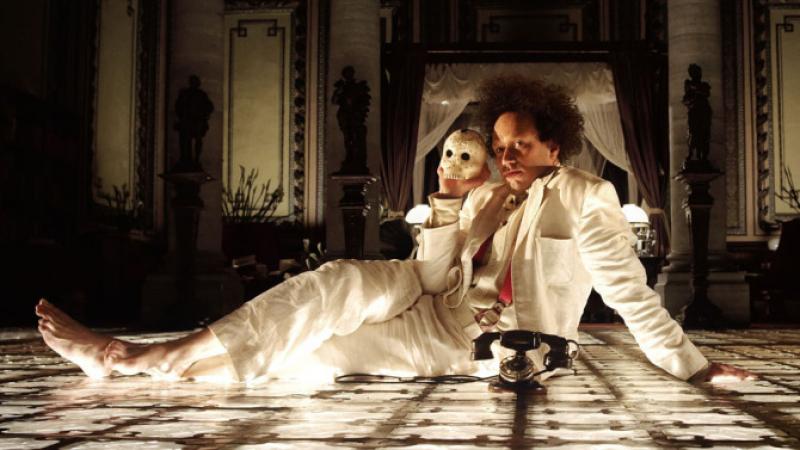 Waiting for death to call: Sergei Eisenstein (Elmer Bäck)
This is an unashamed, fulsome, extravagant tribute from Peter Greenaway to his cinema idol. The British director – though that description is probably more point of origin these days than allegiance – has long acclaimed his Russian-Soviet counterpart Sergei Eisenstein as the most adventurous figure that the film industry has ever known, one whose ground-breaking experiments and discoveries are as alive today as they ever have been.
There's experiment aplenty in Eisenstein in Guanajuato, making the result much more of a fiesta than we have had from the director in a long time; the energy levels here are up by a notch or two at least. "Fiesta" is the appropriate word, given that the location is Mexico, the subject Eisenstein's time there in the early 1930s, when he was working on the film that would never become Que Viva Mexico! Eisenstein shot some 250 miles of film for the project, which was due to cover the history of Mexico around the country's 1910 revolution, but it never reached his hands as editor, without which part of the process nothing could even reach the great man's inimitable style.
Eisenstein ended up there at the end of a two-year absence from the Soviet Union, which had seen him invited to America, equally feted there by cultural luminaries – a lot get namechecked here – and derided by Red-bashers, who finally prevented a potential Paramount studio project for him from getting made. Help came in the sympathetic form of writer Upton Sinclair, who bankrolled the director to work on a project across the border – Eisenstein travelled from California to Guanajuato in 1931 – probably without really knowing what he was getting himself into.
'I am a caricature,' Eisenstein exclaims at one point
But the subject here is the personal world of Eisenstein, rather than a picture of the director making a film – his time in a particular environment, rather than the work. Greenaway's own opening narration proffers the subtitle "Ten Days that Shook Eisenstein", a nod to the English-language title under which his 1928 October was released, "Ten Days that Shook the World" (itself taken, of course, from John Reed's 1919 memoir). Certainly nothing is more personal than the key central scene in which the director (played by Finnish actor Elmer Bäck) is penetrated from behind by his Mexican assistant and guide for the duration of his time in the country, Palomino Cañedo (Luis Alberti).
It's a frank scene, approached with a directness, also even intimacy that stands out from much of the rest of the film. The issue here isn't whether that explicit episode – or indeed most of the rest of the film – is based on any literal truth or not, though Greenaway's script incorporates extensive quotations from Eisenstein's writings, and other associated sources. Instead, it's Greenaway's attempt to elucidate the change that Mexico wrought on the director, associated with other local specifics, often involved with darkness and death (there's a dramatic scene around the rites of the Day of the Dead, pictured below). Eros and thanatos are intertwined.
Greenaway pushes the texture of Mexican life to the fore, even to almost parodic levels – the fear of lurking Camorristas, scenes heavy with the scent of religion; it's an extravagance matched by a variety of the director's familiar filmic touches, including three-box divided screens, steeply saturated colours, and extensive use of back projections. The last of those most memorably feature Eisenstein's sexual drawings: though their homoerotic motif is usually considered their main characteristic, they are as much examples of sexuality running wild in all its forms and fantasies, encompassing many different forms and directions.
There's plenty of relish for the film's locations in cinematographer's Reinier van Brummelen wide-screen camerawork, which also gets distorted through almost any range of filters and lenses you can imagine. Much of the action is set in the grandly baroque main hotel in Guanajuato, with Eisenstein's large room there the dominant interior location, with excursions outside into the town's streets and, in one memorably nightmarish sequence, the tunnels beneath them.
Whether that leaves much, if any room for developing the character of Eisenstein himself is a moot point. "I am a caricature," he exclaims at one point, talking of himself as "a child abroad", and that's the principle impression that Bäck leaves us with. Greenaway's attempts to cast a Russian in the role were stymied, he has written, by local players' reluctance to commit to the buggery scene, and also hampered by lack of language: it's hard indeed to imagine the distinctive rapid-fire delivery here coming across very convincingly in a stonger Slavic tone.
There's an element of the child, complete with thrust of unruly hair, let loose with a box of new toys in the way Bäck plays him, and in the voluble ongoing commentary he delivers on what he's getting up to with them, although some of the aphorisms dropped are as artificial as the accent in which they are delivered. (Elements here, perhaps, of another precocious genius, Tom Hulce's Mozart in Milos Forman's Amadeus, even down to the scatological fascination.) It's not a depiction that has endeared Greenaway to many Russian cinephiles – local loyalties there for his work have lasted longer, and proved stronger, than in many other parts of the world; the explicit gay content hasn't exactly gone down well in official circles, either.
But if you look at the drawings – a selection is currently on display at London's PACE Gallery – with their extravagant delight in scurrilous fantasy, and humorous allusions in four or five languages – it's a style of presentation that rings rather truer. It's sometimes been easier to define Greenaway by what he's not than what he is, and a wholly parodic appearance by Upton Sinclair's representatives at a late stage here illuminates the difference between what the film producers expect, and what they get from this precocious genius working outside the rule-book. That may not be an analogy to be stretched too far, but Eisenstein in Guanajuato certainly bursts out with a picaresque energy and voluminous scale that is as impressive as anything Greenaway has made in a long time.