The Flick, National Theatre |

reviews, news & interviews
The Flick, National Theatre
The Flick, National Theatre
Annie Baker makes the ordinary extraordinary
Candid camera: Rose (Louisa Krause) longs to connect with Avery (Jaygann Ayeh)
A Pulitzer Prize and numerous walkouts: The Flick, infamously, courts extreme reactions. Yet this latest American import is dedicated to minutiae. In Annie Baker's slow-burning (three hours-plus), microscopic epic, her lens is trained on ordinary people, mundane tasks, arid pauses and inarticulate speech that trails… off.
Though this may initially seem like indulgent anti-drama, the brilliance of Baker's strategy soon becomes clear. We become so attuned to life in the rundown movie theatre in Worcester County, Massachusetts that the smallest alteration feels like a seismic shift. The developing rhythm of veteran employee Sam (Matthew Maher) and new boy Avery (Jaygann Ayeh) is violently disrupted by the appearance of projectionist Rose (Louisa Krause, pictured below with Ayeh and Maher), just as we've become accustomed to their methodical – real-time – sweeping up of spilled popcorn, up and down each row of faded velour seats. Frequent Baker collaborator Sam Gold's production is so measured and unblinking that you almost expect an Attenborough wildlife voiceover to kick in.
This level of naturalism is key to Baker's exploration of the gulf between performance and authenticity, fantasy and reality. Not just between grand Hollywood blockbusters and the unglamorous existence of small-town, low-paid workers, but the difficulty of separating who we are and what we feel from projections and expectations. Sam's unrequited passion for Rose is exquisitely poignant, but does he really love her or the idea of her? The disillusioned millennial trio, all still living with their parents, keep reaching for "normality" – those friendships, relationships, careers and aspirations enshrined in popular culture – and keep falling short.
All of which flickers around the edges of the warmly comic and the humdrum. Rather than sweeping plot arcs, Baker gives us tiny occurrences: the finding of a lost shoe, a sleeping customer, a missing ceiling tile, an abandoned tapioca pudding. Sometimes the long silences contain multitudes – Sam exerting his "de facto" authority over Avery, romantic longing stretching endlessly – and sometimes they're just dead time. Sam hopes a meandering anecdote about tamales will lead to a profound realisation, but meaning slips out of his grasp. Connection ebbs and flows between these alienated souls, who have been consigned to redundancy along with their theatre's 35mm projector, soon to fall victim to digital (the play is set in 2012).
Baker waxes lyrical about the relative texture, engagement and expressiveness of film – the clinical sheen of digital is like "looking at a postcard of the Mona Lisa" – and her writing bears comparison, building something tangibly real from impeccably observed fragments and nuances. It's the theatrical equivalent of Buddhist sand mandala, painstakingly constructed and painfully ephemeral. When the picture becomes clear, in a devastating denouement, it's well worth the wait.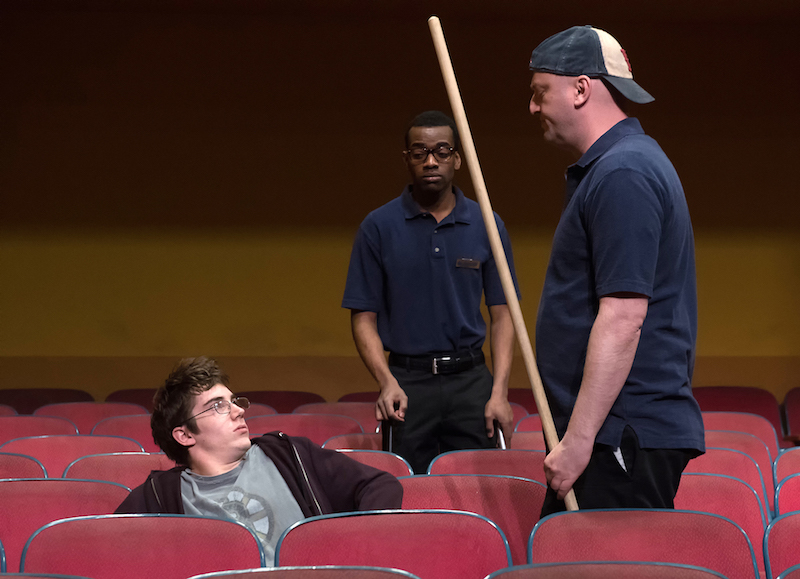 Original cast member Maher (pictured right with Sam Heron and Jaygann Ayeh) methodically strips away the defences of seemingly implacable, thirtysomething Sam, who is living a life of quiet desperation. Each new thwarted hope beats him down a little further, until he snaps in memorable fashion, deploying both popcorn and passive aggressive mop-wringing. But Gold also encourages us to zoom in on minute reactions: Maher's incredulousness when 20-year-old Avery blithely asks "What do you wanna be when you grow up?", or closing his eyes in pain as his rival falters his way towards a date.
Krause, also in the original cast, reveals the scrappy need beneath Rose's aggressive independence and bored snark – a convulsive would-be seduction is horrifyingly cringe-worthy – while recent RADA graduate Ayeh conveys the tragedy of savant cinephile Avery's brilliance with movie recall versus his emotional incoherence. There's power, too, in his questioning of his fellow employees' moral laxity – they regularly skim money off the box office – and grim knowledge that, as "the black kid", he's more likely to get the blame. Baker is also sensitive to economic disparity: though they're all stuck in a menial job, Avery's college professor dad offers him a way out.
"People always freak out when like, you know, when like art forms move forward," says Sam, and though there are flaws in this studied approach – a protracted phone call to a therapist, an overuse of the symbolic, sound-muffling projection booth glass – this is an original and richly empathetic work. Baker points the projector at the audience, making us the movie screen, but by turning our gaze to those on the other side of it, we are immersed in the dreams and heartbreak of small, unsung lives. Avery fears they can't escape the postmodern insincerity born of mass media infiltration, but Baker succeeds in locating an achingly pure humanity.
When the picture becomes clear, in a devastating denouement, it's well worth the wait
rating
Share this article