The Nice Guys
The Nice Guys
Russell Crowe and Ryan Gosling buddy up to crack jokes, bones and crime in 70s LA
"A porno film where the point was the plot?!" The Nice Guys asks you to make quite a few imaginative leaps: to find Russell Crowe endearing and Ryan Gosling funny and to believe that anyone in 1977 would set out to shoot a skin flick with a storyline. Implausibly, but delightfully, all of the above come to pass in a buddy caper in which Crowe and Gosling partner up to crack jokes, bones and crime in 1970s Los Angeles.
Gosling plays Holland March, a widowed private investigator of low morals and lower ability who exploits confused old ladies for an easy living. He's hired by one such to locate her missing niece Amelia, until a burly enforcer comes round to his house and encourages him to drop the case by breaking his nose and his arm. The next time March meets Jackson Healy (Crowe) the tables have turned and he's offering to go into business. Amelia's mother (Kim Basinger), a bigwig in the justice department, is eager to bring her rebellious daughter in out of harm's way.
Their odyssey takes them into the neon den of Californian hedonism as Amelia's activities, it becomes clear, involved participation in a blue movie called How Do You Like My Car, Big Boy? Its star, a buxom pin-up called Misty Mountains, has already died in a spectacular crash at the start of the movie, and the corpses continue to form a disorderly pile, first when the trail takes the two partners to a high-rise hotel from which bodies can be seen tumbling, then at an orgiastic pool party in the Hollywood hills.
The plot may be the point of How Do You Like My Car, Big Boy? but, while it keeps the characters on the move, it's not exactly central to The Nice Guys. It involves, for the record, the criminal involvement of the car industry in a secret plan to thwart the green lobby. The pleasures are mostly to do with the rambunctious, knockabout antics of the two improvising male leads as they variously flirt and threaten their way through the immoral maze of the case. Crowe channels his drizabone inner Ocker to punch first and reflect later, and makes a lovely foil for Gosling's hyperactive mugging. One delicious little sequence finds him ambushed in the john, attempting to keep his dignity with a girlie magazine over his privates. Somehow Gosling, hitherto the most straight-faced Hollywood lead of his generation, manages to make it extraordinarily funny.
There's the added joy of Angourie Rice (pictured above with Gosling) as March's wise-beyond-her-years 12-year-old daughter Holly, who tags along resourcefully even when the bullets fly, which in the final third of the film they do with a certain stylised relentlessness. Happily, scriptwriters Anthony Bagarozzi and Shane Black, who also directs with a florid eye for killer sight gags, are far more interested in the winning flaws of their heroes and even their villains. Their script taps into a spirit of exuberant cynicism. "Marriage is buying a house for someone you hate," says Crowe. Plenty of zingers where that came from. The Nice Guys is one of the most pleasurable lessons in screen chemistry since Robert de Niro and Charles Grodin crossed America in Midnight Run.
RYAN GOSLING'S FILMOGRAPHY
Blue Valentine (2010). A controversial break-up melodrama sees things from the male point of view
Drive (2011). Ryan Gosling's brilliant, bruising ride into LA darkness (pictured)
Crazy, Stupid, Love (2011). Ryan Gosling teaches Steve Carell how to score in a film that doesn't
The Ides of March (2011). George Clooney's star-packed morality tale superbly anatomises political chicanery
The Place Beyond the Pines (2013). Derek Cianfrance and Ryan Gosling follow Blue Valentine with an epic tale of cops and robbers
Gangster Squad (2013). Ruben Fleischer swaps zombies for gangsters with mixed results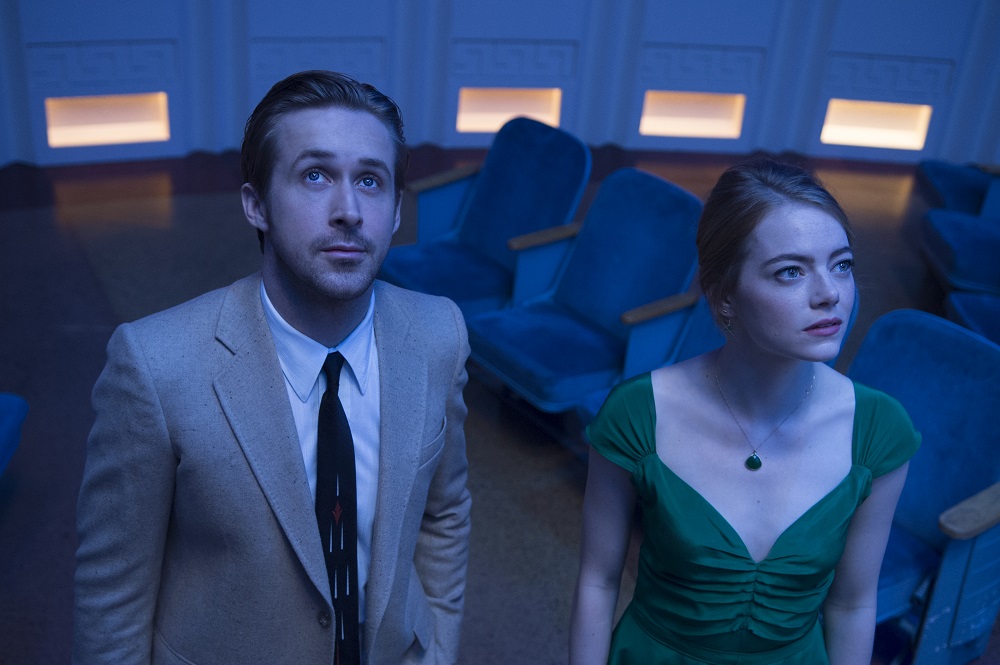 Only God Forgives (2013). Nicolas Winding Refn and Ryan Gosling follow Drive with a simmering tale of vengeance
The Big Short (2015). Director Adam McKay successfully makes a drama out of a crisis
The Nice Guys (2016). Russell Crowe and Ryan Gosling buddy up to crack jokes, bones and crime in 70s LA
La La Land (2017). Ryan Gosling and Emma Stone (pictured above) will have you floating out of the cinema on a cloud
Overleaf: watch the trailer to The Nice Guys

rating
Explore topics
Share this article