Classical CDs Weekly: Bach, Alison Balsom, Steven Osborne |

reviews, news & interviews
Classical CDs Weekly: Bach, Alison Balsom, Steven Osborne
Classical CDs Weekly: Bach, Alison Balsom, Steven Osborne
Bassoons, trumpets and a pair of American mavericks
Pianist Steven Osborne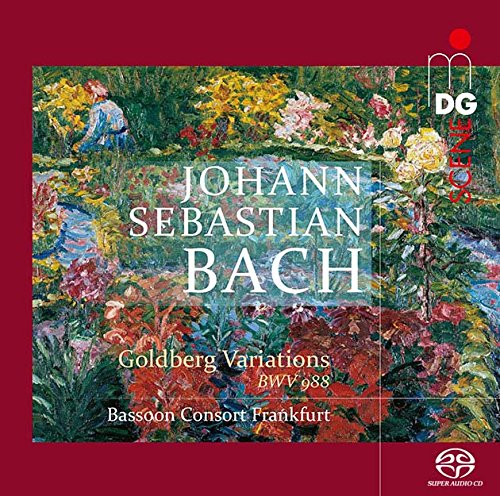 Bach: Goldberg Variations Bassoon Consort Frankfurt (MDG)
The only performances of Bach's Goldbergs which don't hit the spot for me tend to be those played on harpsichord. Piano will always be best, but I've enjoyed versions for harp, guitar, string orchestra and accordion. This improbable new transcription is for nine bassoons: eight regulars plus a contra. It feels reassuringly 'right' – presumably because we're so used to hearing bassoons in baroque music. Henrik Rabien's arrangement sticks to Bach's keys, the only significant alteration being the transposition of many lines an octave down. What threatens to be, in Rabien's words, little more than "a sporting challenge" is not the case. Goldberg aficionados should fret not – this performance from Rabien's Bassoon Consort Frankfurt serves the music wonderfully well. I was quietly cheering within a few seconds of the "Aria", Bach's melody unfolding over a gorgeous, chocolatey backdrop. Special praise is due to contra player Stephan Krings, whose sonorous bass lines have exactly the right presence.
There are moments when you feel like applauding – the fifth variation's chattering semiquavers are spectacular, and the lower parts in No. 11 dance with elephantine grace. It's fun, but exhilarating too. The flourishes in the Overture are immaculate, yet the best moments come when the mood darkens in Variations 21 and 25 – the latter's plangent melody uncannily poignant. Beautifully recorded too: there are moments when you can hear Bach's lines bouncing spatially between the various players. Remarkable, and not just a gimmick.
Légende: Works for Trumpet and Piano Alison Balsom (trumpet), Tom Poster (Piano) (Warner Classics)
You'd expect a few transcriptions in a recital for trumpet and piano, but the majority of the works on Alison Balsom's new disc are originals. Some wind and brass players don't have a kind word to say about Hindemith's succession of solo sonatas. But they're all idiomatically written, as you'd expect from a composer who taught himself to play almost every instrument. The 1939 Sonata for Trumpet and Piano is one of the best, its typically tricksy piano part immaculately rendered here by Tom Poster. The confident mood quickly dissipates, and the sonata ends in powerfully downbeat fashion. Balsom's quiet sostenuto playing is marvellous, her trumpet sound subtly reined in as the music draws to a close. Jean Françaix's tiny Sonatine is brighter, and there's a glorious Légende by Enescu. We get an effervescent Sonatine from Martinů, and a miniature from Bernstein, named after actress Judy Holliday's dog. Poster and Balsom's deeply likeable The Thoughts of Dr May was inspired by the life and work of the hirsute guitarist, astrophysicist and defender of the badger kingdom.
Maxwell Davies's Farewell to Stromness is beguilingly recast for trumpet and piano, as are a pair of songs by Gershwin and Jerome Kern. The inclusion of the "Minuet" from Ravel's Sonatine is a bit of mystery (there would have been space for the whole work), but this is still an attractive disc. Balsom's sotto voce playing is delicious, and the recording is nicely balanced.
Palais de Mari – Piano music by Morton Feldman and George Crumb Steven Osborne (piano) (Hyperion)
Morton Feldman's star appears to be in the ascendant, though he'd surely disapprove of any suggestion of an explosion of interest in his music: a quiet murmur would be more fitting. Exactly why his music speaks so profoundly in the right hands is as difficult to tie down as trying to assimilate the processes which underpin the notes. But what's not to love about a composer who thought so deeply about every sound, and valued the silences between them so much? Steven Bruns' sleeve essay gives us a choice quote explaining why Feldman wasn't interested in following any strict compositional school: "Instead of the twelve-note concept, I'm involved with all the 88 notes." Don't attempt to understand what's going on; just enjoy the ride. Feldman's early Intermission 5 contains several surprises in the form of four fortissimo chords: more typical are the almost imperceptibly quiet chimes heard between them. 1952's Piano Piece is head-scratchingly odd, but wondrous: a slow sequence of single notes alternating between right and left hand. How lucky we are to have this outré repertoire played by the great Steven Osborne. He tackles the piece with disarming sincerity and sensitivity. This can't be technically difficult to perform, but the musical challenges are enormous. More substantial is Feldman's late Palais de Mari, 26 minutes of soft, shimmering magic. Osborne is again terrific. You can't switch him off.
The Feldman works are coupled with music by his contemporary George Crumb. Processional is described as "an experiment in harmonic chemistry", Crumb's liberal use of the sustain pedal creating mesmeric effects at the piece's climax as a succession of loud chords blur into a giddying mass of sound. Then there's A Little Suite for Christmas, A.D. 1979, a seven part 'aural tableau' inspired by a Giotto fresco. Osborne gamely embraces Crumb's subtle use of 'extended techniques', often placing one hand directly onto the piano strings, and strumming them like a lyre in "Canticle of the Holy Night". Again, the sustained pedal works its magic, the whole work exuding quiet radiance. Extraordinary, and my new favourite Christmas piece. A superb disc, and one to convert any Feldmanphobes out there.
Instead of the twelve-note concept, I'm involved with all the 88 notes
Explore topics
Share this article