The Quiet House, Park Theatre |

reviews, news & interviews
The Quiet House, Park Theatre
The Quiet House, Park Theatre
Gareth Farr produces an agonising portrait of fertility struggle
Baby blues: Dylan (Oliver Lansley) comforts Jess (Michelle Bonnard)
Infertility affects one in six couples, but it's still something of a taboo subject. Gareth Farr's new play throws welcome light on the challenges of conception, and is accompanied by a Fertility Fest that brings together artists and medical experts to address the issues raised. If Farr's drama occasionally feels like a case study for that discussion, with a few awkward sitcom beats tossed in, it's still a searingly honest and genuinely affecting piece of work.
Jess (Michelle Bonnard) and Dylan (Oliver Lansley) have been married for five years and after trying, unsuccessfully, to start a family, have decided to embark on IVF. Farr and his wife went through similar fertility treatment, and there's authentic detail in his portrait: the painful intimacy of Dylan injecting Jess, after urgently flicking the syringe to expel all air bubbles; the decidedly unerotic scheduling of sex; the statistics that offer such fraught hope; the loss of control as their family future's comes down to one phone call from a lab, or the tyrannical ticking of the egg timer sat beside a pregnancy test. (Bonnard and Lansley pictured below)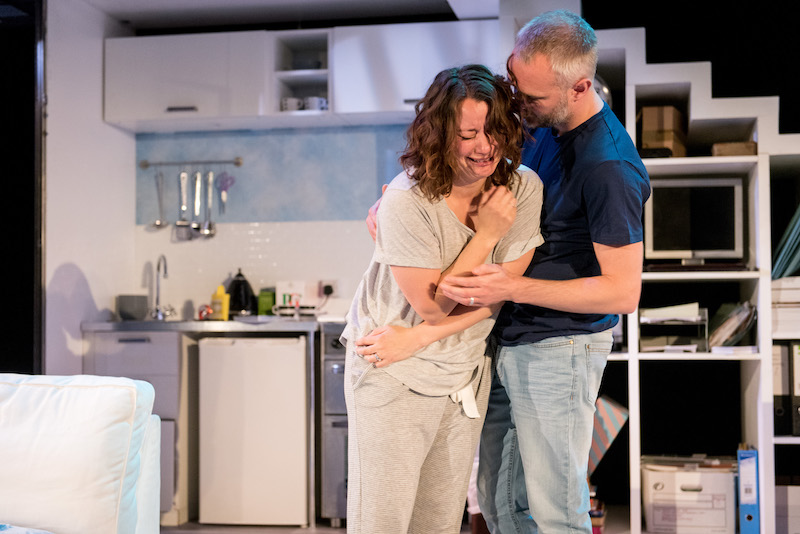 Farr vividly demonstrates that this quest for life is also a grieving process. Jess frequently speaks to their unborn child, and each failure to bring it into the world feels like another death. In one harrowing sequence, Dylan attempts to cheer Jess up by leading her into a dance, playful, giddy, romantic, evoking the first dance at their wedding, before the constant physical pain caused by this void overtakes her in a howl of despair. It's such a raw, private moment that witnessing it feels voyeuristic.
This agony is contrasted with their upstairs neighbour's easy conception, but though Farr acknowledges that new motherhood brings its own challenges – Allyson Ava-Brown's visibly knackered Kim is overwhelmed, emotional and can't go five minutes without peeing – her character is disappointingly undeveloped (Ava-Brown pictured below with Lansley and Bonnard). So, too, is Dylan's obnoxious boss Tony (Tom Walker), used for slightly jarring comic relief and as a clunky contrivance. As Dylan and Jess are driven apart by the stress of IVF, they're also separated geographically, with Tony continually sending him off on business trips.
The underpinning of that conflict is fascinating: Dylan is so ashamed by their situation that he refuses to tell his boss and would rather colleagues assume his wife has cancer. The stigma extends to Jess, all too aware of others' pity when they realise her difficulty. Farr is even-handed, recognising that there's more of a judgement reserved for childless women, but that men can feel sidelined during IVF, reduced to mere sperm donor.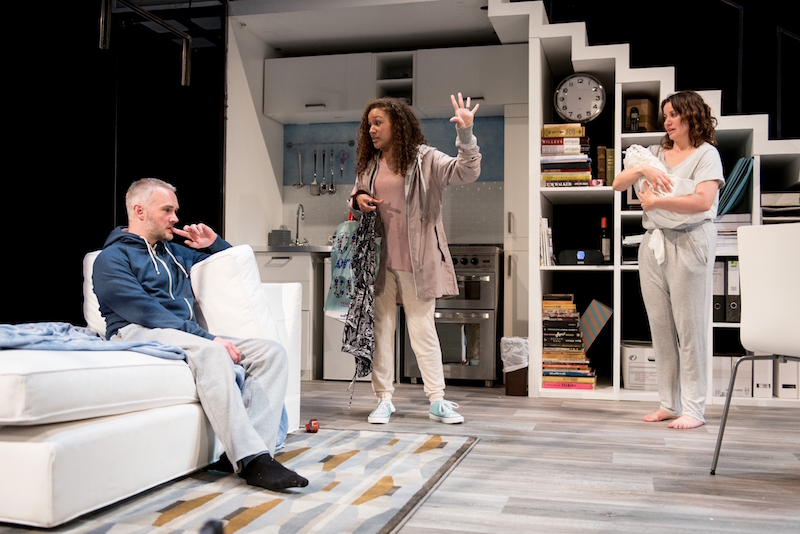 The darker question is whether their marriage can survive without children, though it's odd that alternatives like adoption and surrogacy are never mentioned, and a tad disappointing that, in 2016, Dylan is allowed to thrive professionally, while Jess is completely defined by her need to become a mother. Farr is also hazy on the financial demands of IVF, surely a crucial factor here. But Lansley and the outstanding Bonnard form a compelling partnership, demonstrating the boundless courage required, the psychological toll, and the way that it both unites this couple and exposes fatal fissures in their relationship.
Ana Inès Jabares-Pita's studio flat is an appropriately cool, sterile space, and Tessa Walker's nicely judged production benefits from Clive Meldrum's emotive baby sound effects – a needy, yowling cry – and thoughtful music selection. At a somewhat awkward 100 minutes, it could use either tightening or further development, but this is a heartfelt, compassionate piece that gives voice to those suffering in silence.
It's such a raw, private moment that witnessing it feels voyeuristic
rating
Explore topics
Share this article