The Border, Channel 4 |

reviews, news & interviews
The Border, Channel 4
The Border, Channel 4
Polish border guard drama captures the zeitgeist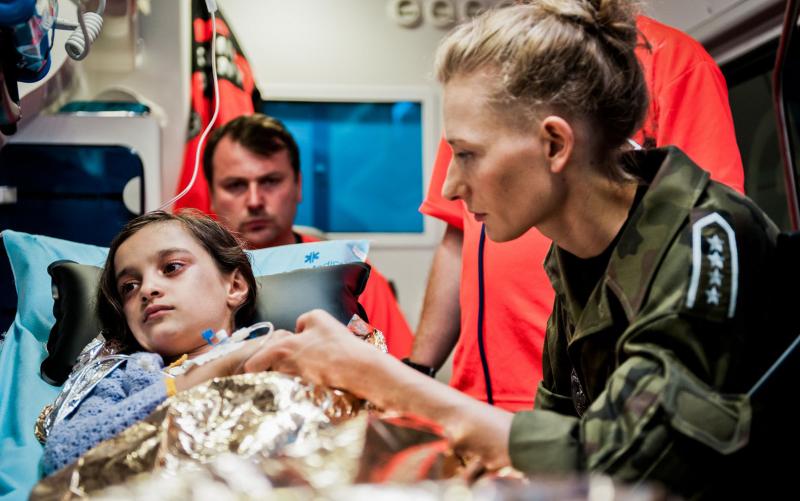 Immigrant crisis: Polish authorities battle the people traffickers
Have psychologists analysed whether subtitles increase our enjoyment of TV drama, perhaps lending it an extra tincture of the exotic? They do no harm at all to this new Polish drama about border guards protecting the frontier between Poland and Ukraine. In Referendum week, it's a hot topic (these Polish guards, with an Alsatian tracker dog called Osama, don't favour a Merkel-esque open-door policy to refugees trying to slip through the forest).
This opening episode offered plenty to whet your appetite while resisting the temptation to get too complicated or cram in too much plot. The trigger for the action was a gathering of the Polish guards in a remote house in the woods, for a boozy send-off for Siwy, who was retiring from the force. Our chief protagonist, Wiktor Rebrow (Leszek Lichota, pictured in foreground below), had slipped outside to meet his partner Ewa (Julia Pogrebinska) for a drunken leg-over, but it all went to hell when a huge explosion destroyed the building.
Rebrow woke up in hospital, and if the obliteration of Ewa and all his buddies wasn't bad enough, he found himself under the pitiless scrutiny of prosecutor Iga Dobosz (Aleksandra Poplawska), a woman with the bedside manner of a vivisectionist with very cold hands. She thinks Rebrow could be the killer. After all, did he not receive a text message saying "Boom" (in Polish) moments before the explosion?
But obviously you don't identify your perp in the first few minutes of a six-episode series (you can now watch all of them online on All4), and besides, Ms Dobosz must be wrong because she has been clearly flagged as super-unsimpatico. The scene where she forced a traumatised young orphan girl to identify her dead mother in the mortuary was shockingly affecting.
Gradually, the tangled threads of a much wider picture began to emerge. We were introduced to the strong and silent Markowski (Andrzej Zielinski), who had gone fishing to try to forget about his job, but who has been tasked by the Powers That Be with creating a new squad to replace the massacred one. The shattered Rebrow at first decided to turn in his badge, but (would you believe it?) he's changed his mind, and has already impressed Markowski with his instinct for sniffing out the cynical tactics of the people-smugglers.
Rebrow has quite a lot of back-story, involving shady characters called Kalita and Kosowski. The latter is no longer with us following a brief encounter with a hooded gunman, and we have yet to discern the full import of the former. However, proceedings are given additional mysterious layers by evocative camerawork, using baleful shots of rural wilderness to suggest all sorts of unknown unknowns. The soundtrack makes minimal use of abstract music, frequently opting for silence or the sounds of birds or animals. Rebrow himself gets premonitory visitations from a grey wolf, which materialises at key dramatic moments. Binge viewing awaits.