Valley of Love |

reviews, news & interviews
Valley of Love
Valley of Love
Huppert and Depardieu play an accomplished desert two-hander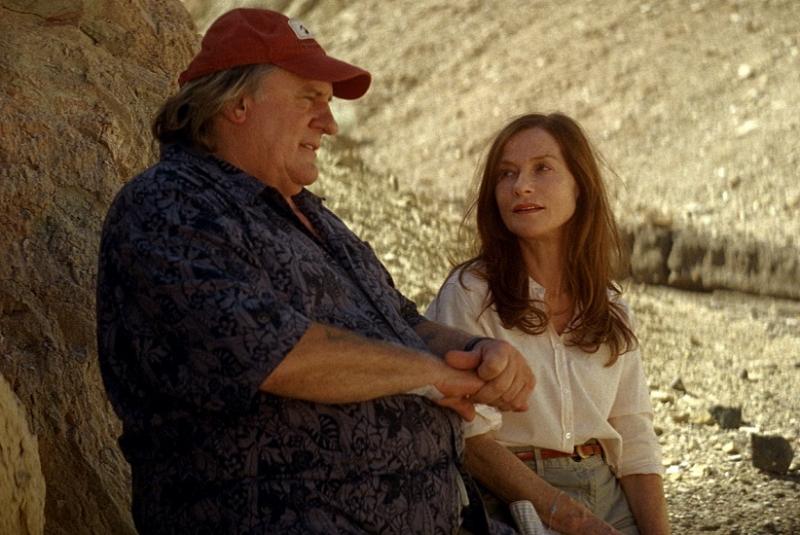 Welcome relief: Isabelle Huppert and Gérard Depardieu find shade in Death Valley
There are memorable appearances from two great actors playing close to the top of their game in Guillaume Nicloux's Valley of Love, but they're almost upstaged by something else. Nothing human – though their reunion and interaction in the film is being "directed" by an absent third party – but rather the environment in which they find themselves: the stark desert beauty and almost unbearable temperature of California's Death Valley.
The fact that they are played by Isabelle Huppert and Gérard Depardieu, who play characters named Isabelle and Gérard, themselves two actors of a certain vintage and renown, brings another level of reflective conceit to Nicloux's film. It's a reunion in every sense: Huppert and Depardieu last starred together 35 years ago (in Maurice Pialat's Loulou), and it quickly becomes apparent that Isabelle and Gérard here have been a couple in the now distant past, and are brought together again now by the memory of their dead son, Michael.
The question is whether it's anything beyond the portentous
There's an inevitable sense that the two bring elements from their real lives into their roles. It's not as pronounced as Nicloux's last film, the eccentric comedy The Kidnapping of Michel Houellebecq, which had the French writer-philosophe playing himself in a fictional abduction romp, but we feel that the director is nonetheless exploring the overlap between life on and off screen. There's a more tragic dimension in Valley of Love, too, when you recall that Gérard Depardieu lost his own son, Guillaume, himself an actor, six years ago, aged only 37: Nicloux didn't write the part for him, however, originally planning Valley of Love as an English-language film (it never came together in that form).
The couple's shared backstory reveals itself gradually. We first see Isabelle striding purposefully around the grounds of the rather ramshackle hotel complex that sits like an oasis amid the aridity of the landscape, its swimming pool one of the few defences against the heat. And chaleur is the first thing that Gérard complains about as Depardieu lopes monumentally into view, these physical surroundings clearly oppressive for him in a way that doesn't seem to affect the svelte Huppert, who has rarely looked more petite.
Such contrasts continue, his brusqueness – "I'm whatever you want, an asshole, a bastard, an alcoholic" – set against her reflection, her somehow damaged restraint. They are reacting in their different ways to the strangeness of the meeting, and of the situation itself, which becomes clearer when each reads out to the other the final letter they received from Michael, written just before he took his own life. His last exhortation was that they spend a week together in Death Valley: if they visit certain of its landmarks, at set times on particular days, Michael promises that he will appear briefly to them there.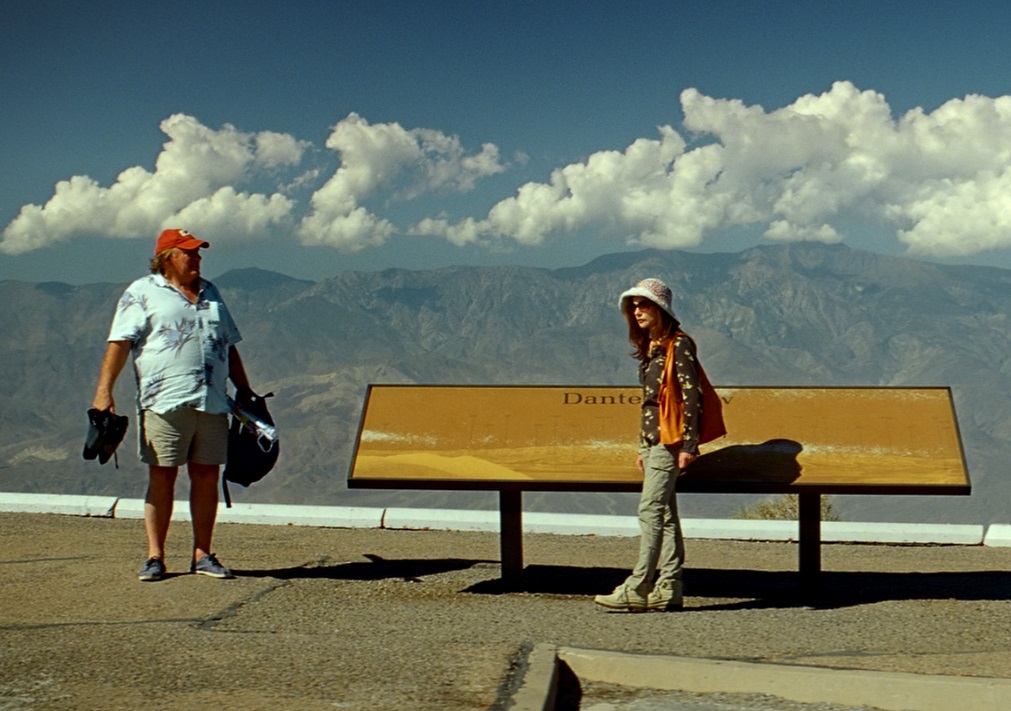 How, or indeed why, are questions that are barely raised, throwing a dose of rather momentous mysticism into the equation which Nicloux's script never quite resolves. "It's really for yourselves" is the elliptical explanation given in Michael's letter, as if he's concerned about the impact his death may have on them – a factor that could be convincing until it becomes apparent that his presence in their lives had long been minimal, his parents caught up with new concerns, personal and professional alike. Isabel hadn't seen him for years, and didn't come to his funeral; Gérard had at least kept up with him in his final home in San Francisco, where he lived with a boyfriend (whom he apparently left equally in the dark about his planned suicide). All that is clear is that at some stage recently Michael had come to Death Valley, and set it as the location for this strange coming-together.
Strange, it certainly is, Depardieu's obvious scepticism matched by the umbrellas and other sun paraphernalia he picks up to mitigate sitting out in the blazing sun waiting for a sign, while Huppert broods, expectantly. There's comedy along the way, occasionally unforeseen, as proximity forces the couple to appreciate just how well they still know one another, despite long years of separation and the intrusions from their current lives into this strange week spent out of time. Or perhaps not a week, since Gérard has his own pressing reason, one which touches his life to the quick, to cut short his sojourn.
Yet something does seem to be there, at first merely hinted at in half-caught sounds, before being developed into a more overt vein of unease, a sense that other forces may indeed be involved. The question is whether it's anything beyond the portentous, more than somewhat over-obviously placed indicators towards disquiet rather than the thing itself. Tantalisingly, Nicloux does throw in a single scene for Depardieu, a disconcerting night-time encounter that hints at profounder darkness, before bowing Valley of Love out on the tone that its title suggests.
There's considerable pleasure nonetheless in watching its two leads – supporting cameo appearances can be counted on the fingers of one hand – at work. Depardieu in particular is as organic here as he's been for a long time, absolutely in his skin, if such terms don't seem loaded: he wears his remarkable bulk naturally, while it also serves to reveal levels of vulnerability. Huppert excels in moments of stillness, in the reading of a letter or a desert monologue, though they're both sometimes dwarfed by their surroundings, caught in Christophe Offenstein's unforgiving widescreen cinematography. The mild atonality of the spare, atmospheric score (drawing on the work of American composer Charles Ives) nicely captures the film's sense of unease, retaining just that tangential element of the unknowable that at some point disappeared from Nicloux's script.
Overleaf: watch the trailer for Valley of Love
Tantalisingly, Nicloux does throw in a single scene for Depardieu, a disconcerting night-time encounter that hints at profounder darkness
rating
Share this article