Souvenir review – Huppert does deadpan like Buster Keaton |

reviews, news & interviews
Souvenir review – Huppert does deadpan like Buster Keaton
Souvenir review – Huppert does deadpan like Buster Keaton
Isabelle Huppert gives her tragicomic all to a Eurovision comeback
Isabelle Huppert isn't just here for the nasty things in life. Her rape non-victim in Elle was one of the most iconoclastic performances even she's given, enigmatic yet emotionally rich, rooted and moving.
She won't get nearly as much attention for
her role
here as Liliane, a singer who came second to Abba at Eurovision, who's lured out of an anonymous retirement by a besotted, 21-year-old boxer who becomes her lover and manager.
Souvenir
is an unashamedly breezy
romcom
, full of gauzy romance, wish-fulfilment, a great faux-Eurovision soundtrack by Pink Martini, and a May-December romance that reverses genders to little comment. In it, Huppert does deadpan funny like Buster Keaton. And she's as enjoyably fine, deep and true as ever.
We first meet Liliane robotically adding garnish at a pâté assembly line. She goes straight home each night, where she watches TV and downs remarkable doses of whiskey, till she's ready to crash, and go through it all again. Huppert's particular genius is displayed when Liliane takes the bus to work, and we simply see this intelligent woman thinking. It's a rare, quietly gripping sight.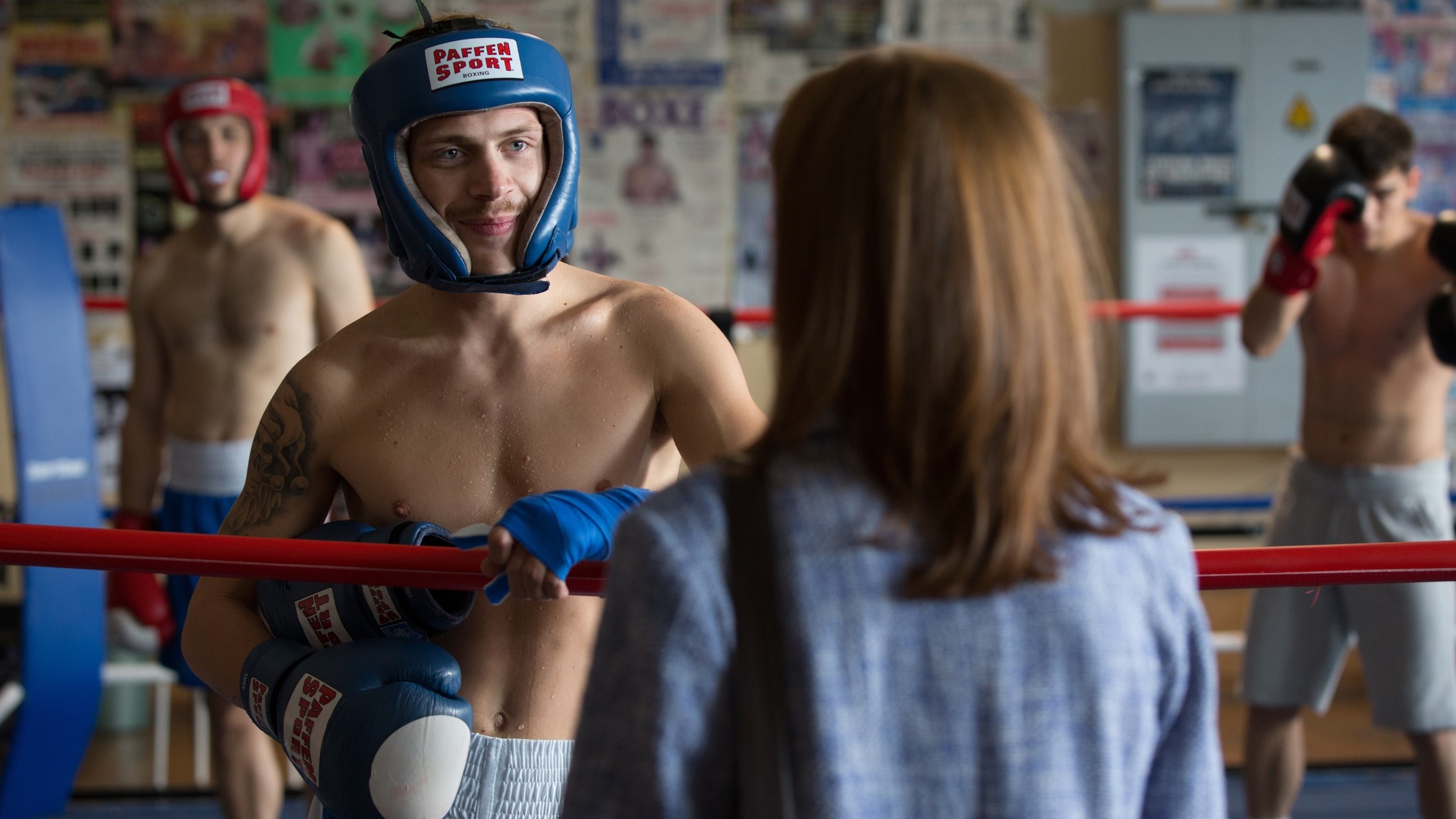 She gets plenty to think about when Jean (Kévin Azaïs, pictured above), a co-worker who moonlights as a promising boxer, recognises her from the brief moment of fame she keeps secret, thanks to his dad's youthful crush on her. Liliane's buried singing career seems to have gone haywire soon after, a fact not unconnected to her former manager, songwriter and husband, Tony Jones (Johan Leysen), now a grand old showbiz eminence.
She's appalled to be discovered by Jean, who's inherited his dad's doe-eyed devotion, insisting on becoming her lover, to her eventually pleasant surprise. Soon, he's badgered her back to singing, first at his boxing club, then the qualifying rounds for a televised talent show. Too nice to be a good boxer, he also becomes her gauche manager. In life, Huppert can look wholly anonymous. But when she puts her singer's red dress back on, she reassumes all the character's lost glamour. Her old hit, "Souvenir", proves to be a haunting, regret-filled chanson, which Huppert acts more than sings.
There's as much happy fantasy in what follows as any Hollywood romcom. Writer-director Bavo Defurne isn't averse to garish camp and champagne-bubble breeziness, as Liliane learns to live again. There are very funny moments in the margins, many a hangover from Liliane's 1974 near-triumph, dashed only, locals remain convinced, by those "cheating Swedes". Liliane's reserve, and a self-destructive imp enflamed by her unquenched taste for whiskey, add a patina of tragedy. What sticks in the mind is Huppert happy, idling in the bath with her young lover; Huppert in self-absorbed isolation; and Huppert stumbling around backstage before her big comeback, tottering on high heels, a sudden, sodden wreck, with her dress half-unzipped because Jean isn't there. Souvenir is a soufflé, which rises with its star.
Huppert's particular genius is displayed when we simply see this intelligent woman thinking
rating
Explore topics
Share this article