A Midsummer Night's Dream, Glyndebourne |

reviews, news & interviews
A Midsummer Night's Dream, Glyndebourne
A Midsummer Night's Dream, Glyndebourne
Peter Hall's magical production continues to weave its spell on Britten's opera
Oberon (Tim Mead) instructs his 'shrewd and knavish sprite' Puck (David Evans)
Britten's A Midsummer Night's Dream is too other-worldly to have anything as mortal as a musical heartbeat. Pulsing through it instead are musical quivers, jolts of eerie energy first heard in the opening cello glissandi.
Denaturing the instrument, transforming it from a voice so nearly human to one of harmonic and textural androgyny, Britten cuts away the safety cables of Shakespeare's framing court scenes, plunging his young lovers straight into the fairy forest where anything is possible and nothing is as it seems. As a theatrical sleight of hand it's almost impossible to match, but Peter Hall's production comes very, very close.
Which is why, of course, 35 years after its original staging and a decade since it was last seen at Glyndebourne, Hall's production is back for its ninth revival – the only possible way the festival could mark 2016's Shakespeare anniversary. A lot has changed since 1981, but no CGI in the world could match the homespun illusion Hall and designer John Bury conjure here.
Revealing itself only gradually on the barely-lit stage, the forest ripples with hidden life – the visual echo of Britten's keening cellos. Trees sway and shift, bushes creep, and only very gradually as eyes begin to focus we realise that among them are people, part of the physical fabric of the forest. It's beautifully managed, delicately lit by Paul Pyant, and as magical an opening as this opera has ever had.
But, crucially, Hall's is a rough magic too. The Arthur Rackham-inspired designs, inflected with Elizabethan courtliness, might anchor Oberon and Tytania in a fairytale world, but these are the fairytales of Grimm or Angela Carter, where violence, sexual power and manipulation throw happily ever after off balance. Oberon (Tim Mead) seizes this child-Puck (David Evans) bodily, flinging him to the floor in anger, and broods over his sleeping Tytania (Kathleen Kim, pictured above) with eyes less lustful than sadistic.
Some starry casts have inhabited this production over the years, and this revival is no exception. Mead sounds better than ever – a chilly Oberon whose "I know a bank" rings metallic-pure, only swelling into the faintest flutter of vibrato for the final note of a phrase, a sensualist's practised caress. Stretched into implausible height by his wig, he looms over Kim, who appears almost as another child in this court of fairies rather than his wife and queen.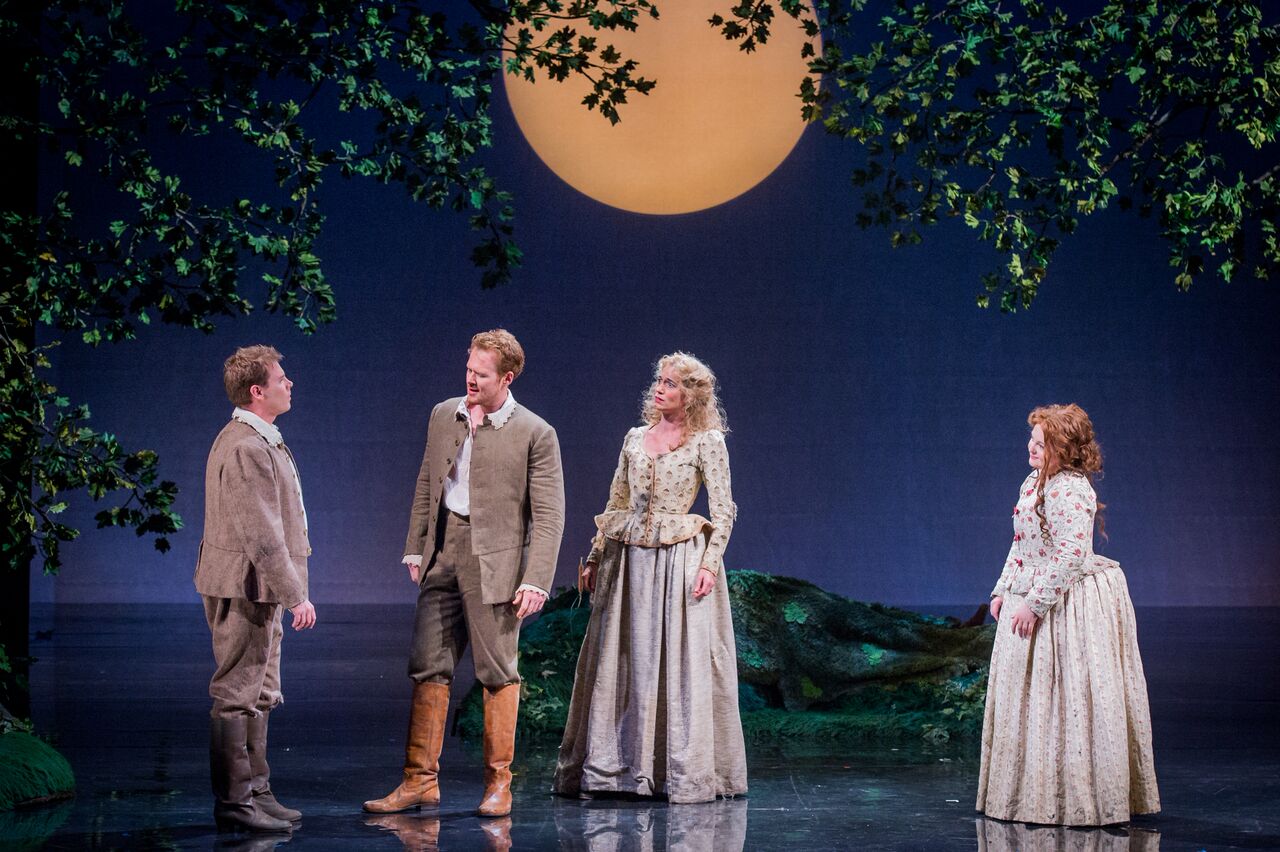 Both Kim, however, and Kate Royal (returning to the role of Helena 10 years after she first sang it in this production) feel miscast vocally. Kim may still have all the high notes, but she works harder for them now. In her efficient performance we lack that mysterious ease, even at the extremes of the register, that this fairy queen needs to set her apart from all about her. "Music, ho!" is the cry of the wind or running water, direct, unadorned, not a man-made product, however beautifully crafted. Royal too, though singing strongly, feels too mature now for the role of this gangling teenage girl. Her increasingly wide vibrato, so right for Glyndebourne's Marschallin in 2014, here feels out of place, unbalancing the quartet "And I have found Demetrius like a jewel".
The other lovers fare better – Duncan Rock an impetuous Demetrius, polished into manhood by singing of tremendous evenness and gloss, Benjamin Hulett a lyrical and impassioned Lysander. But it's Elizabeth DeShong's Hermia who seizes the ear again and again with her thickly-spread mezzo. (Pictured above: Rock, Hulett, Royal and DeShong).
Matthew Rose returns as Bottom – a loveable thunderer and blusterer rather than a complete buffoon in his handling – leading a troupe of fine mechanicals (pictured above) including Colin Judson (Snout), David Soar (a powerful Peter Quince) and Anthony Gregory (Flute). Their comedy is handled with care, deliberately held back from hilarity until the anarchic climax of the play. Would a little more humour undermine the carefully crafted tensions of the fairy episodes? I'm not sure it would, and with a summer audience hungry for laughter as well as beauty it seems a shame not to give it to them. That said, Gregory in particular has a riot as the luckless Thisby, and the easy chemistry of the group is a delight.
Jakub Hrůša conducts a neat, carefully shaded performance from the LPO, making much of Britten's generous string writing, and the boys of Trinity Boys' Choir somehow manage to act, dance and sing Britten's tricky melodies with complete assurance and ease. But at the centre of this gorgeous theatrical and musical illusion is David Evans's Puck. Beautifully spoken, a beacon of red hair and irrepressible energy among so much courtly darkness, his is the tale we follow most urgently, the child-man whose fate and future in Hall's gorgeous forests of the night is horribly uncertain.
Hall's production is the only possible way the festival could mark 2016's Shakespeare anniversary
rating
Explore topics
Share this article