A Midsummer Night's Dream, ENO review - shiveringly beautiful Britten |

reviews, news & interviews
A Midsummer Night's Dream, ENO review - shiveringly beautiful Britten
A Midsummer Night's Dream, ENO review - shiveringly beautiful Britten
There's magic in the details of Robert Carsen's well-established classic production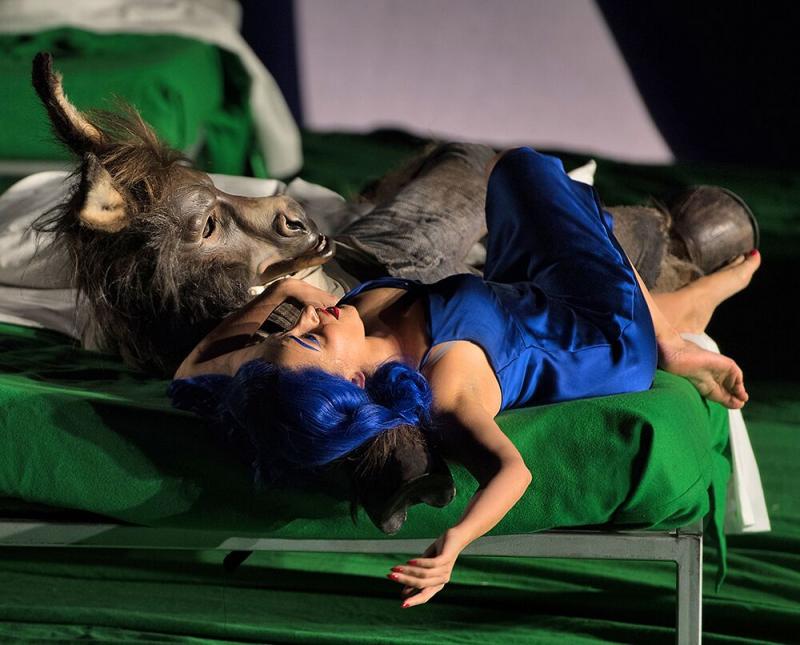 'My mistress with a monster is in love': Joshua Bloom as ass-translated Bottom and Soraya Mafi as Tytania
"What angel wakes me from my flowery bed?" Hang on a minute, Tytania, there are no flowers. Instead, as Britten's ominously low strings slither and tremble up and down the scale, the curtain rises on a huge, near-acidic emerald green hilly slope lying against a seemingly fathomless International Klein Blue cyclorama broken only by a glowing crescent moon. Except it's not just a hill: it's also a giant bed; the perfect bed, in fact, in which to spend one wonderful midsummer's night.
This physical metaphor is both central to and typical of director Robert Carsen and designer Michael Levine's ravishing production. It's a vivid imaginative leap away from the dutifully literal that nevertheless makes complete sense of the text, music and drama.
First seen in Aix-en-Provence as long ago as 1991 and then at English National Opera in 1995 followed by revivals, the production was mothballed in favour of Christopher Alden's initially fascinating but flawed production which turned the piece into a psychodrama set in a boys' school drawing darkly on Britten's fascination with boys. Despite some captivating ideas, it spoke to only part of the score and made you consistently aware of the director and his thoughts about Britten. This production, beautifully and precisely revived by Emmanuelle Bastet, unobtrusively reminds you what a great and lovely work it is. It's not just the big picture which is so entrancing, it's the compelling detail in the way characters are presented and played. There's a delicious formality to the proceedings. The 20 fairies operate like a phalanx of tiny, po-faced, green-frock-coated butlers following orders. They even sniffily put extra gloves on over their own gloves when instructed to scratch Bottom's head.
Against this rigour, character detail is allowed to take wing. And in a nice case of ENO doing what it should be doing, most of the cast is drawn from the next generation of singers, all of whom not only acquit themselves extremely well but who work impressively as a team. That much is clear from the lovers' fight scene (pictured above, Matthew Durkan's Demetrius, Clare Presland's Hermia, David Webb's Lysancer and Eleanor Dennis's Helena) – ending in this case, of course, as a pillow fight. The action is precise and thus properly fierce and funny, the slapstick and slapping courtesy of the then young movement director, Matthew Bourne. Whatever happened to him…
There's real wit here and not just Miltos Yerolemou's bouncy Puck (pictured below with Christopher Ainslie's Oberon) who leaps about and off the set with near-vicious glee. The mechanicals are sharply individualised and never overdone. Robert Murray's Flute/Thisbe wonderfully delineates his character's growing self-confidence. Armed with a physically relaxed presence and a rich, beautifully produced bass, Joshua Bloom pulls off the considerable trick of tastefully playing a character who has no taste. It's easy to go for broke as Bottom but Bloom stays truthful while maximising laughs.
There's a lovely gleam to the sound of Soraya Mafi's spirited Tytania who is nicely balanced by Christopher Ainslie's Oberon. The latter is a tough role to sing: the writing sits unusually low in the countertenor range which makes it hard to project in this huge theatre. It's to Ainslie's credit that he doesn't sacrifice tone in order to over-project. In the first, expository act, conductor Alexander Soddy might help him a shade more by lessening the weight of the orchestral accompaniment but elsewhere he allows Ainslie to shine, not least in the shiveringly beautiful finale, "Now until the break of day."
Whenever Britten's finest works are discussed, Peter Grimes is always the leader, closely followed by The Turn of the Screw – and with good reason. A Midsummer Night's Dream rarely makes it to the top of the list, probably because it's based on too well-known a source and because it's actually funny, especially all the opera pastiche in the Pyramus and Thisbe play (pictured below).
Yet Britten and Pears' filleting of Shakespeare is superbly deft and a production of this quality makes you appreciate two things. Firstly, this is a seriously good opera. Secondly, watching Carsen and Levine mine every phrase of the text and every moment of Britten's expressively idiosyncratic orchestral writing – listen out for the two harps, the harpsichord and the battery of percussion: hell, there's a xylophone, a glockenspiel and even a vibraphone – you realise how poorly generalised many productions are.
In a word, magical.
It's not just the big picture which is so entrancing, it's the compelling detail in the way characters are presented and played
rating
Share this article