A Midsummer Night's Dream, Garsington Opera |

reviews, news & interviews
A Midsummer Night's Dream, Garsington Opera
A Midsummer Night's Dream, Garsington Opera
Shakespeare filleted but partly fleshed back out by Mendelssohn's lovely music
Forbes Masson (Bottom) surrounded by four confused lovers
We're so used these days to theatre music as aural torture – blasts of pop music on the tannoy, assorted electronics or, if you're (moderately) lucky, a snatch of too-loud Chopin or Grieg before the lights come up on the Ibsen drawing-room – that it's easy to forget a time when plays were introduced, interrupted and even accompanied by a pit orchestra playing music specially composed by the greatest composers of the day.
We now hear this music as concert overtures and suites:
Egmont
,
Peer Gynt
,
L'Arlésienne
, and the like.
But there's a good case for occasionally putting it back where it belongs; and that's exactly what Garsington and the Royal Shakespeare Company have done in rematching Mendelssohn's well-known Midsummer Night's Dream music to the even better-known play for which it was composed. It's a nice idea, but one that needs care, care over pacing and balance, matters of style, and even crude material issues such as duration and acoustics, especially in a theatre like Garsington's open plan demountable, with its high roof, steep rake, and flat, featureless back wall. Owen Horsley's production goes from here to the Queen Elizabeth Hall, then on to Stratford, very different environments with, no doubt, problems of their own. Maybe it was conceived for one or other of them. It wasn't, I'd be prepared to bet, thought out in terms of Garsington, except perhaps in one somewhat damaging respect.
This, it tells us, is how they did it then, only, of course, it isn'tAs a production of Shakespeare's comedy, it hardly rates at all. In order to fit a timing that suits us raving picnickers, the text is cut to a severe two hours, including the leisurely half-hour or so of unattached Mendelssohn (which at Potsdam in 1843 would have been played with the curtain down). So scene after scene is filleted to the point where the actors have little or no chance to establish character, let alone relationships, in this play about the frailty and provisionality of love. Somehow they keep their place. But as for delivery, it's a matter of getting through, if necessary by shouting in order to silence the lack of refinement, or dashing hither and thither like the White Rabbit, forever consulting his watch.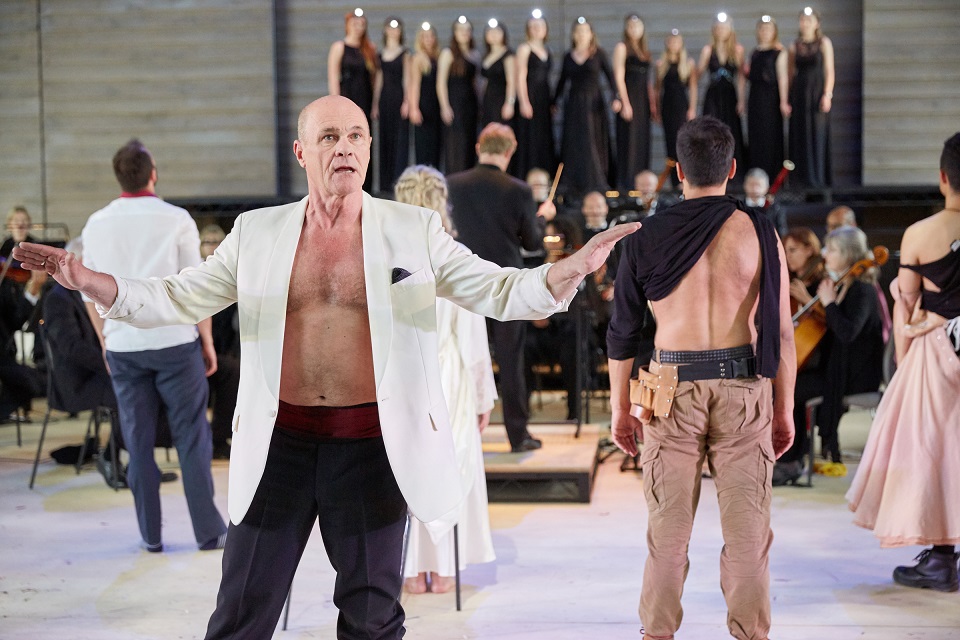 The result is more a demonstration than a performance. This, it tells us, is how they did it then. Only, of course, it isn't. With the orchestra on the stage, the music grabs our attention more than it might have done in an age when music was part of the décor. In this particular case that's no bad thing, because Mendelssohn's music is exquisite, fits the play like a glove, and comes to vivid life as played and sung by the Garsington Opera Chorus and Orchestra under Douglas Boyd. In this context it's balm to the ears. It ought, though, to vanish into the play, not have to compensate for it.
Hard in the circumstances to say too much about the cast. David Rintoul (pictured above, as Oberon) and Marty Cruickshank double as Theseus/Oberon and Hippolyta/Titania respectively, an elderly pair who might well have gone through the trials that Shakespeare rather oddly details. As fairies they hardly cut the mustard-seed but do achieve a certain strident dignity as ruling class.
The four lovers, by contrast, are barely on stage long enough for proper identification, even possibly in their own minds. Oliver Johnstone provides touches of magic as Puck, but also a good deal of gratuitous arm-waving as sub-orchestral conductor, a device that should long ago have been put away in the dressing-up basket. Best are the mechanicals, including a brilliant Flute/Thisby from Chris Lew Kum Hoi, thick lipstick and all, and a genuinely comic Bottom in Forbes Masson. These, at least, are players one would like to see and hear unedited.