Torn, Royal Court Theatre |

reviews, news & interviews
Torn, Royal Court Theatre
Torn, Royal Court Theatre
Sizzling family drama is very powerful, but too complicated for its own good
Thursday, 15 September 2016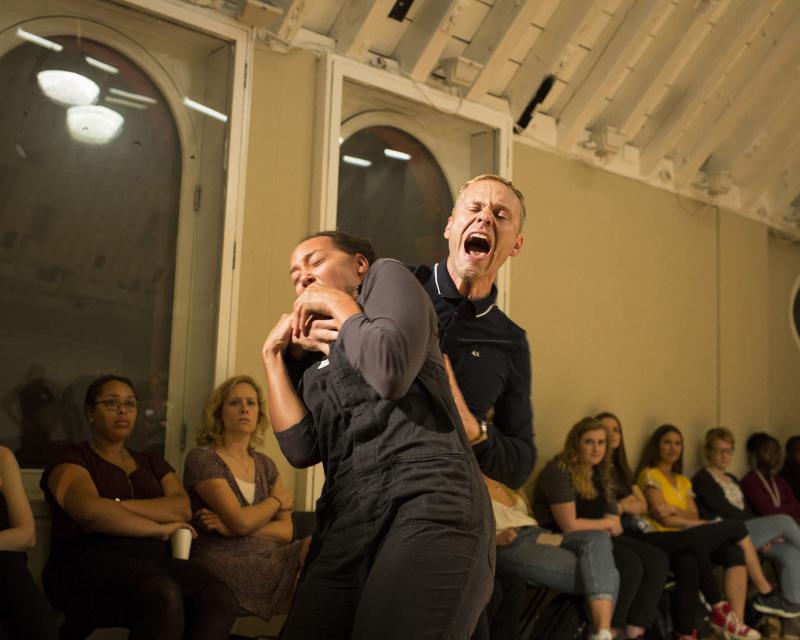 Domestic violence: Adelle Leonce and James Hillier in 'Torn'
The family is a war zone. Bam, bam, bam. For some people, it can be the most dangerous place on earth. Its weapons include domination and betrayal, blackmail and abuse, and its frontline is memory – what really happened, and who is most to blame? In actor-playwright Nathaniel Martello-White's new drama, this war zone is crossed and re-crossed with passionate vigour in a minimalist production that has some strong points and some frustrating aspects too.
A young woman, Angel, has called a family meeting because she wants to discuss what happened to her when her mother swapped lovers, and substituted Steve, a slightly sinister but plausibly eloquent white man, for Angel's father Brian, a black man with a drink problem. She locks the door of a room that looks like a church hall, and says that nobody can leave until she gets at the truth. This might be harder to achieve than it seems because Angel's family is complicated. She has a black brother, and two "white" half-siblings. Her mother has an identical twin sister, so Angel has a cousin, and also three aunts. Moreover, all family members remember Nanny, the Irish Granny of the family.
This theatre experiment is often willfully obscure
At first, it seems as if this family meeting will be explosive. Angel has obviously been the victim of abuse, so the question is not what, but how come no one did anything about it? Everything looks set to be a Festen-style confrontation. But anyone expecting a simple story told in a straightforward way will be disappointed. Instead, Martello-White creates a jagged polyphony as all the family members make their points, stand their grounds, reiterate their positions and try to settle old scores. To make matters more complicated, there are also flashbacks to past incidents, and the character of Nanny is impersonated by one of the aunties.
For the first half hour of the 90-minute show, the effect is confusing and only gradually does the full richness of the situation appear. Just as there is good and bad in most families, so there are advantages and disadvantages in Martello-White's use of an experimental theatre form. On the plus side, there is an energy in the dialogues that sometimes suggests the world of the unconscious, and the rapidity of the exchanges can be sizzling as well as bewildering. But this is not really the way that people speak – it's too poetic, too hesitant and too vague. Even more on the minus side, the paucity of character names (most are referred to by relationship, such as Aunty L) is puzzling, the flair of experiment is often willfully obscure and the confusion of different voices seems to mask the fact that this is a depressingly simple story. And one whose politics are dubious.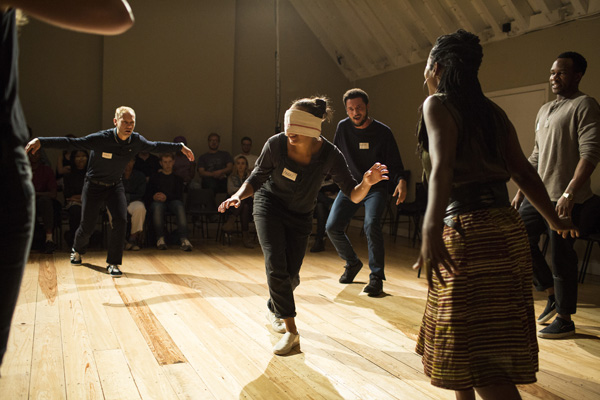 Surely there's something a bit old-fashioned and even reactionary to a tale that ends up blaming the mother of the victim even more than the abuser. By the end of the play, the only way to save this family is by denying the truth, so we are robbed of the catharsis of seeing justice done. An unpleasant odour of defeat hangs over Torn's lack of resolution. And yet... There are some very powerful moments and a couple of beautifully crafted speeches which sing with beauty. At the same time, the metaphor of abuse often feels like too clichéd a way of looking at family secrets – aren't there any other types of betrayal?
Richard Twyman's well-organised production, which with designer Ultz's help turns the studio theatre at the Royal Court into a barren attic whose windows look out on Sloane Square and offers a bare stage with only a handful of chairs for props, is strong and often convincing. With the audience seated around the playing area, the feeling of voyeurism is hard to shake off. And the cast do succesfully convey the sense that they have survived more than one battle. Adelle Leonce's tearful but determined Angel is a nice contrast to Indra Ové's performance as her evasive mother; James Hillier's Steve has good stage presence and so has Osy Ikhile's cousin; Kirsty Bushell, Lorna Brown and Franc Ashman are equally impressive as the sisters of this rainbow family. But despite some great moments, as when the family play a game (pictured above), this is an evening that is easier to admire than to love.
The metaphor of abuse often feels like too clichéd a way of looking at family secrets
rating
Explore topics
Share this article