The Suppliant Women, Royal Lyceum Theatre, Edinburgh |

reviews, news & interviews
The Suppliant Women, Royal Lyceum Theatre, Edinburgh
The Suppliant Women, Royal Lyceum Theatre, Edinburgh
Flawed but fascinating Aeschylus adaptation from David Greig
Thursday, 06 October 2016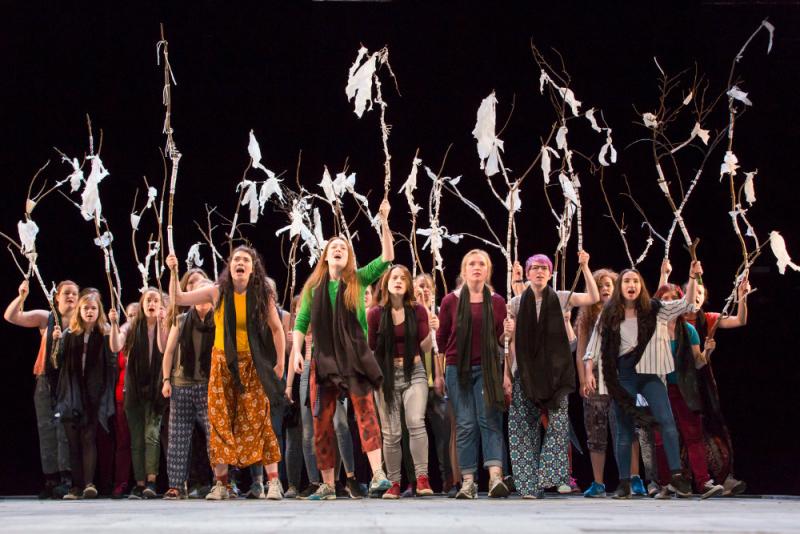 Feisty refugees: Edinburgh locals join professionals in Greig's uncomfortably relevant updating of Aeschylus
Fleeing rape and forced marriage in their war-torn homeland, a boatload of women refugees washes up in Greece, where they beg asylum from the suspicious locals. No, not a depressingly familiar news story of our own times, but the basis of Aeschylus's 2,500-year-old drama The Suppliant Women – an ancient work whose unmistakable contemporary resonances David Greig brings unashamedly to the fore in his brand new adaptation.
His first production at Edinburgh's Lyceum Theatre since taking the reins as its artistic director this season, The Suppliant Women also marks Greig's second collaboration with director Ramin Gray and his Actors Touring Company. The much-admired The Events of 2013 put local amateur singers in the role of a community choir caught up in acts of terrorism, and toured internationally following its award-garlanded premiere at the Edinburgh Fringe.
Their new show, however, pushes the same concept much further. Dozens of Edinburgh amateurs play the chorus of refugee women, as well as city guards and Greek citizens, with just three professionals filling the central roles. And performances are universally extremely strong. Omar Ebrahim (pictured above) gives a beautifully inflected, heartfelt performance as Danaus, the women's father and spokesperson, while Oscar Batterham (pictured below) is superbly nuanced as conflicted young Greek king Pelasgos, delivering Greig's verse lines with impeccable clarity and feeling. Gemma May leads the women with persuasive conviction, but it's the 36-strong pack of women playing the frightened but feisty refugees – on stage virtually from start to finish in Greig's 90-minute, interval-less evening – who ultimately steal the show.
There's a huge amount to admire in the sheer boldness and ambition of Greig's creation, as well as in its unforgiving reminders of today's international turmoil: Syria gets namechecked in almost the play's first line, and there are uncomfortable warnings that the women ought to tone down their foreignness in what might be a hostile host society. But however blunt they are, Greig steps back from hammering home his references. The Suppliant Women remains very much a play of ancient Greece, and even Greig's new verse, though colloquial and unmistakably contemporary, retains a delicious sense of timeless, alien coldness. There are more nods to ancient Greece, too, in both Lizzie Clachan's stark, evocative designs, and John Browne's atmospheric, ritualistic score, which sets virtually Greig's whole text to music – either chanted or sung – with the accompaniment of skittering, thudding percussion and the wail of the ancient Greek double-pipe aulos.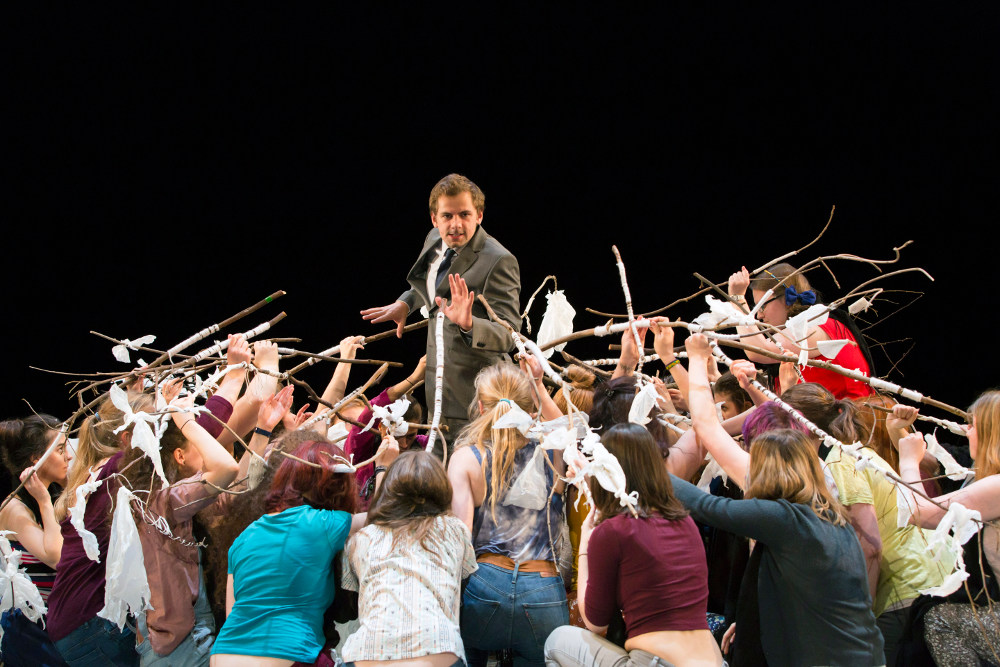 With all of these different elements, however, there's also the feeling that there might be simply too much going on. With nods to ancient theatre rituals, contemporary resonances, community performers, and issues of women's rights, Greig and Gray offer such a sack of thematic richness so bulging that it's sometimes difficult to see where the focus lies. And in fact, those themes and conceits tend to pull in different directions, rather than coalescing as a single intention. Brown's all-pervasive (or almost) score doesn't help: in restricting Greig's text in its tempo and rhythm, it often detracts from the words' expressive suppleness, so that rare moments of unaccompanied spoken dialogue come as a refreshing break from what feels like quite an incessant, unchanging texture.
In terms of its sheer scale and ambition, there's a huge amount to admire in The Suppliant Women, but it's also the sheer scale of its ambition that undermines its focus. It's flawed, certainly, but it's a fascinating, provocative achievement nonetheless.