CD: Cliff Richard - Just Fabulous Rock 'n' Roll |

reviews, news & interviews
CD: Cliff Richard - Just... Fabulous Rock 'n' Roll
CD: Cliff Richard - Just... Fabulous Rock 'n' Roll
Britain's 76-year-old rockin' pioneer returns to his roots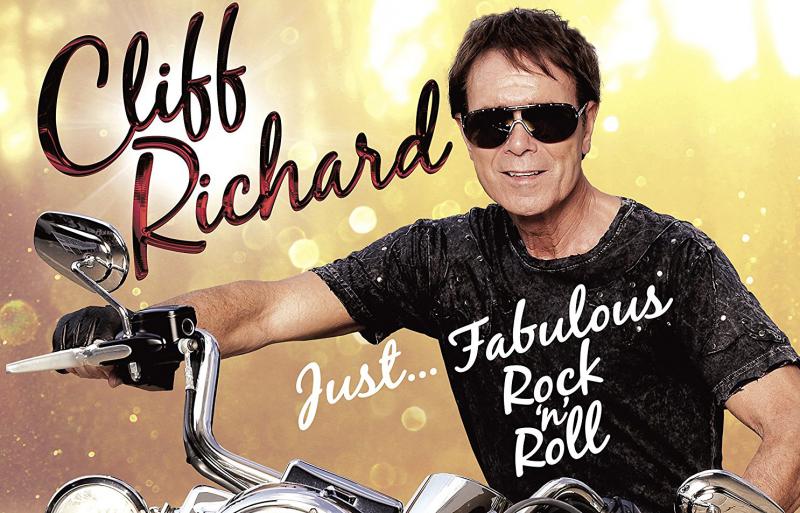 Sir Cliff, eyeing up the Christmas charts
It's 58 years since "Britain's answer to Elvis Presley" had his first top 10 hit and now he's back, and back to his roots, with a new CD, Just… Fabulous Rock 'n' Roll, released by Sony with whom, at the grand old age of 76, he has signed a lucrative new contract. And don't mock. It's a terrific album: 15 classic songs including a "duet" with Elvis Presley, without whom.
Recorded at the Blackbird Studio in Nashville, where the likes of Dolly Parton, Sheryl Crow, Hank Williams Jr, Taylor Swift and the Red Hot Chilli Peppers have worked, it's produced by Steve Mandile of country quintet. Sixwire, who also plays guitar alongside bandmates Robb Houston (guitar), John Howard (bass) and Chuck Tilley (drums and percussion). Add Max Abrams, sax player with the Mavericks, into a mix that also includes seasoned bassist Alison Prestwood and Dane Bryant on keyboards and it's all pretty cool. Cliff's voice is everywhere: way out front in the mix and multi-tracked on all the backing vocals. And what's remarkable is how little it's aged, even on the falsetto ooohs which have long defeated Paul McCartney.
It's easy to mock Cliff and there were doubtless quite a few who laughed heartily when his halo seemed to slip following the disgraceful live-on-TV police raid on his home. There have been no charges and the singer is suing the BBC – rightly. Cynics might suggest that the presence on the Radio 2 playlist of the Chuck Berry cover "Roll Over Beethoven" is the Corporation's atonement not just for cooperating with South Yorkshire Police but also for the studied neglect of many of his later records.
John Lennon said 'Move It' was Britain's first rock record
But Just…. Fabulous Rock 'n' Roll deserves its fuss and fandango. Here is a man who's sold more than 20 million singles in the UK, the third top-selling singles artist after the Beatles and Elvis, and who's enjoyed eight US top 40 hits, including "Devil Woman" and "We Don't Talk Anymore". His first release, "Move It", which hit the number two spot in 1958, was described by John Lennon as the first British rock record.
Like Lennon and McCartney and just about every other 1950s teenager, Cliff started out playing skiffle. Like his idol Presley, he went on to record a good deal of schmaltz and make some dubious movies (though I still recall my childhood joy at Summer Holiday). Unlike Little Richard, another of his musical heroes to whom his very name tips a hat, his squeaky-clean image has always made him an easy target for detractors who can never come close to emulating his success. As the song says, God gave rock 'n' roll to everyone.
Forget all that and join Cliff as he steps on the gas and speeds down memory lane, perhaps in a cherry red '53. The Presley duet is the least of it – there's always something tacky about these beyond-the-grave re-treads – and anyway his cover of Presley's "His Latest Flame" is much better. For my money the stand-out cuts are the Chuck Berry numbers, "Sweet Little Sixteen", "Memphis, Tennessee" and "Roll Over Beethoven", the single releasse, on which you can still sense the raw energy and excitement of teenage discovery. On the old Little Richard number "Keep a-Knockin'", Cliff and the band are really smoking, and it's once more with feeling with "You Send Me", the Sam Cooke classic, and "Cathy's Clown", the Everly Brothers' hit.
Cliff's probably not going to pick up that many new fans at this stage in his career but this is a CD than many women (and perhaps a few men) would be more than happy to find under the Christmas tree. Move it!
Join Cliff as he steps on the gas and speeds down memory lane, perhaps in a cherry red '53
rating
Share this article