Lazarus, King's Cross Theatre |

reviews, news & interviews
Lazarus, King's Cross Theatre
Lazarus, King's Cross Theatre
David Bowie musical crosses the Atlantic, its intrigue intact
Thursday, 10 November 2016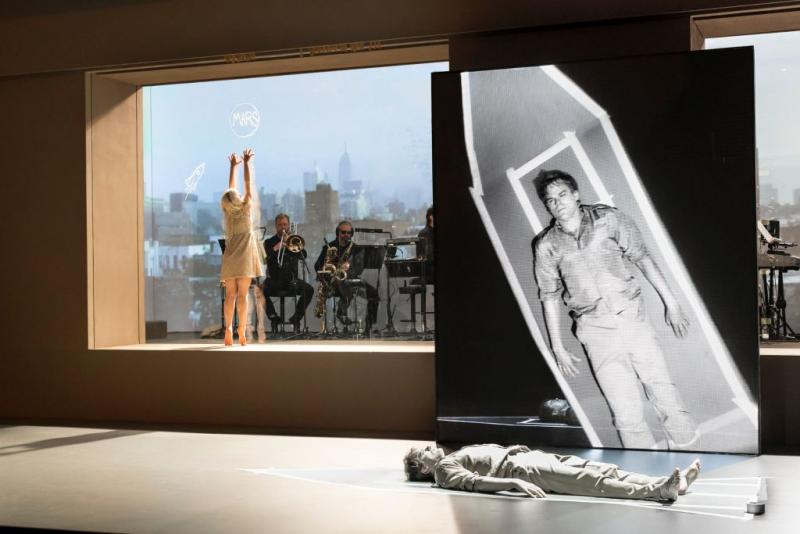 Life on Mars: Michael C Hall (right) stars in `Lazarus'
When David Bowie first met with the producer Robert Fox to discuss Lazarus back in 2013, you now have to wonder if he was seriously contemplating his own mortality. The clue, of course, lies in the title, and that of Bowie's extraordinary last album, Blackstar.
In what is effectively a sequel to the Walter Tevis novel
The Man
Who Fell to Earth
– memorably filmed by Nicholas Roeg with Bowie as the marooned alien Thomas Newton –
Lazarus
is awash with intimations of death, of decay, of a world on the brink of extinction.
Enda Walsh's book is full of longing – for love, for peace, for release from earthly ties – while songs from Bowie's iconic catalogue, an astonishing legacy spanning four decades, are reimagined in a new context whilst somehow retaining the potency they once exerted during the course of a life richly lived. No jukebox musical, this.
But here's the thing. This entire creation – arriving from New York in an appropriately custom-made theatre at King's Cross – is so infused with the spirit, the quirkiness, the capriciousness of Bowie (Walsh could not be more in tune with all of this) that mere mortals who simply "don't get him" should probably steer clear. Lazarus will undoubtedly be regarded by some as pretentious on an industrial scale – and in some respects it is – but only if you have never bought into the Bowie ethos.
If, on the other hand, you are among the millions who have, then there is a truth about the show that is strangely moving. I am still now contemplating how strongly Bowie himself was "in the room" the other night: sure, there were moments, as there often were with Bowie, where I felt myself sinking beneath the weight of Walsh's wordy symbolism, but others where a childlike honesty cleared the air.
Fox has assembled the perfect team to realise what was after all Bowie's own vision for the piece. Who better to direct Walsh's book than Ivo van Hove, whose extraordinary eye and ear have brought a new kind of Surrealism to the stage: witness his A View From the Bridge, which went from the Young Vic to the West End and then Broadway; and designer Jan Versweyveld, whose jaw-dropping use of projections in Lazarus demands a new canvas, if you like, on which to spray his visuals. The East Village New York apartment in which Newton (the amazing Michael C Hall, pictured above left, with Sophia Anne Caruso) has been trapped for decades living on gin and Twinkies looks out through plate glass not on to the world beyond but into a studio where Tom Cawley's nine-piece band essentially recreates the Bowie sound.
But they can be relocated in an instant to a nightclub or a highway by Versweyveld's projections, just as other characters – real or imagined by Newton – are spirited from behind their images on a giant TV screen. Among those is the ironically named Valentine (Broadway actor Michael Esper, pictured above with Amy Lennox), a knife-wielding maniac who quite literally kills love and hope and threatens Newton's release; and the generically named Girl (the intriguing Caruso), who represents Newton's only way to the stars and the ultimate freedom he craves. Her childlike rendition of "Life on Mars" is extraordinarily touching as she marks out on the stage the naive outline of the rocket that Newton hopes will take him there. This is the being that will ultimately shed not her lifeblood but the milk of human kindness: you need to see the production to understand that.
The hugely charismatic Hall (TV's Dexter) is onstage before and during the entire 110 minutes duration. His commitment is total, his presence otherworldly and riveting. He even sounds like Bowie in the numbers entrusted to him, three of which were written especially for the show.
So, definitely one for Bowie fans, not sceptics, who will continue to miss out. In a copy of Tevis's novel that he gifted to the producer of Lazarus, the singer wrote as follows: "I'm not a human being at all." (Thomas Jerome Newton) "Ssshh!!" (David Bowie).
At which point, cue "Heroes".
Michael C Hall's commitment is total, his presence otherworldly and riveting
rating
Explore topics
Share this article