Lizz Wright, Cadogan Hall |

reviews, news & interviews
Lizz Wright, Cadogan Hall
Lizz Wright, Cadogan Hall
A standing ovation concludes one of the most moving concerts of the year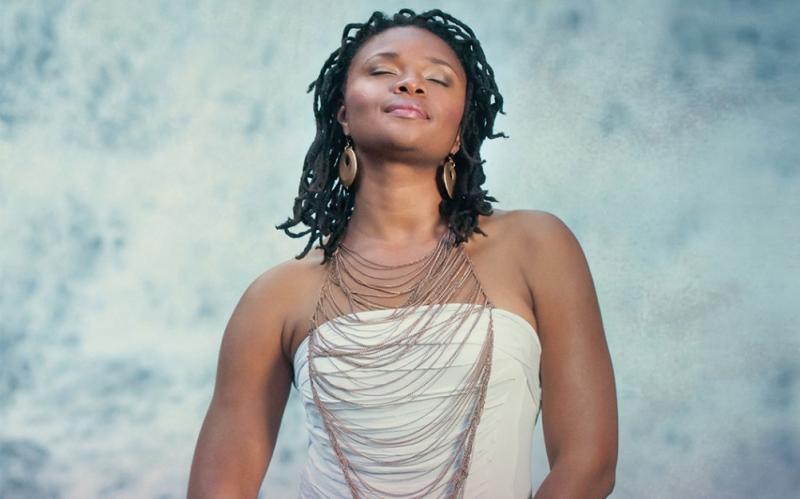 An electrifying charge between singer and audience: Lizz Wright
There are singers who can dazzle with their technical mastery, those who welcome you into their musical world through a special communicative gift, and those who can traverse genres with absolutely no artifice. Rarest of all are those singers who combine all of the above with a timbral quality that can touch your very soul. Lizz Wright is one such singer.
From the very opening song, an unaccompanied take on Hoagy Carmichael's "The Nearness of You", the stunning beauty and emotive power of Wright's voice carried all before it, and immediately set up an electrifying charge between singer and audience.
Using the different timbral qualities of her voice almost like a painter, "Nature Boy" saw Wright being joined on stage by drummer Louis "Styx" Newsom in a version of the song – first made famous by Nat King Cole – that was both metrically playful and otherworldly. Singing the final line, "The greatest thing you'll ever learn/Is just to love and be loved in return", Wright repeated the phrase "in return" like a mantra.
The last time I saw Wright perform live, "Sing The Truth" at the Barbican in 2011 with fellow vocalists Dianne Reeves and Angélique Kidjo and a killing band led by drummer Terri Lyne Carrington, one of the most noticeable qualities was how grounded and earthy the music was, and the evident joy of playing and sharing music with friends. Performing the spirited country blues "The New Game" with the full band now on stage – one of a number of songs from last year's superb, Larry Klein-produced Freedom & Surrender – those same qualities shone through here too. "What a time, what a time, what a time", Wright sighed when introducing the song. It was clear to everyone what she was referring to.
In the traditional gospel song "Walk with Me, Lord", from her 2003 Verve debut Salt, one of several transfixing, transcendent solos by Grammy-winning organist Bobby Sparks ushered in a textural build-up that nearly took the roof off the Cadogan Hall. From Neil Young's 1972 album Harvest and with backing vocals provided by her bassist Nicholas D'Amato, "Old Man" showcased the wide-ranging palette of London-based guitarist Martin Kolarides who provided both the delicate introduction and a finely spun solo. The sudden, ecstatic outbursts in "Somewhere Down the Mystic", on the other hand, showcased the band's incredible dynamic range.
Ewan MacColl, the composer of "The First Time Ever I Saw Your Face", famously hated all of the cover versions he heard, likening the Elvis version to Romeo singing up to Juliet from the bottom of the Post Office Tower (and if you've heard the Elvis version, you can see his point). But you feel that even MacColl would have succumbed to the aching beauty of Wright's version.
Other highlights included "Seems I'm Never Tired of Loving You", a song most closely associated with another genre-defying artist, Nina Simone, plus the magnificent "Freedom", the opening song from Freedom & Surrender penned by one of Wright's long-standing collaborators and touchstones, Toshi Reagon.
We were treated to two encores. An admirer of Nick Drake's music, Wright's ghostly take on "River Man" was spellbinding, with the verse "Going to see the river man/Going to tell him all I can/About the ban/On feeling free" taking on new-found resonances. From her 2008 album The Orchard, "Coming Home", prefaced by D'Amato's elemental bass solo, brought one of the most moving and powerful concerts of the year to a rousing close and a much deserved standing ovation.