Strictly Ballroom, West Yorkshire Playhouse |

reviews, news & interviews
Strictly Ballroom, West Yorkshire Playhouse
Strictly Ballroom, West Yorkshire Playhouse
High on visual thrills, low on subtlety: Baz Luhrmann's debut film returns to the stage
Thursday, 08 December 2016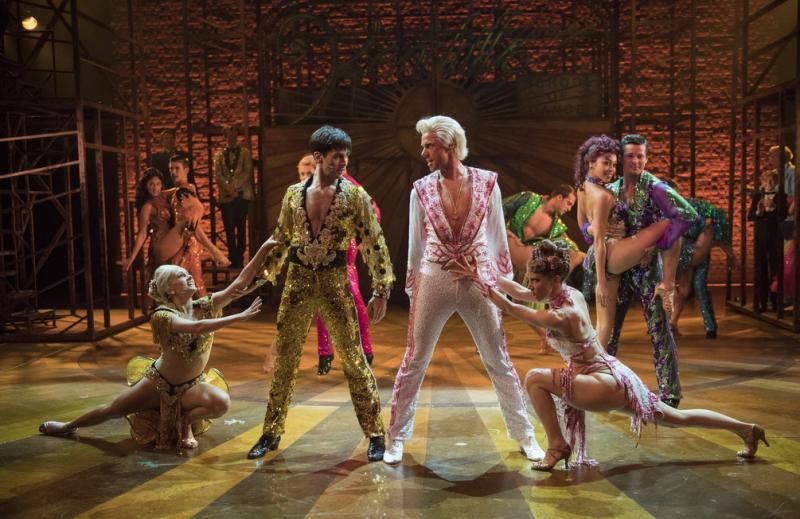 Shaking up the status quo vadis: Sam Lips and Gary Watson in 'Strictly Ballroom'
Baz Luhrmann's Strictly Ballroom started life as a short stage play in 1984, drawing on its creator's own experiences in the heady world of amateur ballroom dancing. That the iconic 1992 film exists at all is something of a miracle; production funding was scarce and no distributor was willing to screen it until it was accepted for the 1992 Cannes Festival. Strictly Ballroom is still an intoxicating viewing experience: a visually arresting and upbeat modern fairy tale, smartly cast and superbly performed. The credits for this stage musical version are impressive: Luhrmann was one of the creative team behind the first Australian performance in 2013, and this debut UK outing cites the great Terry Johnson as adapting the book.
You're excited before it even starts. Which it does with a bang, Richard Dempsey's excitable compere JJ Silvers launching into a hyperactive preamble as the stage fills with waltzing couples. This is competitive dancing, 1985 style, the narrative focusing on the talented Scott Hastings (played by the wonderfully named Sam Lips) whose penchant for unorthodox dance moves (as opposed to "strictly ballroom") alarms his pushy mother. The original film is a more sophisticated and moving work than many would give it credit, Scott's parents' backstory one of several compelling subplots.
It's no surprise that Scott finds himself teaming up with the nerdy Fran (a luminous Gemma Sutton). A perennial low-attainer, smelling of disinfectant and never having had a male dancing partner, she identifies with Scott's rebellious streak and offers to partner him in the upcoming Pan-Pacific Championships, with barely three weeks to prepare (Sutton and Lips, pictured above right). The outcome is wholly predictable but no less moving for it, the original film's message ("a life lived in fear is a life half-lived") pressed home with disarming force.
Director and choreographer Drew McOnie's staging is a visual triumph, the Playhouse's smallish stage brilliantly exploited, the film's jump cuts realised with brilliant lighting and neat use of the revolve. We move from the run-down Kendall's Dance Hall to Fran's parents' tumbledown house in seconds, and a hard-working supporting cast excel in multiple roles. The busier dance sequences are terrific, though the most striking moment comes early on when Scott practices alone. There's an enchanting moment where he's taught the authentic pasa doble by Fran's terrifying father (a scene-stealing Fernando Mira), learning inevitably that the secret to good dancing lies with one's heart, not one's feet. Other standouts include Scott's meek father, Doug, sweetly rendered by Stephen Matthews, his socks-and-sandals combo concealing hidden passions, and Julius D'Silva's Barry Fife (pictured below, left) is a grotesque, toupee-clad apparatchik.
Comparing McOnie's production to Luhrmann's film is unavoidable; it's good that the iconic scene in front of an illuminated Coca Cola sign is preserved, and there's plenty of sweaty claustrophobia – the frenzied final minutes are riveting. There's some nifty audience participation, notably when an unsuspecting couple are dragged onstage at the start of Act 2. But the original's low-budget charm is only fleetingly present; everything here (including the amplification) is a tad too loud and garish.
And turning it into a musical hasn't added much beyond the extra running time: most of the new songs just aren't memorable enough, despite some frequently funny lyrics. We know what's going on in the heads of Scott and Fran by the way they move and look at one other; we don't need a soupy ballad to tell us. Still, the show's punchiness and sheer energy are enough to temporarily override any reservations, and Catherine Martin's glittery costume designs almost justify the ticket price alone.
Doug's socks and sandals conceal hidden passions
rating
Share this article