Planet Earth II: Cities, BBC One |

reviews, news & interviews
Planet Earth II: Cities, BBC One
Planet Earth II: Cities, BBC One
City co-existence: closing the series, David Attenborough charts unusual symbioses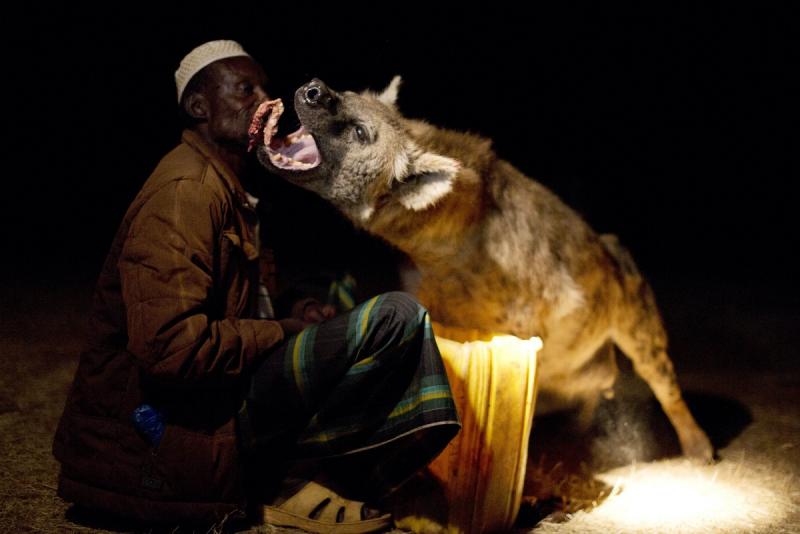 Unusual bond: feeding the hyenas in Harar, Ethiopia
Cities, the fastest growing habitats in the history of the world, provided the subject for the sixth and final programme in Planet Earth II, the series that came a decade after the original Planet Earth programmes set new standards for television coverage of wildlife and nature.
The follow-up confirmed that they are still being set, even though we have become accustomed to intrepid cameramen getting close to subjects never seen before, and tight narrative editing that gives us both visible and verbal comprehensible sequences, all anchored by the comforting familiarity of David Attenborough's calm voice. Here we were travelling not to exotic jungle, remote mountains or implacable desert but to that most familiar setting of all, the city, to see animals that for the most part are so often invisible to us even though we share our space with them.
The complexity of city life favours the clever
Half of the human population now lives in cities, and every year an area the size of Britain disappears under concrete, transformed from a natural into an urban environment: cities have increased 30 per cent in the last decade alone. Sir David Attenborough has a way of telling us the most startling facts in the most soothing manner possible; even in indignant mode, he could seem almost optimistic, although he has long been one of the world's leaders in expressing sorrow, regret and anxiety for the vanishing wilderness and the animals that live in it, alerting us to the dangers concerned.
But this programme broke new ground in showing the ways in which some wild animals have learnt to adapt. In short, while cities are becoming the habitat of choice for the human animal, we are being followed by other species. It looked at animals that we might think of as wild, and how the cleverest and most adaptable are thriving under relatively new conditions. Some it turns out – and no, not mice or rats – have in fact been doing so for centuries.
The most surprising was the spotted hyena, Africa's most feared predator. Two packs of hyenas, each about 60 strong, battle it out nightly to see which can gain access through the city walls of Harar, in Ethiopia. The victors prowl through the dark streets to the city's meat market, where the butchers use them as extremely efficient waste disposal, throwing to them bones that cannot be sold, but which can be crunched by the powerful jaws of these amazing carnivores. Moreover, there is one special family that for five generations has been feeding them – by hand, no less – even more succulent titbits of meat, as a way of appeasing the night spirits that might harm the human population. Tame hyenas, which could easily overpower and consume a human child, come when called and accept the delicious offerings. And by day they are gone, back to the forest whence they came. This symbiotic relationship between wild animals and the human population has evidently been going on for centuries there.
The story of pigeons in the city is long, too, but there was another surprising twist. Pigeons, of course, have lost all fear of humans (although we have to remember that pigeons too have been threatened by humankind: the fate of the passenger pigeon, now totally extinct in North America, was not mentioned). But in Albi they face a new danger; catfish were introduced to the local river, and promptly exterminated all other fish species. And these monstrous fish have now learned to make it to the river bank far enough to prey on pigeons who come down to bathe.
New challenges may be appearing all the time, but there were some success stories about overcoming the hazards of urban life. The world's highest density of nesting peregrine falcons can be found in New York City, actually Manhattan, where the skyscrapers provide excellent nesting facilities, while other urban birds find unending food supplies and ideal conditions in the thermals, created by the narrow spaces between the high-rises, on which to coast high above the city.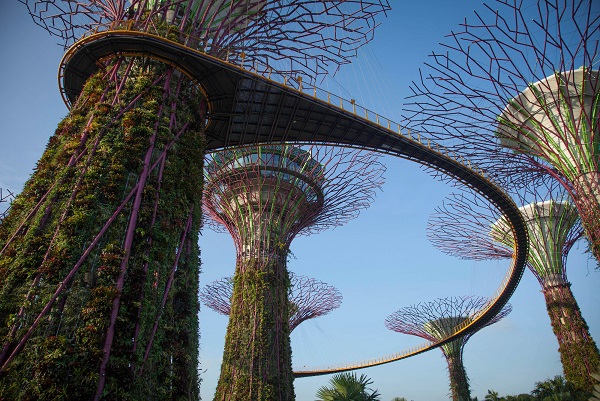 The variety here was enormous. India certainly loves monkeys, in part due to reverence for Hanuman, the monkey god. In Jodhpur a temple provided food offered by worshippers, and we saw endless feats of derring-do to as the langur monkeys leapt from roof to roof; dominant males defended their territory, and there was nothing less than a baby boom, with the monkeys doing far better in terms of fecundity and life span than they did in the surrounding countryside. We also saw – an ample supply of cute appeal here – how that made for lots of time for play, since there was less need for foraging. Meanwhile, faraway in Toronto, busy raccoon families were substituting rooftops for treetops, and doing better in the city in terms of problem solving than their country cousins (peek-a-boo: being a raccoon in Toronto, pictured top): the complexity of city life favours the clever, one of the many subtly anthropomorphising remarks that flavoured the commentary.
But countless species cannot acclimatise. The ultimate question from Sir David was: can cities be built in harmony with species other than human, and how can they accommodate wildlife? Some good news: in Milan, a vertical forest coats a high-rise apartment building, while Singapore, that most modern of city states, has planted two million trees and is now richer in animal species than any other in the world. Smooth-coated otters have come back to clean up waterways, but there's much more than that – one park has 150-foot-high metal structures, artificial super-trees that are coated in greenery, which provide new habitats for wildlife (Singapore's Gardens by the Bay City Park, pictured above). The film's final image was of perhaps one of the rarer species to have survived, Sir David himself: high up a London skyscraper, hair blowing in the wind, he sounded a note of gloom for the uncaring past that has led to our destructive present, but a note of hope, too.