Written on Skin, Royal Opera |

reviews, news & interviews
Written on Skin, Royal Opera
Written on Skin, Royal Opera
This contemporary classic only gets better with each hearing
Saturday, 14 January 2017
Agnes (Barbara Hannigan) is caught between her possessive husband (Christopher Purves) and The Boy (Iestyn Davies)
There's a passage in Martin Crimp's impeccable libretto for Written on Skin that describes a page of illuminated manuscript. The ink, he tells us, stays forever wet – alive with moist, fleshy, indecent human reality rather than dried into decorous fixity. As a metaphor for storytelling, it's potent; as a description of George Benjamin's score, it's close to literal.
Nearly five years after its Aix premiere, the music of
Written on Skin
still shifts and shudders with awkward emotional truths, buckling with characters who refuse to be pinned in place, hunching with musical tension that refuses to release. It's a singular score, as well as a singularly beautiful one, and this latest revival only confirms its power.
When last seen in London in a Barbican concert performance, Written on Skin was a fable about power, authority and the transgressive force of the erotic. Stripped of any staging the score spoke louder, and its astonishing play of musical light and shade (particularly shade) drew the ear into a series of sensual encounters – a bass viol, the glass harmonica, steel drums – that were each fresh and startling. Here, in Katie Mitchell's vision, the opera becomes something quite different: a story about storytelling itself and its archaeology, about the ownership of history and narrative.
Vicki Mortimer's dolls house set looks handsome as ever in this first revival. Contemporary spaces jostle with a single medieval room in a design that dissolves membranes not only of time but of space, with a forest sprouting in its porous interiors. As Benjamin's love-triangle between The Woman, The Protector and The Boy plays out in the period space, scientists labour diligently in their lab above – perhaps piecing together the very manuscript being written below – and occasionally stray downstairs to offer a prop, or clear a table.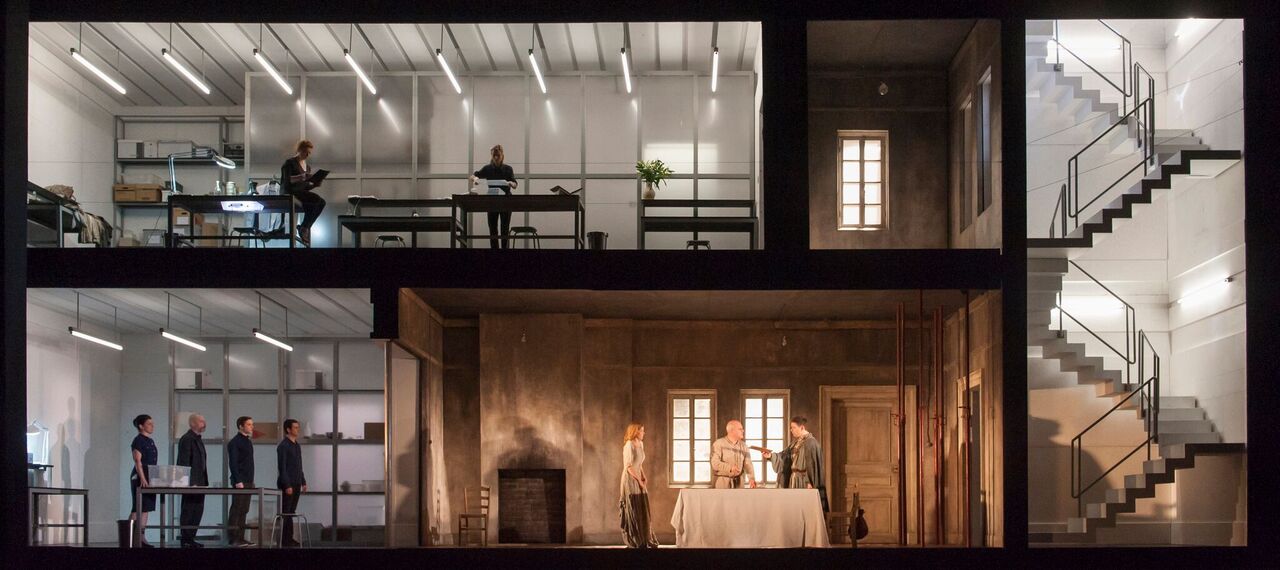 Jon Clark's painterly lighting makes the space glow like a Dutch still-life, bringing depth and warmth to the earthy browns, pinks and creams, even as Benjamin's score darkens its vision with violas and low brass. But, as Agnes insists, "Love is not a picture, love's an act", and this gorgeous frame does have to be filled with action. But that's where the cracks in this production do begin to show. With so much movement going on in so many different spaces, there's a risk that Benjamin's instrumental interludes become reduced to incidental music to cover scene changes and domestic theatrical faff. In concert there was a far greater continuity, both of emotional action and tension, which heightened the tale's claustrophobic simplicity and single-mindedness.
But if the staging has its issues, there are none with the cast. Barbara Hannigan and Christopher Purves return from the original production as Agnes and her Protector husband, finding a tension at once sensual and horrifying in their relationship, while Iestyn Davies (pictured below with Hannigan) brings a new energy to The Boy – cooler, more ambiguous than predecessor Bejun Mehta, though stopping short of the frigid purity of Tim Mead's Barbican performance. As a trio of voices they each share the ability to strip all colour from their sound, to disappear into the instrumental textures of Benjamin's score (conducted here by the composer) at will. It's a trick that plays with foreground and background textures, drawing yet more planes of depth in this skilful score. With Mark Padmore and Victoria Simmonds as the Angels – luxurious casting in supporting roles – this really is as good as it gets, vocally.
So why all the empty seats? It's a sight you almost never see at a Covent Garden opening night, and one that bodes ill for the house's plans for a series of contemporary premieres on the main stage. This is a work that deserves a revival – demands it, even – but if it cannot succeed in wooing the contemporary theatre crowd who would queue greedily for Mitchell's thoughtful production if it were served in any other London venue, then what hope is there for its successors? As an industry we're so in thrall to the premiere, to the thrill of the new, that we seem to have forgotten the value and the pleasure of the second encounter and the third. Benjamin's opera grows with each, and requires revisiting if its characters are to continue their quiet evolution.
Jon Clark's painterly lighting makes the space glow like a Dutch still-life
rating
Explore topics
Share this article