Lessons in Love and Violence, Royal Opera review - savage elegance never quite glows red-hot |

reviews, news & interviews
Lessons in Love and Violence, Royal Opera review - savage elegance never quite glows red-hot
Lessons in Love and Violence, Royal Opera review - savage elegance never quite glows red-hot
An operatic lesson that brands itself on mind and ear if not, perhaps, on your heart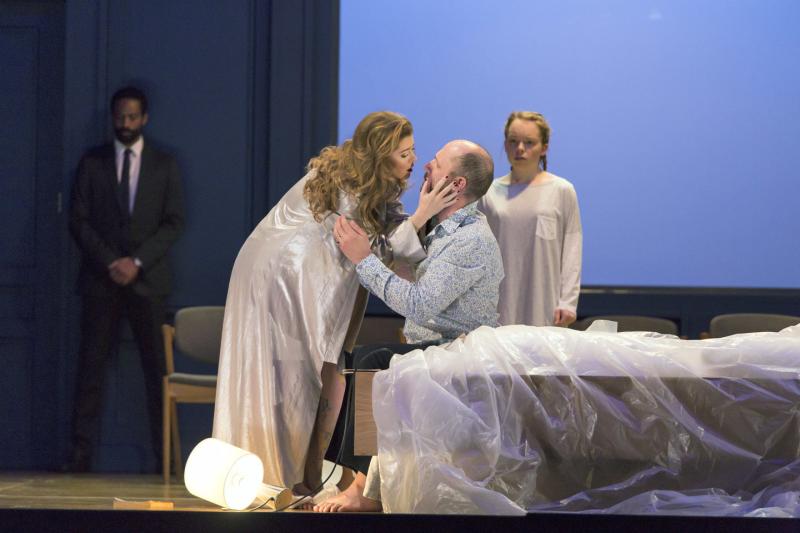 Isabel (Barbara Hannigan) and the King (Stephane Degout): two points in an uneasy royal menage-a-trois
A rope is mercy; a razor-blade to the throat, a kiss; a red-hot poker… But, of course, we never get anything so literal as the poker in George Benjamin and Martin Crimp's elegant, insinuating retelling of Christopher Marlowe's Edward II.
The title may separate its two concepts –
Lessons in Love and Violence
– but what we're really unpicking here (what we're always unpicking with these two authors) is the fleshy tangle of the two, the stubbornly indivisible, Roger McGough-style loveandviolence.
This is an opera built on the sliding panels of elision, metaphor and metonymy – a shifting world where a kiss can be a betrayal, and a caress a murder, where taking away a man's name or his crown can deprive him of his life. Symbolism is a high-stakes game, and no one plays it better, or with more rigorous control than Benjamin and Crimp.
Benjamin and Crimp have devised a drama that lives in the spaces between the scenes
For over a decade now, and over the course of three collaborations, the composer and playwright have been teaching us their lessons – serving up operatic parables on power, politics, desire and the darkest urges of human nature to audiences that suddenly swelled from the fringe enthusiasts of 2006's Into the Little Hill to the crowds that have claimed 2012's Written On Skin as one of the greatest successes of 21st century opera – seen already in six different stagings internationally since its premiere.
But if the stage-contexts for these pieces have grown in size and stature (Lessons in Love is a co-commission from seven opera houses, including Madrid, Barcelona and Chicago), the works themselves have scarcely changed. The same chamber precision, restraint and cogency that makes Into the Little Hill so effective are still in evidence here, and in a world of diffuse, often wilfully undramatic new operas it's both a relief and a thrill to watch this taut, 100-minute show which has TV's instinct for getting out of a scene fast.
Cast in an arch of seven discrete episodes, the story of King Edward, his gay lover Gaveston (pictured above: Stephane Degout and Gyula Orendt), his neglected queen Isabel and her would-be-lover Mortimer, plays out as a series of taut emotional tableaux. Three murders, two political coups, a deposition and a betrayal give the opera plenty of meat, but this isn't a piece that's interested in doing. If music is, famously, the space between the notes, then Benjamin and Crimp have devised a drama that lives between the scenes. The spare, suggestive beauty of Crimp's libretto and Benjamin's music (which never states when it can imply, never implies where it can simply leave a dramatic door ajar) leaves room for the audience, and having been invited into their cruel world it's almost impossible to leave.
One major change has taken place since Skin. The third-person narration – the arch, arms-length, meta-theatricality that Crimp's detractors take issue with – has gone. Storytelling has become a more straightforward transaction (though, perhaps still thinking more than it feels), and Benjamin's musical language has responded in turn with a more sustained, string-based lyricism that could be described as sensuous were it not so coldly, forbiddingly beautiful – a Nicole Kidman of scores.
The uncanny, booming sound of the cimbalom – part-percussion, part-human voice – is back (having previously defined the soundworld of Little Hill), now accompanied by thrumming drums and harps – an exotic, rhythmic signature for Gaveston, agent here of both love and death. But if Gaveston's thrusts are violent, unpredictable, there's also a more deliberate rhythmic pulse at work here. Crimp's obsession with the "machine" of state politics finds echo in music that ticks and clicks and – devastatingly – stutters and stops altogether on the word "dead" during the king's assassination. Raging against that machine with every coaxing bar he sings, Gaveston (sung with an enchanter's skill by Gyula Orendt, pictured above, with Degout and Samuel Boden as The Young King) stills and suspends time, creating its own seductive temporality.
Lessons reunites not only Benjamin and Crimp but also Skin's director Katie Mitchell and designer Vicki Mortimer. The result is exactly as you'd expect: a slick contemporary monarchy framed in Elle Decoration interiors, tricked out with the usual Mitchell ticks (slow-motion movement, silent onlookers, meticulous psychological detail). If you thought a new dramatic approach from Benjamin and Crimp might yield a new response from the director, then think again.
The cast list reads like a dream, and it's one sustained in performance. Stephane Degout's King – pliant, almost womanish in scenes with Orendt's Gaveston (Benjamin doing here for male-voice duets what Strauss did for female), but quietly authoritative elsewhere – holds the centre, orbited by Barbara Hannigan's brittle Isabel (whose horrid-beautiful pearl aria is a highlight), Samuel Boden's Young King, caught between innocence and pitiless purity, and Peter Hoare's Mortimer (pictured above) – wild-eyed but horribly sane in his actions, spinning even the most grotesque logic into plausible, lovely phrases.
Benjamin himself conducts a large orchestra, whose full force is (once again) only heard in the interludes between scenes – a loud, public intrusion into an essentially private drama that takes a political story and plays it out psychologically. Benjamin's body politic is warm to the touch, stripped bare and left bruised and twitching by the end. There is no poker here because the authors have found a far more devastating, savage weapon: love itself. "Love makes us human," the King asserts. "So," corrects Mortimer, "does the need to kill."
Symbolism is a high-stakes game, and no one plays it better, or with more rigorous control than Benjamin and Crimp
rating
Explore topics
Share this article