Love in Idleness, Menier Chocolate Factory |

reviews, news & interviews
Love in Idleness, Menier Chocolate Factory
Love in Idleness, Menier Chocolate Factory
Eve Best shines in wartime Rattigan rarity which riffs on 'Hamlet'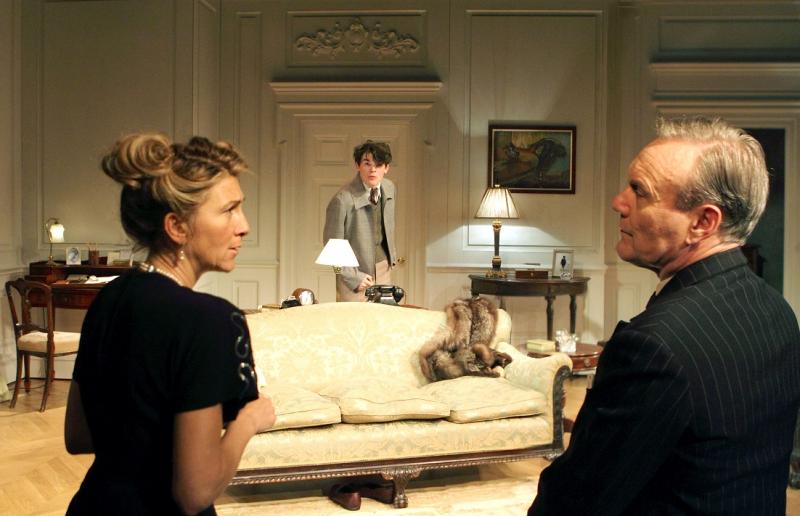 The 'Hamlet' triangle: from left, Eve Best, Edward Bluemel, Anthony Head
What's in a name? Terence Rattigan's Love in Idleness is a reworking of his 1944 play Less Than Kind (never staged at the time, it was first produced just six years ago). It reached the London stage at the very end of the same year with the Lunts, the premier theatre couple of their time, in the leads.
Inter-generational – and inter-family – dispute about the shape of post-war Britain is at its heart, and
Rattigan
revised the role of his arch-capitalist, War Cabinet minister protagonist to make it more sympathetic for Alfred Lunt.
With its story of a son returning to his mother to find another man in the place of a dead father, it's steeped in Hamlet. Trevor Nunn's Menier Chocolate Factory production melds elements from the two plays together, and makes that debt abundantly, often hilariously clear, best of all with the variations of "antic disposition" on display. As a title, Less Than Kind paid clear tribute to that source. The origin of Love in Idleness is rather more obscure, alluding to the name of the flower, a pansy or violet, "Before, milk-white, now purple with love's wound" (the line comes from A Midsummer Night's Dream).
A set-to between 'red revolutionary' and rival 'blue reactionary' ensues
And beneath Rattigan's brilliant wit the wounds of love are cruel here. Eve Best shines as Olivia Brown, the heroine caught between the comfort (even though they live together outside marriage) of her love for the rich, dynamic Sir John Fletcher (Anthony Head), and her feelings for her confrontationally idealistic son Michael (Edward Bluemel). It would be easy not take Olivia seriously – she's dizzily absentminded, relishing all the thrills of being a society hostess – but the impact on Rattigan's play depends on our doing so, and in that Best is persuasive.
The setting is 1944, after the Normandy landings, with the end of the war in sight. That has brought the return of evacuees: sent away to Canada four years earlier and now on the cusp of 18, Michael is back, his arrival set to turn his mother's world upside down. What proves emotionally wrenching for her, however, works irresistibly as dramatic confrontation for Rattigan, as a set-to between "red revolutionary" and rival "blue reactionary" ensues.
They're certainly opponents in the political arena – Michael is a left-winger, convinced that post-war changes will usher in a Fabian brave new world, while Fletcher's moneyed certainty has him confident that it will prove just "the same as the old world but spring-cleaned a little". But the real ground for their conflict is the personal realm, and it's there that Michael is acting with a destructive selfishness that reminds us that he's still an adolescent. For his opponent, he's "a little moral gangster with an Oedipus complex and a passion for self-dramatisation". Very true words.
Rattigan relishes the destructive consequences of Michael's interference, particularly when he brings Fletcher's estranged wife Diana (Helen George, an airily empty-headed portrayal of relationships pursued on a follow-the-money basis) into the equation. The scene in which the two women inadvertently encounter one another for the first time is exquisite, very nearly giving the lie to Olivia's social maxim, "There's no situation in the world that can't be passed off with small talk."
Rattigan's own ambiguity between attachment to the old order versus engagement with the new one makes the whole balance more complicated than might be expected. Sir John gives as good as he gets, his lines every bit as sharp as those of his younger opponent. There may be something rather too glib in the last scene's denouement, but the strongest implied argument for the status quo offered here is not the cynical justification of wealth, but rather the security of the longterm, loving relationship that Olivia and her paramour ("voluptuary" is another word bandied around: there's plenty of inventive comic writing) have clearly found. Neither of them are perfect – far from it – but they are in love. Which conquers a great deal. (Eve Best, Anthony Head, pictured above.)
"Better make them laugh than cry" could be an epitaph for much of Rattigan's legacy, and though Love in Idleness errs more towards the former than his better known work, it's a brittle laughter. It's surely a piece that stands or falls on its central performance, and Eve Best enthrals (pictured with Edward Bluemel, above), well supported by both Head and Bluemel (he was most recently seen in comparable time and territory in the ITV wartime hotel drama, The Halcyon).
Trevor Nunn again proves a convincing advocate of Rattigan's work. Comparisons are inevitable with his 2011 Flare Path (that play was the first in the writer's loose war-time trilogy which Love in Idleness concludes), not least for Nunn's repeat use of newsreel footage projections. It's a tight, slick production all round, and though Love in Idleness may be the lesser play, its reappearance in this form is more than intriguing.
Beneath Rattigan's brilliant wit the wounds of love are cruel
rating
Share this article