Balanchine's Jewels, Royal Ballet |

reviews, news & interviews
Balanchine's Jewels, Royal Ballet
Balanchine's Jewels, Royal Ballet
A glittering, precise account of a 20th century classic
Helen Crawford, James Hay and Anna Rose O'Sullivan sparkle in the pas de trois of 'Emeralds' - part of George Balanchine's 'Jewels' at the Royal Ballet.
Balanchine's Jewels is catnip to dedicated ballet lovers.
A homage, faithful and brilliant as only a master could make, to three different styles of
choreography
and three different national sensibilities, it's as dense, expertly carved and glittering as the gems of the title.It is also plotless, and so presents a signficant challenge to the performers, who must hold an audience's attention for a whole evening without the aid of narrative or emotional material. After all, however beautiful the sight of
Royal Ballet
dancers in sparkly tutus in the even more sparkly Royal Opera House may be, most punters apart from the most fervent of bunheads will need help to stay engaged for a whole 90 minutes.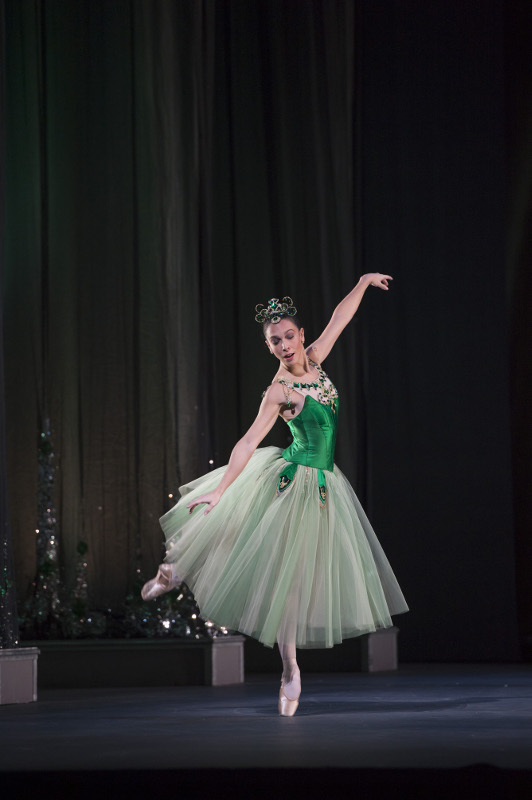 Balanchine's oft-quoted remark that Emeralds is intended to evoke "the France of elegance, comfort, dress, perfume" bears repeating because to my mind this idea of perfume is key to the whole ballet: watching – and dancing – Emeralds should feel like being wafted along on a cloud of delicate scent. This requires great sensitivity and style from the dancers, especially as they are more exposed here than in Rubies and Diamonds: two of the eight movements are solos without corps de ballet, and the dreamy, spare Fauré score does not offer much in the way of dramatic support. Beatriz Stix-Brunell, the first of these soloists and also the female lead in the memorable "hide and seek" movement, is charmingly pliant and quick; her jumps in particular have just the right quality of floatiness for the French style. But she needs to rein in the MacMillan-esque drama of her head and neck movements, as Laura Morera demonstrates. I would not necessarily have put the compact, intense Morera (pictured above right) down for this style, but she executes her variation like the supremely thoughtful dancer she is, all serenity and precision – and perfectly inclined Romantic head. The pas de trois, one of the most charming movements, was performed by James Hay, Helen Crawford, and Anna Rose O'Sullivan, with Hay on particularly sparkling form (lovely jumps, perfect landings, megawatt charm) and Crawford beautifully musical.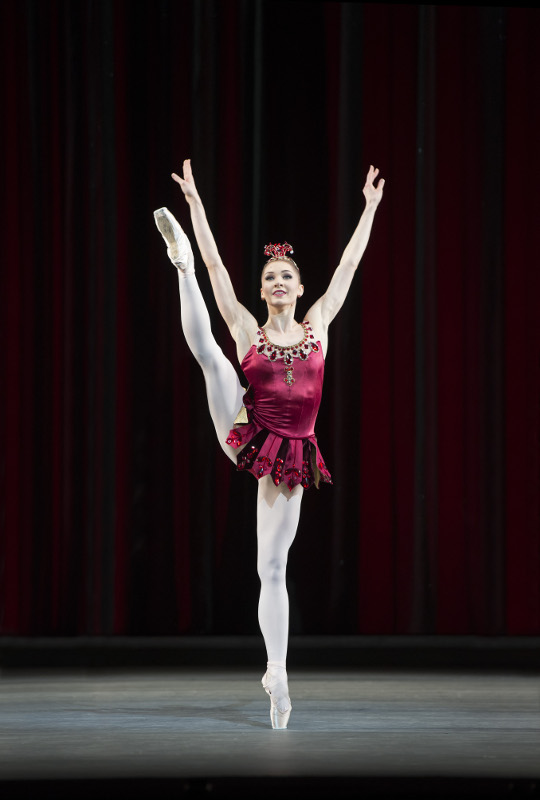 Rubies is the most performed of the three, yet it's not my favourite. Taking his cue from Stravinsky's Capriccio for Piano and Orchestra (here played competently by Robert Clark), which seems to gurgle with sardonic humour, Balanchine in Rubies comes much closer to parody of his chosen style than in either Emeralds or Diamonds. Since the style is the modern American one that he himself more or less invented, I suppose that's allowed, and certainly the emphatic hip-thrusting which is Rubies' most memorable move will raise a knowing smile in those who know Balanchine's other work. But something about this persistently ironical tone galls after a while, at least for me, and it takes phenomenally gutsy performers to carry 20 minutes of borderline satirical intensity. First Soloist Melissa Hamilton (pictured above left), temporarily back from Dresden where she is spending two years at the Principal rank that fans have long been expecting her to achieve at the Royal, gave a splendid account of the central female solo role, full of attack but free of affectation. Her allegro solo at the end, ably supported by four male soloists (including the tireless Hay again), was an enjoyable romp. The pas de deux as performed by Sarah Lamb and Steven McRae was no less accomplished than one would expect from these two principals, but needed just a shade more oomph and attack.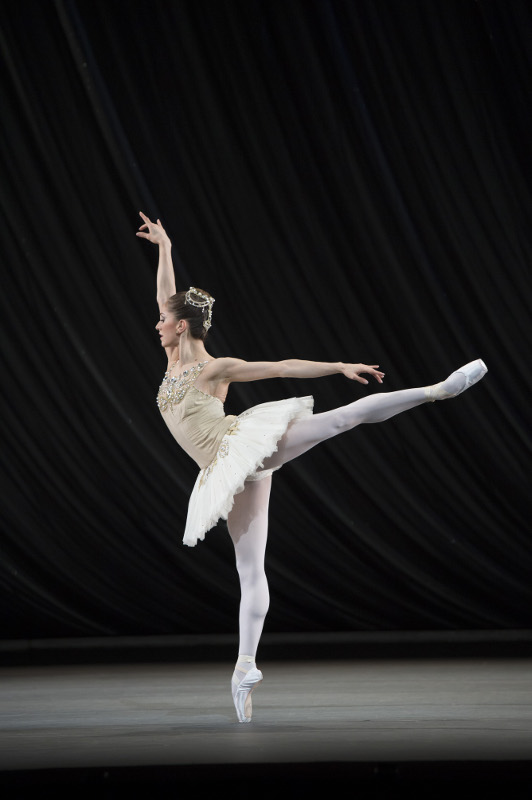 Balanchine once told a ballet fan that "Diamonds is not me. It's pure Petipa." Set to Tchaikovsky's Symphony No 3 (written close in time to the original score of Swan Lake), it certainly feels like a greatest hits compilation for the Russian Imperial Ballet's golden age, from the polonaise promenade that opens the last movement to the many references to the White Swan pas de deux in the grand pas for the main couple. On Saturday this was danced by Marianela Nuñez (pictured right) and her default swain Thiago Soares. Nuñez, with her genuine smile and impeccable dancing, is never disappointing, nor is she here, channeling all the Petipa princesses in turn – here she steps on pointe and seems to brush her crown like the imperious Raymonda, there she melts into Soares's arms like Odette into Siegfried's. Soares is a considerate, supportive partner, but he could not imbue his variation with anything like the same confidence or command. Instead, it was the strong, clean, radiant dancers of the corps and the able soloists (among whom Yasmine Naghdi and Claire Calvert both stood out for musicality), who really provided the frame for Nuñez. The Opera House orchestra, too, under Pavel Sorokin, seemed to be galvanised by the familiar symphonic textures of Tchaikovsky into a more rousing performance than they had given either the Fauré or the Stravinsky.

90 minutes of plotless classical ballet may not be an obvious choice for punters who might equally well spend their money on the latest play, opera or musical, but those who take the chance will be in for a treat, as well as a lesson in ballet history. And with the Royal Ballet's always-classy execution and plenty of interesting casts coming up, ballet fans too will be more than satisfied. Something for everyone.
The Royal Ballet perform Jewels at the Royal Opera House until 21 April. The performance on 11 April will be broadcast live to cinemas around the world.
Watching 'Emeralds' should feel like being wafted along on a cloud of delicate scent
rating
Share this article