Charlotte Rampling: 'I had to survive!' - interview |

reviews, news & interviews
Charlotte Rampling: 'I had to survive!' - interview
Charlotte Rampling: 'I had to survive!' - interview
While she's never been hotter as an actress, her new memoir Who I Am bares all about grief and depression
Charlotte Ramping was told by her father to 'go out and live your life'
The seizième arrondissement, the Paris equivalent of Kensington and Chelsea, or Manhattan's Upper East Side. Haussmann's Paris par excellence. Here, in a gated complex where American heiress Florence Gould hosted lavish wartime salons, indulging in conduct which, come the liberation, she was required to explain, lives Charlotte Rampling. The marble foyer is vast, the lift small and cranky, like something out of a movie.
By the time I've completed the slow ascent, the
actress
is standing at her open front door, a glamorous version of Kate from
45 Years
dressed in white shirt, black trousers and a grey cashmere cardigan.
The apartment is a duplex and, as she takes my coat, a red Maine Coon glides down the curving staircase, trailing his luxuriant tail. "You're privileged," Rampling says, "Joe rarely comes down to meet strangers. He must feel you like cats – do you?" I do but, having made his entrance, Joe has no interest in a personal greeting and instead heads straight into the séjour, turning briefly to offer a glimpse of his big bright eyes and high cheekbones. A glamour-puss, like his owner.
We follow, passing through a small study-cum-studio, scripts piled in a corner, and settle on a distressed leather Chesterfield. Joe opts for the French balcony from where he watches us talk. A small black-and-white TV is tuned silently to a classic movie channel, keyboard music plays quietly in the background.
Rampling is busy as usual: she's just back from Athens, where she's working with a Greek artist on a project for the Venice Biennale – "I'm part of his installation" – and before that she was in Budapest, finishing up The Red Sparrow, an American movie with Jennifer Lawrence and Jeremy Irons in which a Russian spy falls for a CIA officer. Another film, The Sense of an Ending (pictured above), based on Julian Barnes's novel in which she stars with Jim Broadbent, opens this week. "It's not my film but I'm a key to it," Rampling explains, "and it was a nice film to make." There is also The Whale, directed by Andrea Pallaoro, a young Italian director.
At 71, she is riding high, in demand across Europe and in the US. In addition to movies, there have been TV series such as Restless, Dexter, London Spy and Broadchurch, in which she played Jocelyn Knight. When, over a clifftop picnic, the QC declared her love for journalist Maggie Radcliffe, viewers went into shock. The scene prompted the Daily Mail to review Rampling's "taboo-shattering past", including the fact that at 63 she had posed naked in front of the Mona Lisa. They failed to recollect that in Nagisa Oshima's 1987 film Max, Mon Amour Rampling played the bored wife of a British diplomat who takes a chimpanzee for her lover.
The purpose of our chat is not Rampling's screen career but rather her memoir, Who I Am. At just 109 pages, its size is in inverse proportion to its weighty subject matter and its emphatic title belies its style, which is impressionistic and episodic, vignettes mostly from childhood – happy if somewhat rootless in a peripatetic military family. Who I Am is also a chronicle of a death foretold, for at the heart of the book lies the tragedy that's defined Rampling's life. At 23, her older sister Sarah, from who'd she been inseparable, shot herself. She was in Argentina, married to a cattle rancher, her premature baby not yet home from hospital. (Pictured below: Charlotte Rampling with her sister Sarah © Charlotte Rampling)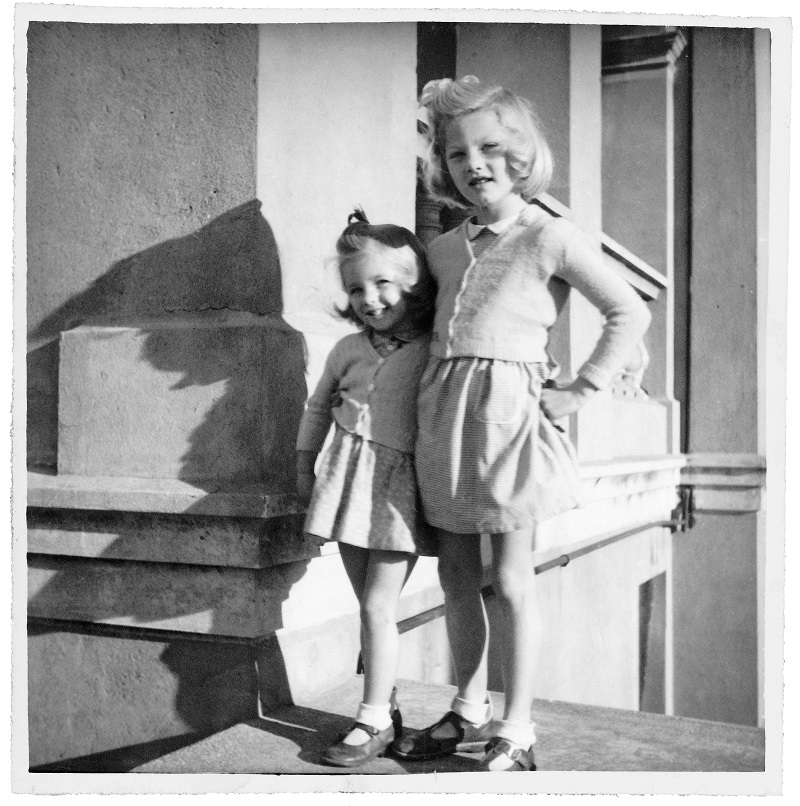 Both Rampling (in a dream) and her mother (with a fainting fit) suffered a premonition of her death at almost the exact moment. By the time Charlotte arrived home, her father had decided the news was too terrible to share and told his family that Sarah had suffered a catastrophic brain haemorrhage. The fiction was easier to maintain in the pre-wired world of the 1960s but Rampling found out three years later from her brother-in-law. "I felt quite pleased in a way. I could be with my Dad and we could help each other." By that time her mother had been felled by a major stroke from which she never recovered. "She was so traumatised and shocked that she lost control of all her body… That was a manifestation of grief."
Bravely, Godfrey Rampling – who'd taken gold in Hitler's notorious 1936 Olympics, appearing in Leni Riefenstahl's Olympia – told his surviving daughter to "go out and live your life". Her star quality had already been spotted: she'd made her screen debut in The Knack and played a lead in Rotten to the Core. "He said, 'I will be there for your mother.'" It was to her that her father devoted his life, finding new meaning by so doing. "He came to be another person… He came to be able to love, because he said he couldn't love, that he was boxed inside himself, that he had a heart of stone… because he'd never known love, never had an example of it from his own mother."
Out in her world, did Rampling wake up daily with a sense of impending doom – of "the tsunami" she knew would one day hit? "No, no, no. I didn't think about it." She worked: Georgy Girl made her a star in Swinging London (pictured right © Charlotte Rampling). She hung out with the Beatles at the Ad Lib club and knew Jimi Hendrix ("the sweetest man, so kind, so sensitive, so fragile") but the druggy scene wasn't for her. LSD was "exhausting", eight hours of "heaving and vomiting. Besides, I had to survive!" She laughs grimly.
Come the 1970s, Rampling was in Italy, embarked on a series of films that cemented her reputation, including The Damned and The Night Porter, both with Dirk Bogarde, who was mesmerised by her "jade gaze". She moved to France at 30, combining movies with motherhood and marriage to Jean-Michel Jarre. In her forties the tsunami finally hit. "I couldn't cope with having to cope. That's what depression is. You lose it. Literally. Everything stops."
For 10 years she kept a low-profile, working only with a French TV producer in whom she'd confided. Like anybody who's been depressed, she encountered incomprehension and fear in friends and colleagues and lived "a non-life". She declines to give details saying simply that recovery is "a slow, slow process. It's saying to yourself I will come out of it. Because if you're not strong enough to say that you're not going to come out of it." Fear, she believes, makes you courageous.
Following her mother's death in 2001, the bottled-up tragedy could be shared. Rampling spent more time with her father, talking about "psychology, philosophy, about what we'd been through". Who I Am, "a walk in the wilderness", is the ultimate unburdening.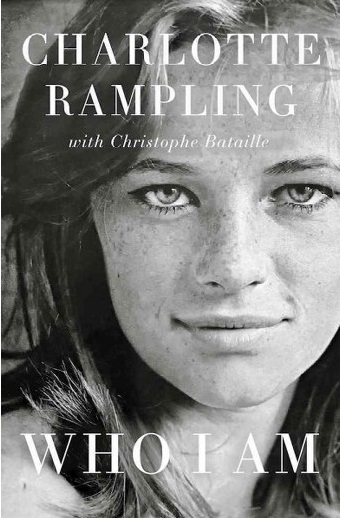 The past 15 years have seen a rebirth. She was a muse to François Ozon, with whom she made four films, starred in The Duchess alongside Ralph Fiennes and Keira Knightley, in Lars von Trier's Melancholia, the science-fiction psychodrama, with Kirsten Dunst and Charlotte Gainsbourg, and in I, Anna, directed by her son Barnaby Southcombe. Along the way, she and cellist Sonia Wieder-Atherton toured a two-hander celebrating the poetry of Sylvia Plath and the music of Benjamin Britten.
Amid the triumph of 45 Years, Rampling lost her long-time partner, Jean-Noel Tassez, to cancer. This time she was able to grieve: the catharsis of "an amazing funeral" and a comforting feeling of companionship in the home they'd shared. "You're accompanied for a very long time by your dead friends and dead loves, which I've never had before."
"I'm working really well now because I can. Before I couldn't. If good stuff comes up and it corresponds with what I feel I want to do that's fantastic. There's a lot that's of interest." Would she like to direct? "I don't know. I would need to instigate a project. Maybe I will. The doors are not closed."
And as a Briton living in Paris, how does she feel about Brexit? "I love Europe. I love the way it thinks, the way it feels. I love what Europe has represented for so long and we can still be a part of that. But I'm waiting. Let's just wait and see – why worry until it happens. My thinking about it is not going to change anything."
Whatever happens, la légende will always be welcome in Paris.
Who I Am by Charlotte Rampling with Christophe Bataille is published by Icon Books
The Sense of An Ending is in cinemas from Friday
I couldn't cope with having to cope. That's what depression is. You lose it. Literally. Everything stops
Explore topics
Share this article