Carousel, London Coliseum review - 'Katherine Jenkins is game, Boe out-acted by wig' |

reviews, news & interviews
Carousel, London Coliseum review - 'Katherine Jenkins is game, Boe out-acted by wig'
Carousel, London Coliseum review - 'Katherine Jenkins is game, Boe out-acted by wig'
Star power isn't the reason to catch ENO's Rodgers and Hammerstein pricey co-production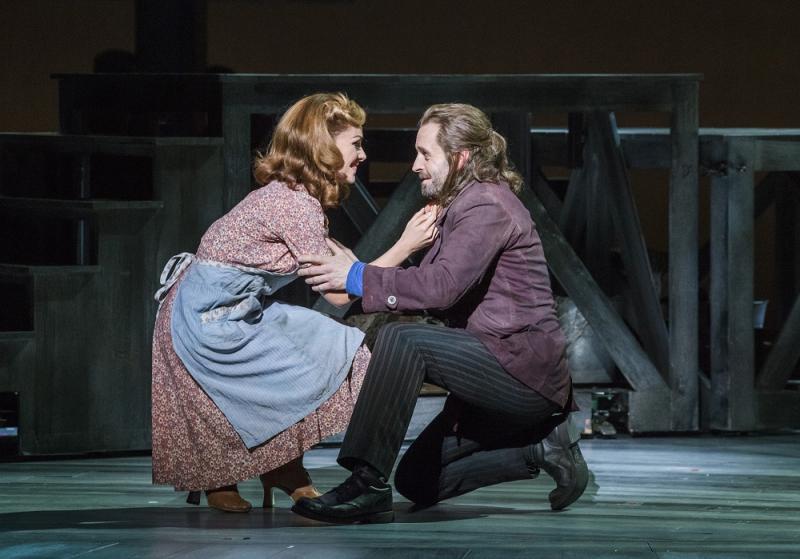 Bustin' out all over: Katherine Jenkins as Julie Jordan and Alfie Boe as Billy Bigelow
"Then I'll kiss her so she'll know." At the sound of his ringing voice, the girls part to reveal him standing there, a hapless monument of rumpled charm. The audience relaxes in pleasure as an easeful actor joyfully shows what you can do with a command of textual detail, physicality and, above all, character. The trouble is, the excellent Gavin Spokes is playing not one of the leads but the supporting role of Mr Snow.
The downside of a performance this assured is that it shows you exactly what has been missing until now.
To a degree, this is a gamble that has paid off – the emphasis is on the word "paid". Tickets to see Rodgers and Hammerstein's Carousel at the London Coliseum produced by Michael Linnit and Michael Grade with English National Opera, will set you back up to £150 each. Yet even most of those top-price tickets had been sold prior to opening. The apparent justification for those prices is two-fold: the scale of a production running for just five weeks with an ensemble cast of 36 and ENO's 24-strong chorus (pictured below) and 42-piece orchestra, and the presence of two big-name stars. The latter come at a cost in every sense of the word.
Heads were scratched when it was announced that 36-year-old mezzo-soprano Katherine Jenkins would play the light soprano role of near-teenage, artless Julie Jordan opposite 43-year-old tenor Alfie Boe in the baritone role of bad-boy Billy Bigelow. Furthermore, Jenkins would not only be making her role debut, but her first ever acting role.
Many – no, most – musicals leave much to be desired in the drama department but Carousel is one of the outstanding exceptions. Oscar Hammerstein's dark book and lyrics about the troubled courtship and marriage of Julie and Billy are immensely detailed and highly specific. Julie's thoughts and deeds are those of an innocent but fascinatingly steadfast young girl on the brink of adulthood. Witnessing them coming from a mature young woman jars somewhat, as does the fact that Jenkins's voice sounds more hooded and matronly the more passionate she becomes. But she's clearly game and director Lonny Price has elicited a nicely demure performance from her. With Boe, it's another matter.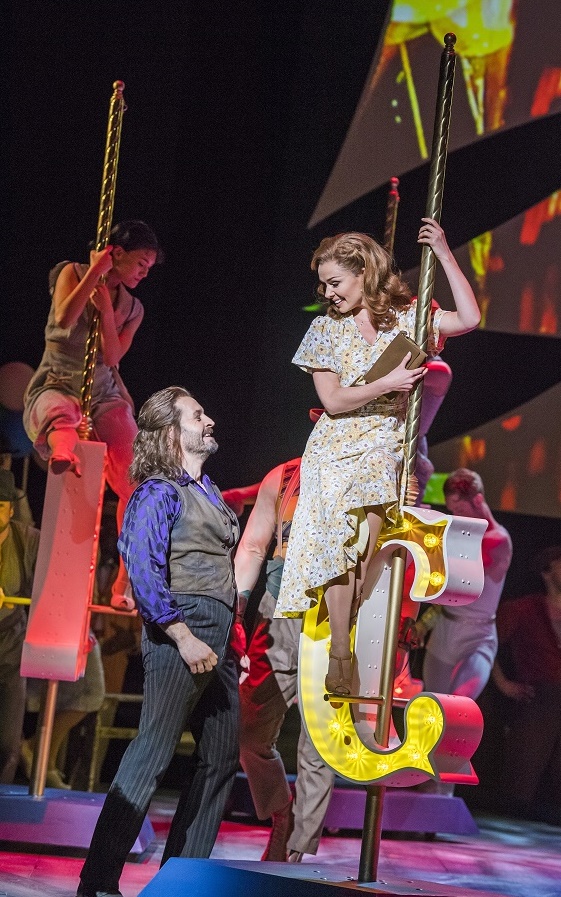 "Push yer hair back off yer forehead," complains carousel owner Mrs Mullin (Susan Kyd) to Billy. The line is puzzling considering Boe's tied-back, lank black wig which is doing more character work than he is. Boe's favourite pose is standing, feet planted wide apart, looking angry. Blunt and brutish though fairground barker Billy is, if we cannot see warmth beneath his surface, Julie's attraction to him makes no sense. And given that this is, famously, a musical that centres around the appeal of a wife-beater, that's essential. It's fatally missing here. There are more emotional temperature changes in Mark Henderson's colour-saturated lighting of the cyclorama than are generated by Boe's playing of the relationship.
Even in the rhapsodic "Soliloquy" Billy sings upon discovering that he's going to be a father, Boe finds neither depth nor range. Where's the joy? Price resorts to bringing on pieces of set and has Boe move up and down steps in order to bring variety to his seven-minute number. When you know it – it's been recorded by everyone up to and including Frank Sinatra – there's a terrible sinking feeling when you realise Boe has been sent to the back of the stage solely so that he can turn and walk back to the front of the stage, virtually into the audience's lap, thereby giving some weight to the song's climax.
After an echoey start, Mick Potter's sound design settles down, although there are problems with loudspeaker placement for what is London's widest stage so it's sometimes hard to work out who is singing. More troubling is the amplification of the estimable ENO orchestra. It's a rare luxury for a musical to be performed with an orchestra this large but the benefit is often lost due to the homogenous sound achieved by using microphones on them. With the exception of Brenda Edwards's one-dimensional Nettie who sings "You'll Never Walk Alone" more than half an octave lower than written, the voices ride the sound mix but conductor David Charles Abell's handling of the score lacks the shimmer and rhythmic snap so present in these original orchestrations.
Choreographer Josh Rhodes fills the near-empty stage with movement – ballet-style charm for the women, foot-stamping for the men – but is most successful with the opening and closing sequences. The former sees him and Price cunningly running the plot backwards to Rodgers' beguiling "Carousel Waltz" while Rhodes' final, impassioned will-history-repeat-itself ballet of Julie's unhappy daughter is danced with flair by Amy Everett (pictured above) and Davide Fienauri who partner each other beautifully.
It's a tribute to the strength and depth of Rodgers and Hammerstein's genre-defining writing that, even in so spotty a production, the full-throated finale with its emotionally layered "You'll Never Walk Alone" is touching. But it ought to break your heart. If only.