Hot 8 Brass Band, Brighton Festival review - rapturously received New Orleans party music |

reviews, news & interviews
Hot 8 Brass Band, Brighton Festival review - rapturously received New Orleans party music
Hot 8 Brass Band, Brighton Festival review - rapturously received New Orleans party music
New Orleans funk starts a South Coast party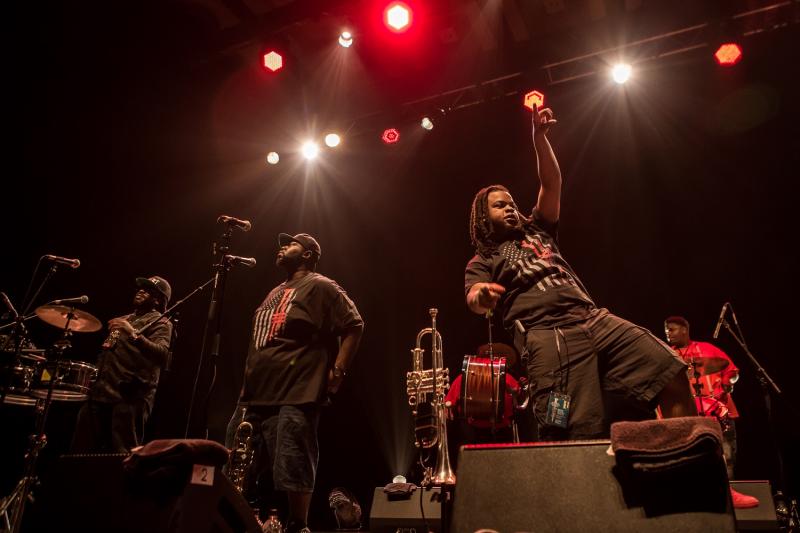 Get up: the Hot 8 Brass Band
New Orleans musicians are diplomats as well these days. The Crescent City's greatest son, Louis Armstrong, once made a live album, Ambassador Satch, in which, backed by the State Department, he toured post-war Europe as the finest the USA had to offer.
His nation's apartheid reality soon made him threaten to withdraw this national service, and he became similarly bitter towards a hometown as racist as anywhere in America. Tonight, the Hot 8 Brass Band declare themselves from "a city built on nothing but music and culture". But the scarring high waterline left by Hurricane Katrina (known locally as "the federal flood") complicates their pride, too.
Founded by sousaphonist Bennie Pete in 1994, three of the original Hot 8 were shot dead before Katrina, back when they were one of the coming generation of brass bands, seemingly more connected to New Orleans' bounce hip-hop scene than the traditional foundation of second-line playing at black social club funerals. John Swenson's superb book New Atlantis: Musicians Battle for the Survival of New Orleans gives the lowdown on "the sacred, renewable time" in a place in which everything circles round and connects, and the Hot 8 diligently studied traditional jazz in Katrina's wake, when displacement and callous gentrification had decimated the communities which nurtured the tradition's roots.
There's a video for their cover of the Specials' "Ghost Town" which transplants its Coventry location to New Orleans' literal devastation. Minus the visuals, the humid jungle heat, Satchmo-high trumpet screams and reggae beat of the version tonight only hint at such murky undercurrents. The deepest of all New Orleans traditions, making party music to dance to, is the one that counts at this rapturously received, sell-out gig.
The opening cover of Joy Division's "Love Will Tear Us Apart" bridges most possible divides with a UK audience, Pete's sousaphone holding down the low-end while brass and snare drums – strapped to the body, marching-band style – add a polyrhythmic pulse, and trumpet, trombone and sax solos flow down the front line. The grumbling of older generations of brass bands (before Katrina all but wiped them out) that their heirs simplify the city's jazz has some truth to it. But the Hot 8 are simply cutting to the funk.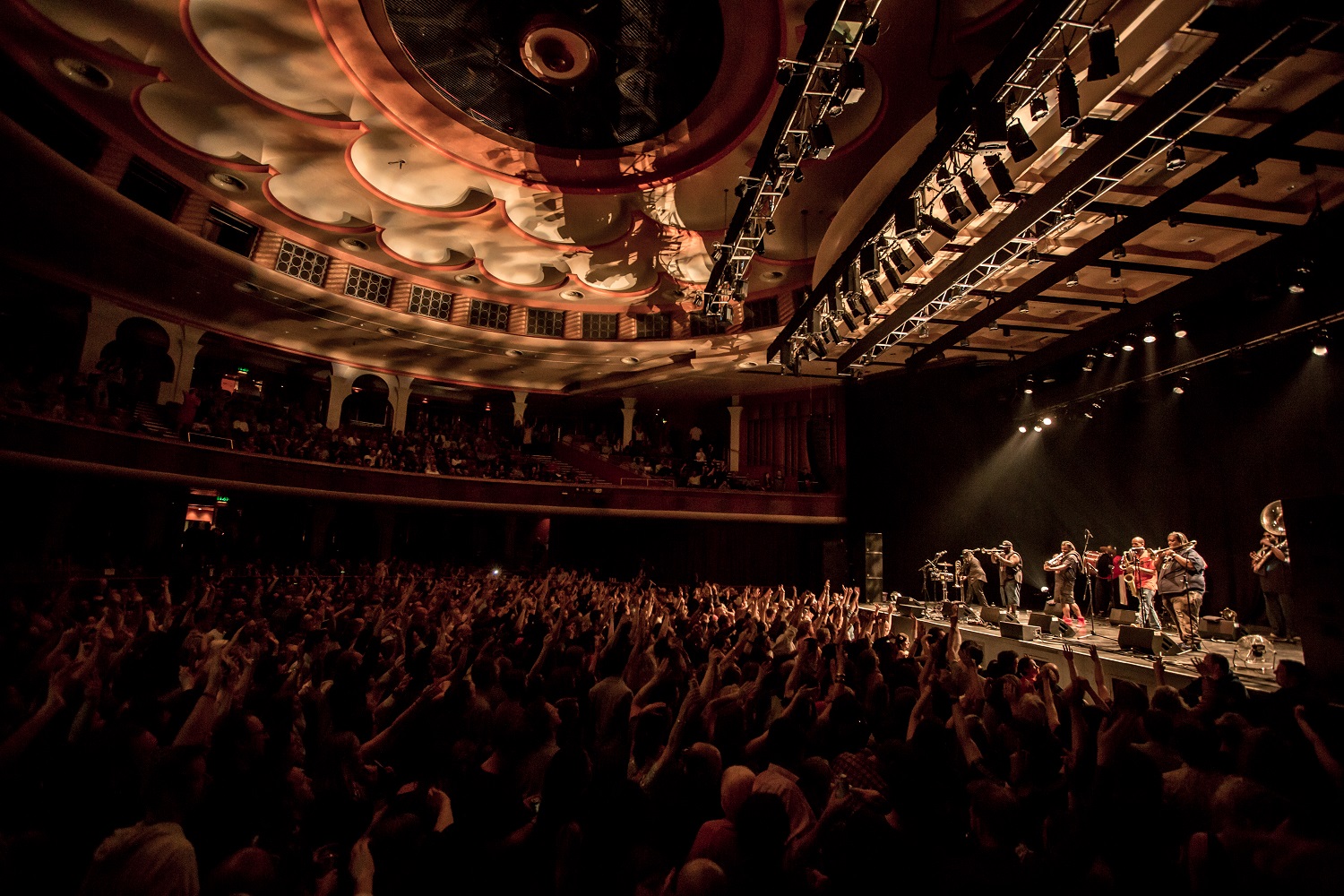 The Temptations' "Papa Was A Rollin' Stone" starts as short, sharp rock, with a dense, roiling back-beat bolstered by the trombones, before Wendell "Cliff" Stewart's rhythmic, looping sax solo, and a falsetto, full-brass finish. Justin Timberlake's "Rock Your Body" and Luniz' "I've Got 5 On It" are among the other diverse covers dropped into the stew, with trumpeter Alvarez "B.I.G. AL" Huntley doubling as rap M.C. But Marvin Gaye's "Sexual Healing" is where the band's human warmth connects, as the crowd wave their hands from the core of dancers downstairs to the balcony's back. "Only in New Orleans, baby," Huntley reminds us.
This Brighton Festival bill opened with Melt Yourself Down, Pete Wareham's UK take on forging modern alloys from jazz tradition. Kushal Gaya, technically wheelchair-bound by injury, insists on continuing as a madly crutch-wielding, hopalong M.C. North African souk saxes also add to their rave-jazz arsenal. As with the headliners, jazz complexity is subsumed to dancing as the first imperative. Something is lost, but cross-border connections are gained.
The deepest of all New Orleans traditions, making party music to dance to, is the one that counts
rating
Explore topics
Share this article